An American Carol - User Reviews
Thank you for rating this movie!
Read your review below. Ratings will be added after 24 hours.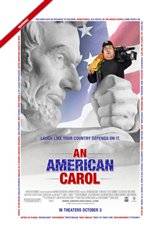 ---
Please rate movie 1 to 5 stars
Showing 1 to 12 of 12
October 29, 2008
Such a bad movie.
October 25, 2008
Saw this at the world premiere in Minneapolis. Was absolutely wonderful!
October 15, 2008
I wish I could give this zero stars.
October 15, 2008
Just Awful! I want my 12 bucks back!
October 13, 2008
I read a review on this site by someone claiming this was an "awesome" comedy. I decided to check it out, because I like Zucker, and I had an afternoon to kill. Now, having seen this feel, I'm convinced the review I read was a plant. This was a dim-witted, dull, boring, lame-brain comedy that's about 90 minutes too long. Do yourselves a favor, and rent AIRPLANE - you'll have a much better time then watching this sorry excuse for a movie. How this thing did not go straight to video is beyond me!
October 13, 2008
Such a stupid movie. I don't like Michael Moore either, but making a bad comedy about him is not the way to go. I wish I could get my money back!
October 13, 2008
AWSOME well rounded movie.Funny ,intertaing,and imformative.This movie pretty much reminds us to perhaps remmember how to laugh at ourselves and our politic`s. How ever i noted that on the trailers for the upcoming movie *W* about president Bush! the promo movie came across as being a serious documentary about the president of the United States....very decieving.
October 10, 2008
I just got back from seeing this movie, and I wish I could say I liked it, but it's just so unfunny. Too bad, because I like David Zucker.
October 10, 2008
David Zucker's losing his funny
October 10, 2008
Boring...so boring...