Angels & Demons - User Reviews
Thank you for rating this movie!
Read your review below. Ratings will be added after 24 hours.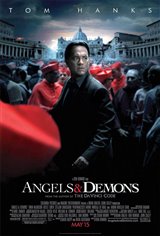 3.46 / 5
User Rating
Based on 1055 votes and 138 reviews
---
Please rate movie 1 to 5 stars
Showing 1 to 50 of 138
May 01, 2018
Underrated movie. Stop complaining it´s not 100% of a book in every detail because comparing movies and books is like comparing movies and music albums. Totally different type of art. How this movie can have lower rating than stupidities like Jurassic world is beyond my understanding.
December 30, 2009
entertaining....But a little empty in the end. I did not mind the movie. I was lookin for a little more food for thought. I thought it was a little to easy for him to figure it all out!! 2.5 stars but I will round it up to a even dull and not to exciting 3
August 30, 2009
Great movie. Must see.
August 19, 2009
Excellent Movie, Very Underated, it's a must see.
August 19, 2009
This was a fantastic movie. Very well done. A little far fetched, but it was entertaining and kept my interest throughout. Movies don't always have to be realistic, right? :)
August 19, 2009
A movie truly for those of strong faith but weak minds.
August 19, 2009
I knew I shouldn't have gone to see it!
August 17, 2009
Not even close to how good the DaVinci Code was. This movie was just a big chase. Stupid. I had higher expectations with more thought provoking content.
August 09, 2009
i loved this movie its awesome
August 03, 2009
ok, but missed out on a key point of the book that only needed one line to get the conflict of religon and science for the camerlingo.
July 24, 2009
this movie is fun and awesome
July 21, 2009
i loved this movie its so thrilling
July 21, 2009
it was stupid
July 18, 2009
Both the book and movie adaptation were great. Great job to all - Especially Stellan, Tom and Ewan!
July 15, 2009
i loved this movie it was full of action packed mysterys
July 15, 2009
Good movie. Worth seeing, entertaining.
July 12, 2009
I saw the last movie with Tom Hanks,so I knew the basic story line,but it was kind of confusing,it's the kind of movie You have to watch twice,to really Understand especially if You don't know everything about the Catholic religion.Being Catholic myself,I thought I had learned everything about it,but I was wrong,I never heard of the "Ilumnati"etc.
June 25, 2009
I thought it was better than the first one but the death scene were pretty grim. And I have see Tom Hanks portray a part a lot more convincingly in other roles. Trouble it, the thing is so unbelievable that 'check your brain at the door' should be enforced.
June 25, 2009
It was a good representation of the book! I enjoyed it. ALways love Tom Hanks.
June 21, 2009
Very entertaining movie! I liked it better than book. Very fast paced and made me want more!
June 13, 2009
Awesome movie!!! I'd see it again for sure.The acting was great, the visual aspect was top notch. Go see it!
June 13, 2009
I read the book, and I liked the movie better.
June 12, 2009
Since when is the Catholic Church the only "Christian" church? Movies like this are good to provoke some thought around these subjects like corruption in religion (which still exist). BTW the book is way better than the movie, but this movie is entertaining to watch.
June 12, 2009
TO LONG DRAWN OUT WAIT FOR DVD
June 11, 2009
"compared to its the first film The Vinci Code,this film is quietly fascinating. the effects are incredible it amazed me as a how i read the entire book!
June 09, 2009
Suspend your belief, ignore Tom Hank's back acting for a couple of hours and enjoy an entertaining film from Ron Howard.
June 08, 2009
Really dumb and dumber movie.
June 08, 2009
I actually liked this better as I hadn't read the book so I wasn't annoyed or confused by plot changes they made. Rome was an amazing partner in this movie! Music gets a little too intense for the scene sometimes. A great cast and an interesting story line.
June 07, 2009
Not as good as the first but excellent! One of the better movies in a while.
June 06, 2009
Boring and unnessasary, totally rediculous...Officially hated it...!
June 02, 2009
My opinion is that you should not criticize the movie if you haven't read the book.
June 01, 2009
Good story with nice pacing. Tom Hanks and Ewan McGregor both put out nice performances. Interesting plot twist. Thoroughly enjoyable and definitely a must see!
June 01, 2009
The bomb in the sky impressive? It's a computer generated graphic! What's impressive is that the priest could bail out beneath a 5 megaton blast above St. Peter's square and survive (blast causing only a stiff breeze to blow through the square). Kind of ridiculous, isn't it?
May 31, 2009
Let me just sum it. A priest is able to pilot a helicopter, jump out of it with a parachute?? This movie totally unbelievable, insulting.
May 31, 2009
Was very well done, better than the Da Vinci Code, and quite twisty. More fast-paced than I had expected. All in all, a great movie!
May 31, 2009
it was ok only, if there was a 2.5 star I would have given that.
May 30, 2009
The bomb in the sky is quite impressive, 3.5 stars!
May 30, 2009
Beware: this flick may soften your brain. Another American export of religious nonsense.
May 30, 2009
Really good movie. Followed the book quite closely. Special effects amazing.
May 28, 2009
I haven't read the book. I liked the movie, I thought it was fun, interesting and even somewhat thought provoking.
May 28, 2009
Kept me interested from start to finish. Tom Hanks always performs well.
May 27, 2009
It's hard if not impossible to get a good script out of a poorly written novel. This film is unworthy of Ron Howard.
May 27, 2009
Better than the Da Vinci Code and more fast-paced. The story had an interesting premise and kept me indulged to the shocking conclusion.
May 26, 2009
Great Movie!