Annabelle
Thank you for rating this movie!
Read your review below. Ratings will be added after 24 hours.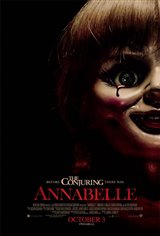 ---
Please rate movie 1 to 5 stars
Showing 1 to 18 of 18
December 30, 2016
Horrible. Unscary. Anachronisms abound.
December 03, 2014
scary movie - good one to watch.
December 02, 2014
scary to watch.
November 09, 2014
There are parts that will make you jump but scary I don't think so
November 07, 2014
nice movie.
October 19, 2014
Very boring until near the end and even then it is not as exciting or scary as others. Really not worth the time.
October 17, 2014
Best family horror in a while
October 15, 2014
Not as good as The Conjuring because it was not based on a true story. The case of the real Annabelle was in 1968 and this movie was a story about what happened before the 1968 case the Warrens investigated. Also it was not directed by James Wan who creates ausome scary movies!!! But there are some scary scenes in this movie.
October 11, 2014
looooooved it
October 08, 2014
It's a wicked movie saw it lastnight and my husband and I were jumping to some scary parts throughout the movie but the best was that it was at the beginning which got your heart pounding and then from there on out you had chills the rest of the movie.
October 07, 2014
Scary!! I thought it be lame but it was scary! A must see for Halloween!
October 06, 2014
I cant believe people said it was scary oh no things just like the other so called horror movies things just popping in the screen oh how scary the haven't made a good horror movie since cabin in the woods even the rating should have been pg or lower oh yah the thing that happened at the beginning after that it was the same as watching the paranormal movies. come on make better horror movie and make them rated r. good luck to people who go see it
October 06, 2014
Really good, scary!
October 04, 2014
Omg! just watched it, and it was amazing!
October 03, 2014
I enjoyed "The Conjuring" immensely. However, with the different director and different writers, this movie is a perfect example of the anti-christ trying to twist the Truth to mislead everyone who watches it.
October 02, 2014
Omg! I cannot wait to watch this
October 02, 2014
I based this review on how scared I got and boy did I jump out of my seat a few times!!! I can say I enjoyed this one but not everyone likes those horror movies.