Annie - User Reviews
Thank you for rating this movie!
Read your review below. Ratings will be added after 24 hours.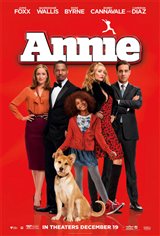 ---
Please rate movie 1 to 5 stars
Showing 1 to 50 of 52
March 04, 2018
A winner -- the comic book legend leaps from page to screen and into your heart!
August 06, 2017
The Harold Gray comic strip comes to life with a kickin' hip hop soundtrack!
September 02, 2016
A worthy sequel to the '80's classic!
August 24, 2015
This and Straight Outta Compton are the best movie musicals in years! The cast is utterly charming, especially Cameron Diaz who gives a star-making performance.
April 02, 2015
Have to vote no on this. Though an attempt was made at Annie this version just seems to forget the true characters and their importance to the main character and her life. Comparing the original to this one is like oranges and apples and unfortunately this could have been an entirely different movie renamed as something else because aside from the name Annie and the fact her parents left her somewhere there is nothing else here that creates a freshness yet keeps the basis for the Annie original. So many ways this could have been done much better.
April 02, 2015
So disappointed in this movie. The entire approach to it was flawed from the rich entrepreneur's egotistical behavior to the portrayal of the female assistant as a friendless individual who over compensates through her work but has no life. A far cry from the original Annie or the original characters story line. Very sad attempt at remaking a classic.
April 02, 2015
This new version ruined Annie. What happened to Daddy Warbucks??? This rich man role in the new version is an embarrassment to the original Daddy Warbucks in many ways but most of all because Warbucks was a very busy man with no time to really have children or a personal life. This version displays a very rude man who is portrayed as thinking he is above everyone else on a pedestal and is only motivated by his personal pursuits. Very sad take on the Annie many have known and loved from the past.
April 02, 2015
The movie was horrible. It completely lost focus of the original story for Annie. The original Annie had a threat to her life posed by criminals as well as her bond with her pet and more. This new version is nothing more than a diva wanna be show and lacks anything new or pleasing. The essence is gone. Zero star for me and a waste of time and money.
March 19, 2015
I bought two copies (one to watch and one to keep as a collector's item). Love it!
March 09, 2015
Fantastic fun! It's a remake with its heart in all the right places!
March 09, 2015
I am sooo getting this on blu-ray!
February 10, 2015
BEST MOVIE EVER! I have never seen such a great movie in my entire life! The singers, the little Annie, the concept, the action and the aspect! WOW! WOW!
February 08, 2015
I absolutely LOVED it! Want to take my mom for her birthday but it seems to be out of theatres already :(
January 30, 2015
Luv de trailer!!!
January 18, 2015
Lots of fun.
January 15, 2015
I was so looking forward to this movie and was completely disappointed.
January 14, 2015
Loved it. So cute.
January 09, 2015
This is the way ANNIE was meant to be seen! One of the most faithful and joyous comic strip adaptations ever.
January 09, 2015
how stupid remaking a classic to make it 'politically' correct so you could also make 'white' people subservient "just cuz"... how stupid. bad movie.
January 08, 2015
A marvel! Cameron Diaz wears less makeup than usual in her role as Miss Hannigan, but Daddy Warbucks never shows up.
January 07, 2015
It is amazing film way better and I love it
January 01, 2015
Winning widescreen version of the comic strip favourite! As a bonus, they auto-tuned the soundtrack so the classic songs feel fresh and new! We love this movie!
January 01, 2015
Love this movie casting was excellent
December 30, 2014
the best movie i've ever seen this year
December 29, 2014
Awesome movie! It's actually Better than the original
December 29, 2014
oh great ... demographically correct annie, corrected and purified for your viewing pleasure. not.
December 28, 2014
They ruined a classic!
December 27, 2014
it amazing lolz
December 25, 2014
Its the best movie ever
December 25, 2014
It was a really heartwarming movie to watch right before the holidays! To those criticizing this movie for casting black actors as the leads consider the fact that the reason the original Annie was a ginger was because of the vitriol targeted towards Irish Americans at the time. In today's society (where black children are literally being shot in the street) it's more relatable to have the unwanted orphan be a little black girl. In addition, it's not like the 1982 film was some kind of a untouchable cinematic masterpiece. In my opinion, this film is a welcome reboot that relates to today's kids.
December 25, 2014
well, yes , it's more of a retread than anything - a gimmick if you will. not that hollywood doesn't do remakes, but when they make a remake based on colour alone it brings a certain odor to the production
December 25, 2014
The most heartwarming movie of the year!
December 24, 2014
This movie was horrible. The movie lost the entire point of the original story, about major gap between the rich and poor. Annie didn't look THAT bad off, bit of a rough home life had to do chores. Gosh that sucks for her. It played more like a rip off than a remake. Not to mention the movie tried to make the songs far more modern than they needed to be. And musicals shouldn't have numbers where the fact that the actors are bursting into song is pointed out by the characters where it just makes it awkward and embarrassing. Characters should remain blissfully unaware of the musical outburst or be playing along. Can't even think of an upside to this movie...um....kids will like it because they
December 24, 2014
This movie restored my love for Hollywood.
December 23, 2014
The best musical in years! The auto-tuned soundtrack is note perfect!
December 22, 2014
Excellent movie! I definitely want to see it again. funny, original, and cute.
December 22, 2014
This movie is great!! it just has it all! for starter, it's a clean movie for the whole family to watch which is not easy to find these days, it's well written, great story, and it's just amazing! I loved Anni, what a cute and breath taking young girl! this movie will make you laugh, and cry at the same time! it's original, and well done movie. This is the kind of movie you want to watch more than once. The music and songs are very entertaining, it makes you want to dance! This is one of my favorites now. If you want a good movie to watch with the family, then this is it. you wont regret it. My husband and I watched it last night with our two little girls and we all enjoyed it a lot. Thumbs
December 20, 2014
The whole family loved this movie!
December 20, 2014
It is a great movie for both people with kids or without kids to see
December 20, 2014
FUN HOLIDAY FAMILY FLICK
December 19, 2014
I want to see it again already!!!
December 18, 2014
ANNIE will move you in ways you can't even imagine, and the soundtrack will have you dancing in the aisles! 10/10
December 17, 2014
Too Funny simply cute!
December 17, 2014
excellent!!
December 15, 2014
A must in 3-D!
December 04, 2014
Isn't this already available online?
December 04, 2014
Boardwalk Empire fans won't want to miss this one.
December 04, 2014
The Movie Event of the Holiday Season.
November 24, 2014
Won't make you forget the Aileen Quinn version.
June 08, 2014
Best ANNIE ever! I'm definitely going again!