Annihilation - User Reviews
Thank you for rating this movie!
Read your review below. Ratings will be added after 24 hours.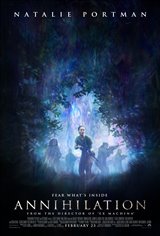 ---
Please rate movie 1 to 5 stars
Showing 51 to 80 of 80
February 25, 2018
Totally Amazing what a piece of dung this film is. Guess that is what that idiot forgot to mention.
February 25, 2018
More propaganda all female characters with guns. *YAWN*
February 25, 2018
TOTALLY AMAZING
February 25, 2018
uncreative gibberish——why make this film?
February 25, 2018
Can't wait for the sequel.......GROSSSS. Here comes the plant people.
February 25, 2018
While the photography was well done and the pictures of flowers very impressive, it has no clear ending and there are too many illogical aspects as to plot [at one point one of the women changes hairstyle so she looks like another character in the film; when one woman has sex where she is on top, it is very unclear who she is having sex with and while she is nude from the waist up, she has a large cloth, which does not slip down, covering her chest]. A man who is in very serious medical condition is not given a blood test to see what is wrong; dividing cells seem to expel sperm, people shoot an animal perhaps 20-30 times before it has an effect, non-military scientists know how to handle fully automatic weapons, why things change as they do makes little sense, etc. My wife does not like SiFi, and she likes it even less after watching this not well thought out film.
February 25, 2018
MOVIE SUCKS .....any other movie out there can kick it's ass hands down
February 25, 2018
IT WAS OK
February 25, 2018
It was an awful movie. The plot was confusing (a lot of plot holes, weirdness, etc.) It had a few jump scares but it rather made me confused and weirded out than scared. I don't recommend watching it.
February 25, 2018
Awful. We asked for money back. Got it. Horror movie that stinks...
February 24, 2018
I loved it
February 24, 2018
This movie SUCKS. Any one that says it is the best movie ever must be high on drugs. Only 5 minutes of the movie is worth watching the scene with the bear. After that the rest and the end of the movie can put you to sleep. Any one can come up with a better ending and story line. WASTE OF MONEY. Wish I could give them MINUS 5 STARS.
February 24, 2018
LOVED IT , AWESOME, , COOL, AMAZING
February 24, 2018
AMAZING AND TWO THUMBS UP!!!!!!!!!!!!!
February 24, 2018
HIGHLY RECOMMEND AND AWESOME
February 24, 2018
GIRL POWER ROCKS AND AWESOME
February 24, 2018
Loved this movie.............Tessa Thompson did a great job as Josie Radek
February 24, 2018
Natalie Portman is amazing in this film. TWO THUMBS UP!!!!!!!
February 24, 2018
Random nonsence
February 23, 2018
Terrible movie across the board. Lousy cast, boring, crazy nonsensical story that took the viewer no where and made no sense.
February 23, 2018
Absolutely a stupid movie.wast of money .You couldn't pay me to see it again.
February 23, 2018
AWESOME
February 23, 2018
Waste of my time and money
February 23, 2018
I wouldn't rush out to see it, found myself looking at my watch, the first hour was drawn out, the plot (if you can call it that) was all over the place. They tried to do sci fi, ok, but thru in the horror. Over rated don't believe the media hype. Wait for the DVD.
February 23, 2018
Typically you can't believe the advertising hype on this. I am a sci fi/horror fan, but they tried to throw every little thing in this. It's different, not everyone will like it, but they tried. Ok, so you don't have to rush out to see it, typical Hollywood goop of women team of scientists with no men, trying to safe the planet. Doesn't work.
February 23, 2018
" Annihilation" is a science fiction film based on the novel, by Jeff VanderMeer. The book is defined as sci-fi horror. As a disclaimer: I am not a fan of either sci-fi or horror but, because the film was being promoted as being sci-fi, fantasy, drama, fiction, I thought, why not. There are times when I am pleasantly surprised. Unfortunately, this film did not do it for me. There are few well-known actors including Natalie Portman (Lena), Jennifer Jason Leigh (Dr.Ventress) and Gina Rodriguez (Anya Thorenson), As the film opens, Lena, a cancer cell researcher, is grieving her husband who has been missing for almost a year, when, out of nowhere, he shows up, but is a shell of his real self. He quickly goes into a coma and Lena wants to know where he has been, what has happened and why. There is a shimmer in the forest that is growing in size. Five well-educated women, including Lena, feel compelled to go into this area to find the secrets. Attempts to explain the demons lurking within each member of the group are not enough to make me care. Despite the findings and explanation, I never quite understood the story line or where it wanted to go. I think something went missing in action from novel to film.
February 23, 2018
Scary. Good time to watch this kind of movie.
February 23, 2018
It was riveting!! Horrific and terrifying in parts, very good!
February 22, 2018
Painfully boring and slow. Natalie Portman's supporting actresses were horrible.