Around the World in 80 Days - User Reviews
Thank you for rating this movie!
Read your review below. Ratings will be added after 24 hours.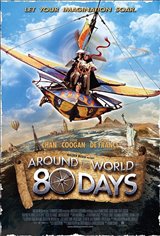 3.88 / 5
User Rating
Based on 2306 votes and 26 reviews
---
Please rate movie 1 to 5 stars
Showing 1 to 26 of 26
April 02, 2005
i guess it s kinda new and appeals to children though it is PG
November 07, 2004
JAKIE IS A GOOD ACTOR I WISH I COULD BE A GOOD FIGHTER LIKE HIM!
November 05, 2004
This ways a great movie for kids from 7-12 years of age. My 10 year old son loved it but my 4 year old girl only liked the action parts. It drags a bit at the beginning-hang around to see awesome action/fight scenes from Jackie-he doesn`t disappoint. Isn`t he getting to old to do all the hard stunt work? More power to him!
October 10, 2004
this movie is not right for children they should call this movie around the world in 70 days
August 27, 2004
Well, I liked it better than the people that I was with - if you are looking for a silly movie and want to see Jackie Chan do a Jackie Chan movie, you will like it. Just don`t look for logic, sense or anything similar to the original
August 21, 2004
this movie was quite funny i rather enjoyed it. i do love Jackie Chan but the evil woman shouldnt have been so fake and i dont get the point with Arnold Schwartzeneggar it had nothing to do with the story.i loved the cameos by the the Wilson brothers and John Cleese, o and kathy bates. this movie wasnt too bad i think the people that Jackie Chan fought could`ve been more experienced so they could stand up to him longer it was basically that Jackie kicked them and their down but i give this movie 4/5, the good thing was it entertained me for about an hour and 45 minutes.
August 20, 2004
jacky chan should be beaten up and shot. this film is terrible.
August 09, 2004
It was great! I loved haw it had Jackie Chan in it. I would give it 5 out of 5
August 08, 2004
it s incredibo i like so much, congratulations your work it s excelente
July 28, 2004
corny and dumb. I`ve never snored louder during a movie---wait, no,I`ve never snored during a movie before!
July 26, 2004
Amazing! Extremely amazing. I just loved how they made an older time movie so funny. I think that kids like myself will really enjoy this movie. I also have never seen such a funny movie with Jackie Chan in it. All the other actors also did a great job. So go see this movie and believe me, It will be worth watching.
July 10, 2004
this is too old fashioned i want rate this as 1 i dosent ammaze me at all its BORING .the comedy add things that it be seen
June 29, 2004
Loved it! It`s hilarious and action packed. Not a single dull moment. Wished it was longer. Expect it to be a classic.
June 27, 2004
People should give this one a chance. It should break the $100 million mark. It`s fun for the family.
June 27, 2004
I`ve been around the world. It took me a lot longer than 80 days and it was filled with way more adventure than this stagnant film. Maybe they should`ve gone "the other way" around the world instead. We`ll never know.
June 25, 2004
I walked out after 5 minutes it was so bad.
June 24, 2004
Very good family comedy.
June 22, 2004
its a very good movie ( not for adults or teenagers) ....good for children. jackie chan acts very well. i hope he gets more action movies instead of chinese ones and kids one..( like rush hour)
June 22, 2004
It`s great comedy action movie but tends to favor children and family. For sure, kids are crazy about this Disney-like movie.
June 21, 2004
it was lousy
June 20, 2004
I LOVED THIS MOVIE!!! The plot was sooo complicated and Jackie Chann deserves Action-star Oskar nod!! GO Coogan!!
June 20, 2004
Its too new for a old timer like me
June 19, 2004
Cecile de France is a fresh balance added to the Jackie Chan`s recent on screen buddy-formula in the recent years. Steve Coogan is funny without being physical. The supporting and cameo acts are surprisingly fit into the scenes, helping to make this the best Jackie Chan movie ever.
June 17, 2004
Great Movie. Jackie Is Hilarious. I Think People Are Gonna Forget This One And It`s Too Bad Cause This Is A Great Movie.
June 17, 2004
It is a very fine family movie. All can enjoy.