Arthur
Thank you for rating this movie!
Read your review below. Ratings will be added after 24 hours.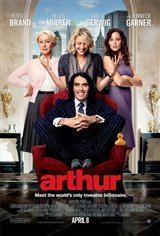 ---
Please rate movie 1 to 5 stars
Showing 1 to 44 of 44
November 23, 2011
This movie was horrible. I only watched it because it was the only in-flight movie available on a recent trip. Russell Brand is obnoxious. The young female lead actress is cute however and is very talented. Helen Mirren is a great actress - too bad the movie was too horrible to showcase her talents.
October 13, 2011
funny movie...but not as good as the original.
August 18, 2011
Funny...russell Brand and Helen Mirren have great chemistry together
August 16, 2011
very funny and sweet rom-com. Would watch it again.
July 31, 2011
Light entertainment!
July 22, 2011
get rid of Brand and it would be better
April 26, 2011
Predictable to the point of irritating.
April 26, 2011
HILARIOUSSS!!!!!!
April 25, 2011
good movie not for kids most jokes are more adult and there is some bad languge.
April 22, 2011
Very funny with heartwarming moments. Russell Brand is not only funny but he can really act, it was a pleasure to watch him.
April 21, 2011
Awful movie with awful acting. It ws not the least bit funny and seemed to go on for hours. yuk
April 20, 2011
This movie was awful compared to the original it was very kiddie and plain the humour was boring and the acting was very atrocious.
April 18, 2011
Babysitting nanny takes care of alcoholic 30 year old child, then oh beloved he's in love , however not with the one he is told he must marry, AA promoter , none the less fun/comical & rather better then the original..recommend not for kids...funny/cute/comady
April 17, 2011
Terrible, the first movie was a lot better, I almost fell asleep. Russell Brand just wasn't funny in this movie!
April 17, 2011
Amazing movie, definately wasnt choppy or all over the place, it was so so so funny! Russel Brand is awesome
April 17, 2011
Arthur was very funny and most of the jokes were sexual so but it was PG for corse language and violence but go see it Russell Brand is hilarious!!!!!
April 16, 2011
I loved it so much I'm going to see it again this weekend!!!!
April 16, 2011
I love the original but this one was even better!
April 16, 2011
haven't seen the original but this movie wasn't the greatest, choppy and all over the place
April 15, 2011
BEST MOVIE EVER!!!! :)
April 14, 2011
I saw the original and thought this would be horrible as a remake with Russell Brand but he was so sweet! and Helen Mirren was amazing!
April 14, 2011
Brilliant! Russell Brand is a genius.
April 13, 2011
loved the original movie and totally loved the remake, well done, even funnier than I thought it would be!!!
April 12, 2011
awsome show
April 11, 2011
Went to see this movie with a group of people, and we all really enjoyed it! Loved the scenes with both Russell Brand and Helen Mirren! A really funny movie.
April 10, 2011
Awesome, I love the innocence Russell Brand brought to the role!
April 10, 2011
Loved it, it was so funny!
April 10, 2011
awful, I was constantly asking myself if I should get up and leave. I couldn't believe people gave this movie such good ratings.
April 10, 2011
a couple of good laughs
April 10, 2011
waste of time and money don't bother with this boring movie very few laughs arthur played as a child or mentally incompetent was weird
April 09, 2011
Wait until it's out on video. Pretty lame, laughed maybe 3 times, first time I have ever almost fallen a sleep in a movie theatre! Loved the nanny tho!
April 09, 2011
great movie
April 09, 2011
A fun comedy.
April 09, 2011
I remember the original from when I was a kid, and I loved it. I realize now that I never liked Liza Mannelli (sorry, to the fans). This was a solid update, covered all the plot points while being very funny and charming on its own. Russel Brand is a joy to watch, even without his usual rude humour. Helen Mirren plays the Hobson character extremely well.
April 08, 2011
Very funny- loved it!!
April 08, 2011
Awesome, highly recommend!
April 08, 2011
I'm a Russell Brand fan now after seeing Arthur! Only drawback was the female lead, she couldn't act at all
April 08, 2011
Even better than the original!
April 07, 2011
Hilarious! Russell Brand was excellent, Helen Mirren was okay. only weak link was Greta Gerwig.
April 07, 2011
I saw it last night at a premiere screening and it was really good, I laughed so much! Russell Brand is very funny in it.
April 07, 2011
Although completely predictable, Russell Brand makes the movie enjoyable.
April 05, 2011
Pleasantly surprised by this -- it was almost as good as ARTHUR 2: ON THE ROCKS.