Austin Powers in Goldmember - User Reviews
Thank you for rating this movie!
Read your review below. Ratings will be added after 24 hours.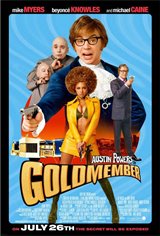 4.33 / 5
User Rating
Based on 23214 votes and 213 reviews
---
Please rate movie 1 to 5 stars
Showing 1 to 50 of 213
July 09, 2014
Yah Baby... Groovy Flick, Beyonce Knowles and Mike Myers make a great combination.
May 20, 2014
Beyoncé Knowles hot and sexy !!!!!!!!!!!!!!!!!!!!!!!!
May 15, 2014
I love Austin Powers Movies
October 11, 2006
The movie was funny, but no thanks to Beyonce. Mike Myers did a great job with the new character Goldmember, and anyone who likes the series will like this one.
April 07, 2006
Movie is so funny! Goldmember is the greatest!!
February 01, 2006
Settle-down Scotty boy! It was extremely funny! The actors were just magnificent! It is the best movie ever!
January 13, 2006
GOod movie, but da second 1 is better
April 19, 2005
austin powers is so damb. Mike Myers can not act.
April 09, 2005
I think Beyonce is trying to follow to be Pure Master of Funk here, though Goldmember is a good film. The Dr. Evil rap is a little cheesy, and the fact that Golmember`s groin is made of gold is a teeny-"weeny" sickening, but Mike really pulls something off here, and it`s a whole lot more then women`s clothes. Verne Troyer is still classic as Mini-Me, and Michael Caine shows that he did deserve his Oscar, for some OTHER role, but he`s still good(amazingly). Overall 3.5 stars out of 5.
April 06, 2005
This Has to be the best Movie I have ever seen in my life! Mike Myers is the funniest person to walk this earth. He is my idol!
July 27, 2004
sequels usually bomb, but this is the THIRD MOVIE IT WAS DEFINITLEY THE GREATEST, mike myers has to be the smartest, best and most talented actor for doing 4 roles in one movie and being so CONVINCING!! I LOVED THE HUMOR IN IT!! I LOVED THE 70`S CLUB PART WITH THE MAKE UP SCENE, the humor is very funny and original.. beyonce doesnt know how to act though she was lucky that her first on-screen was in such an anticipated film or else she would`ve disappeared
May 26, 2004
Loved it!! coild watch it over and over again
May 03, 2004
austin powers sucks
February 28, 2004
Funny. Why so rude though? I hope there`s a fourth!
January 14, 2004
Britney`s a good actress...and its a very funny movie:)
October 12, 2003
The best Austin Powers movie yet very funny baby
September 12, 2003
I thought it was horrible! It was rude. Yes it was funny but it was a sick funny- filled with toilet and other gross humour! The whole plot fell apart, Dr Evil being Austin`s father please! Scott being the next vilian, this is one movie I don`t want to find out what happens. If there is a forth count me out!!!
September 02, 2003
THERE R NO WORDS TO DESCRIBE IT IT WAS AWESOME THE BEST AUSTIN POWERS MOVIE EVER GOLDMEMBER WAS HALARIOUS AWESOME TWO TUMBS WAY WAY UPPPPPPPPPPPP! MIKE MYERS IS HALARIOUS
August 21, 2003
The Best Austin Powers Yet! Mike Myers is Hilarious!
June 08, 2003
I Agree with a few others that it was Totally Wasting your TIME and MONEY to see a Immature "movie" like this one!!!! Like one reviewer said - like it is flogging a dead horse!!!!
April 20, 2003
NOT AS GOOD AS THE OTHER 2 BUT STILL GOOD ENTERNTAINMENT ... THOUGH I WISH AND THINK THAT FOXY CLEOPATRA SHOUL OF BEEN PLAYED BY A REAL ACTRESS NOT BEOYONCE KNOWLES ,SHE IS VERY PRETTY BUT HER ACTING SKILLS LEAVE A LOT TO BE DESIRED ... THE PART SHOULD OF GONE TO SOMEONE ELSE AND THE MOVIE WOULD HAVE BEEN BETTER BY A COUNTRY MILE
March 06, 2003
Foxxy was wonderful ! It`s simply what I call a real movie !
February 08, 2003
It was the funniest moive ever!! Ya baby Ya!!!!!!!!!!!!!!
December 08, 2002
It was the best Austin Pwers yet!
December 08, 2002
best ever
December 06, 2002
VERY GOOD
December 04, 2002
hey i liked that movie it was really kool but sick!
December 01, 2002
best ever
December 01, 2002
I think it is 1 of the funnyest movies of the year. When it comes on on video i am going to buy it.
November 30, 2002
It was way better than the first two.
November 29, 2002
It was better than the first two.
November 27, 2002
austin powers in goldmember was a very good movie and i like it lot..
November 09, 2002
it was the best move
November 08, 2002
One of the funniest movies I`ve seen !
November 08, 2002
it was the best
November 07, 2002
It was the best movie ever!!!!
November 02, 2002
this movie was really BOARING!
October 29, 2002
the best movie since i can remember
October 23, 2002
This Is Proply one of the Best Austin Powers YET!!
October 17, 2002
definatly better than all the movies ive seen so far of austin powers. it was really funny, austin and dr. evil were fighting and all of a sudden they find out they are brothers and wat had happened to their parents. any one who thinks it sucked must have not seen the whole move bcuz i gave it 5 stars.*****
October 17, 2002
Mike, the franchise is over. You`re flogging a dead horse. We still love you but, please let the Power Man die and move on to different material.
October 14, 2002
The first Austin Powers was funny... the second one was even FUNNIER... the third, well, sucked. I went into the theatre expecting somewhat funniness and I guess it wasn`t really achieved. There were a couple funny parts though.
October 14, 2002
Come on, how can you base your opinion of Austin Powers on plot lines? That`s not what it`s about! It`s there to make you laugh, and for me, it did! I`m going on my fourth time seeing it, and it`s just as funny every time! The best part? When Britney Spears gets her head blown up. Who wouldn`t want to see that?
October 14, 2002
OMG!this the funiest movie ever.the movie was not a waste of time.i was laughing my head of!the plot could have been different but other then that i loved it.all of the cast members were great!!on the scale of 1 to 10 i give it a 14!
October 10, 2002
definetly not as good as the other ones
October 01, 2002
Very Very VEry Funny, love the the beginning part, the ending is kinda stupid but hey it a comedy and the movie is funny.
September 29, 2002
OH MY GOSH! How could you say it sucked?!That one was HILLARIOUS!!!!the story line itself wasn`t the best, but the jokes were constant!never a part were i wasn`t laughing!if you want a good laugh definetly see this! it was so great!!
September 23, 2002
it was a very funny movie. But not as good as the other ones.
September 22, 2002
sucked sucked suked!!!!!!!!!!!!!!!!!!!!!!!!!!!!!!!!!!!!!1
September 16, 2002
sooo funny