Australia - User Reviews
Thank you for rating this movie!
Read your review below. Ratings will be added after 24 hours.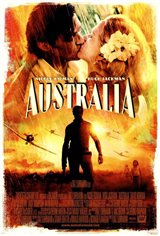 ---
Please rate movie 1 to 5 stars
Showing 1 to 50 of 81
March 10, 2011
great film, amazing look at australia
January 24, 2010
Great movie. Has what a good movie shoudl have - drawm, romance, humor, good story, and great scenery. Could watch it over and over.
January 03, 2010
If it wasn't for the Australian landscape - forget it. So many flaws that it is annoying.
August 15, 2009
its awesome :)
April 05, 2009
Forget any negative reviews, just watch it...! You'll be captivated from beginning to end!! Fantastic film!
March 23, 2009
awesome movie...loved it from beginning to end!
March 11, 2009
Huge Jackman is the sexiest guy ever. he took that from Johnny Depp and Orlando Bloom in this movie.Now ALL OF AMERICA HAS A NEW HEART THROB!!!!!! :P
March 11, 2009
the most emotional and inspireing movie ever produced. Hugh Jackman and Nicole made this movie come to life.
March 04, 2009
medium entertainment for the masses
January 24, 2009
Loved the movie from beginning to to the end.
January 15, 2009
Kept me entertained the whole way. Predictable in the end but it was good.
January 13, 2009
this movie is the best i have seen all month and yes it did make me cry it was a very emotion movie and all actors did more than a brilliant job!
January 08, 2009
Nicole Kidman played an excellent role she is an amazing actress she has always been the leading lady
January 06, 2009
Very entertaining movie with fantastic script and visual scapes plus good cast and portral of characters
January 06, 2009
This was a very entertaining movie with incredible cinematography. It provided an insightful historical perspective of Australia in the 1940's
January 05, 2009
I went to see Hugh Jackman!! Certainly did not dissapoint me!The movie had a really good plot, the actors were superb and Hugh Jackman of course is very sexy as usual!!
January 03, 2009
3 Stars is pushing it. If you watch a lot of movies like I do, this is Holly Woodized...magical if you will. Goes way too fast. The actors though did a superb job.
December 30, 2008
I loved this movie.It moved me to tears and kept me on the edge of my seat. The little boy in this film needs to be nominated for an Oscar. Incredible talent as such a young age.
December 30, 2008
A well depicted movie from that era. Good to see how it affected the Aussies. Excellent scenery. Nicole and Hugh were very good. We'd see it again for sure.
December 28, 2008
Nulla was just superb! Ovearall a really great movie after a long long time! A must see.
December 28, 2008
Absolutely brilliant movie depicting true life in Australia in the mid 20th century. On par with "Gone with the Wind".
December 22, 2008
one of the greatest movies that i have seen in a long time it had bits of everything in it to satisfy every audience and yes the kid played an amazing part, but not to mention so did Hugh and Nicole. Overall a very interesting and touching movie that you would be difficult to miss, in other words just go see it.
December 21, 2008
I was expecting so much more. With a title like 'Australia' you'd naturally think 'EPIC' movie...nope! Simply an Australian based western with some atrocious acting and some real corny twists. That is not to say it didn't have some great moments...it did. But only 2 1/2 or at best, 3 Stars. R.A.N.
December 18, 2008
saw this movie without reading the reviews... i was a little surprise how much blue screen was used in parts of the film that was taken place outside. but the real shots of the country was amazing.... nicole and hugh's acting was not bad... but the boys acting was great... a very good film. go see it yourself and make up your own mine about it...
December 17, 2008
Thank goodness, Finally a Long movie. I never thought it was a long one when I was sitting through it; I wanted it Longer! I was going to rate it 5 stars but decided not to. I thought that the rough and tough stuff they did in the middle of the movie was going to be longer! But it was lot to sit through to see what led up to it and the last part. That actor main boy in the film sure put to shame grown men who don't work. He acted like a lot of really good men actors do! He sure should get an oscar! I felt it was a bit contrived. Overall there was Really Good acting and it was a well thought out movie.
December 16, 2008
Absolutely fantastic movie! Love Nulla - want to take him home !!
December 13, 2008
Wonderful film, I have seen it three times so far, could go again yet, it had a lot of people in the cinema wiping their eyes, even the elderly gentleman in front of me...GREAT!
December 13, 2008
Loved the movie, all the dumn critics should know what a great movie entails, this movie was never supposed to be an accurate historical event, it has humour, love, great acting and a wonderful movie to watch on the big screen, don't wait for the DVD as you will miss a lot of the spectacle.
December 12, 2008
beautifully done. And incredible cinematography!
December 12, 2008
We loved the movie; well worth the length. Fabulous acting by Brandon Walters. It had great scenery; it makes me want to revisit Oz.
December 12, 2008
This movie could not make up its mind. Is it trying to be a western? Or a love story? Or a war movie? Or an historical drama? Or a commentary on the treatment of Aboriginals in Australia? The actors try to hard to act and come off contrived; especially Kidman. Long and uninteresting with too many digital effects (scenery, etc). If you must wait for the video.
December 12, 2008
worst movie i've ever seen, i can't believe its sitting at a 3 rating now. do not waste u'r time. 2.5 hours..
December 12, 2008
It's really nice. I hope Nicole gets her second Oscar for this one...
December 10, 2008
It just shows you how gullable we are to listen to the media about movies. This movie was too long with no substance, boring, poor acting. In fact I'm quite surprized with Nichol because she and Jackman had no chemistry whatsoever. Save your money on this one. Boring, boring, boring.
December 09, 2008
saw it. loved it. had all the bells and whistles, love, drama, suspense, humour. i was pleasantly surprised by nicole kidman BUT the real treat was watching hugh jackman!!!!! what a hunk of gorgeous male flesh!!!!!! there wasn't one woman in that audience that wasn't wishing she was going home with that delicious man!!!!!! including me!!!!! oh my god!!!!!!!
December 09, 2008
The reviewer that compared it to Transporter 3 says it all about the kind of reviewers that panned the movie. You need to deal with your A.D.D. first and just wait for T#4 next year. You best read those reviews first, LOL. Like a really great novel that you can't put down, this movie holds you till the very end.Probably the best movie this year in its catagory and for sure it will take some awards. The young boy alone is worth the price of addmission.
December 09, 2008
This is Out of Africa meets Pearl Harbour meets The Illusionist without the good acting, script, or direction. The leads are great to look at, but that's about it. Two stars.
December 07, 2008
Flat out hands down best film of the year
December 06, 2008
Could have been much better, Kidman was way over the top. Jackman was the only thing that saved this film.
December 04, 2008
This film will certainly win several Academy Awards, including Best Picture, Best Actor in a Supporting Role (13-year old Brandon Walters), Best Cinematography, Best Original Screenplay, Best Director and Best Art Direction. This film is stunning.
December 04, 2008
Reminded me of the old western's from the 70's & 80's .... very predictable. Replace the old witch doctor & the boy with our native Indians and there you have it. The only real difference was that had Australian accents.
December 04, 2008
One of the worst movies ever. Wow!!! It was EPIC--in being Bad! You wait 45mins for something to happen--but nothing ever does. Theres a scene with the native kidd and nicole kiddman --where nicole starts singing---it has to rank as one of the most forced/stupid scenes ever. I use to read these reviews and trust them.....but a 4.1/5?? Are you kidding?? The transporter3 was much better---and it was HORRIBLE!!!
December 04, 2008
Incredible cinematography of Australia, and very well acted, the best movie I have seen in some time.
December 03, 2008
I loved it and would definitely see it again. The film definitely brought about a sense of the old and the new. The acting was superb all around. It transcends any film I've see in years. Totally entertaining, giving you a new confidence in film making today.
December 02, 2008
I thoroughly enjoyed this movie. I laughed. I cried. It became a part of me.
December 02, 2008
AN AWESOME MOVIE, WELL ABOVE EXPECTATIONS AND YES I WOULD GO AND SEE IT AGAIN, AND WOULD LOVE TO BUY THE DVD WHEN IT COME OUT...LOVED THE CHARACTERS, RECOMMEND HIGHLY
December 01, 2008
Very interesting,good story outline, beautiful Australian pictures, has some magic and poetry, good director and acting, I loved the magician, he should get Oscar for that role. Nola acting was good too.
December 01, 2008
loved it!!! won't mind seeing it again!
December 01, 2008
This movie started out very slow , Nichole does not achieve the haughty English Socilite she trys for , very over acted, Hugh does a good supporting role but the winner here is the young boy Nullah , what a charming lets hope we see more of him. the movie was overated regarding the fanatastic scenery , there should have been far more , this was a let down .
November 30, 2008
The best movie I have seen in years