Ballerina (Leap!) - User Reviews
Thank you for rating this movie!
Read your review below. Ratings will be added after 24 hours.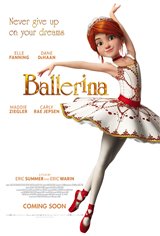 ---
Please rate movie 1 to 5 stars
Showing 1 to 17 of 17
March 21, 2018
I loved it. it is an incredible movie, but I didn't like the Felicie/Rudolph pairing and the Felicie/Victor pairing, I think they're too young for that stuff
September 20, 2017
A thoroughly enjoyable film for kids of all ages, not just girls. The CGI artwork, voice talents & soundtrack are all excellent. The story-line, though predictable, works well. A sure-fire Oscar nominee.
September 13, 2017
The movie is wonderful and if you are a ballet fan it will become one of your favorite movies. This is a movie you will want to see live in a theater rather than on a smaller screen at home. Support the incredible artists that made this for us by seeing it in your local theater if you can!! Delightful!!!!
September 10, 2017
I couldn't really concentrate on the movie. The seats were ripped up, the floor was sticky and there was a pallid middle-aged man wearing a raincoat and sitting by himself. Creepy vibes!
September 06, 2017
Watched this movie with my 4 yr old daughter. Was afraid she might not stick with it or pay attention through the whole thing. But she did and she liked it. This is a really good movie for younger girls, to pursue your dreams no matter what. Though probably better to watch for elementary kids and older, 4 yrs old though okay, is probably a bit young to fully appreciate.
August 30, 2017
Whoever complained about the earlier review about it not being a Disney film: yeah, you misunderstood that person's statement, FYI.
August 28, 2017
Fantastic, empowering, aspiring, and inspirational story.
August 27, 2017
Carly Rae Jepson is OUTSTANDING! Best dance film since Black Swan!
March 17, 2017
I loved this movie! It was really good and both my 7 year old son and 4 year old daughter enjoyed it.
March 13, 2017
I like it so much and will see it again!
March 11, 2017
Whoever commented that Disney could not have done a better job, FYI, it is not a Disney film
March 10, 2017
My 4 girls loved it. Excellent movie for family.
March 09, 2017
Wonderful film - love that Canadian connection
March 08, 2017
Great movie. I took my daughter to see this and I enjoyed it as much as she did.
March 06, 2017
Loved this movie. Will see it again and then buy it when it comes out!
March 06, 2017
Very Well done - Story line & characters interesting to keep you laughing crying & caring for the best to happen to the main characters in the story! Disney could not have done a better job!
February 26, 2017
An uplifting and fun family movie about pursuing and living your dream. How even those opposing you can become allies and support you if they can resonate with your ambition and drive. How friendship and good people can connect in our lives. And how we can live our dreams. A good movie for children and adults as well.