Barney's Version
Thank you for rating this movie!
Read your review below. Ratings will be added after 24 hours.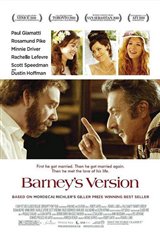 4.12 / 5
User Rating
Based on 562 votes and 182 reviews
---
Please rate movie 1 to 5 stars
Showing 1 to 50 of 182
October 13, 2011
Very well done. Great perfomance by Giamatti...oscar nomination worthy in my view.
October 09, 2011
Best of the year!
August 23, 2011
A beautiful movie, well acted , directed and written. A gem of a movie.
August 11, 2011
very good movie that is held together by the amazing performances by virtually everyone in the film...especially giammati and hoffman.
July 31, 2011
Good movie! The truth is stranger than fiction.
July 25, 2011
great movie.
June 30, 2011
excellent movie!!! one of the better movies I've seen in recent years. Smart, funny and moving. Giammatti was great, as was Hoofman and Rose Pike.
June 09, 2011
Very emotional and worthwhile movie.
June 06, 2011
this movie is good
May 14, 2011
good movie...bring tissues
May 09, 2011
One of the most moving movies I've seen in years. Excellent film.
May 02, 2011
Great movie - the characters were so compelling and heartbreaking. I loved Paul Giamatti's portrayal of Barney.
April 26, 2011
Loved it!!!
April 20, 2011
Brilliant movie - amazing performances..Loved Dustin Hoffman in this flick.
April 14, 2011
LOVED IT!!!!!!!
April 11, 2011
Really good movie!!!! All the actors were amazing in brining this calssic novel to life.
April 07, 2011
Very well done movie; enjoyable!
April 06, 2011
A great movie
April 04, 2011
This is a wonderful story and a perfect tribute to Mordecai Richler.
April 04, 2011
Excellent movie
April 04, 2011
nice movie
March 31, 2011
Very touching and funny in parts
March 28, 2011
very funny and entertaining movie. Despite seemingly a bit too long, the movie delivers in the end. Great performances by Giammatti, Hoffman and Pike.
March 27, 2011
acting was superb, interesting story
March 26, 2011
One of the best movies I've seen this year. Great story. Some twists. Some sexual tension. Great characters. You laugh, cry and even gasp. Need I say more?
March 24, 2011
Excellent movie
March 24, 2011
Great movie
March 22, 2011
Great movie with outstanding performances!
March 21, 2011
Could have used someone other than Paul Giamatti.....
March 21, 2011
Dustin Hoffman was the only character I could work up much interest in or sympathy for and he only appeared briefly. Maybe if they'd gotten another actor to play Barney as a young man it would have been a bit more believable. Hard to enjoy a movie when the main character is such a jerk.
March 21, 2011
Loved this movie
March 21, 2011
WOnderful movie and did the book proud
March 21, 2011
Should have been nominated. Hoffman was awesome
March 21, 2011
Good movie, albeit a bit slow and dull at times. Very good, yet sad ending. I enjoyed it!
March 17, 2011
Very emotional, heartfelt movie. Brilliant performances. Dustin Hioffman deserved an oscar nomination for his portrayal of Barney's father. A very good movie.
March 17, 2011
Good story, keeps you guessing.
March 15, 2011
very entertaining movie about life, love and all the problems we create.....amazing performances by the entire cast, especially Giammatti and Pike.
March 14, 2011
Very good movie - deserved an oscar nomination, but for reasons I don't understand, it didn't get one - did people really think Winter's Bone was better than this??
March 14, 2011
Excellent movie!
March 14, 2011
A very good movie. At times, the movie was sad, funny, gross and disturbing. Great perforamcne by Giamatti...also, really strong and surprising performances by Scott Speedman, Rachel Lefebvre, Minnie Driver and Hoffman. A very good movie - GO CANADA.
March 13, 2011
Absolutely wonderful film. I would go back at see it again!
March 13, 2011
great acting, good script
March 10, 2011
This movie is fabulous, it was totally ignored by the Oscars, all the stars did a great job, and the locations were top notch.
March 06, 2011
Barney's version may not be the right one but the movie is
March 04, 2011
Interesting view of character
March 02, 2011
the movie is good and funny
March 01, 2011
Shows what Canada can do
February 28, 2011
This was a very moving film that turned out to be perhaps less funny and more serious than expected, but certainly for the better. The actors all deliver incredibly realistic performances and the Oscar-nominated make-up is also worthy of praise. Go see this movie if you want to have some thoughts provoked.
February 25, 2011
we all enjoyed this movie!