Battleship - User Reviews
Thank you for rating this movie!
Read your review below. Ratings will be added after 24 hours.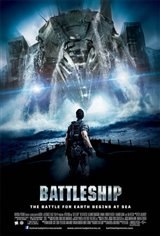 3.81 / 5
User Rating
Based on 686 votes and 213 reviews
---
Please rate movie 1 to 5 stars
Showing 1 to 50 of 213
February 12, 2023
Pretty lame, Milhouse. Disappointing that Liam Neeson will stoop this low for a cheque. Throw a rock and you'll hit something better to watch.
January 13, 2022
Loved this movie ! Dramatic and fun in all the right places with a nice pace and character development. The music score was excellent with lots of AC DC thrown into the mix and the FX top notch ?😎
January 06, 2016
Having participated in RIMPAC in the Navy and having seen (and felt) the USS Missouri fire a full broadside before she was retired, I think they did a fantastic job with this movie. Very entertaining throughout!
December 28, 2015
It's the best movie out there.
June 05, 2014
You'll immediately find yourself wanting to play BATTLESHIP after seeing this tense, brainy, action-packed film! Easily the best movie based on a game yet!
April 10, 2014
Great movie!!! I loved it! Rihanna did an amazing job! Luv her!!!! <3 I hope to see her in more movies!! (:
April 07, 2014
Rihanna :D would watch it twice just because she is in it.
July 05, 2013
BEST summer blockbuster ever!
February 12, 2013
This moving wasn't very good. A lot of bad acting. Parts of the story didn't make sence or get answered. It was 30mins of story and 1.5 hours of blowing things up. A show off for speical effects that weren't even that good. Rihanna can't act. I hope she never does another movie again.
November 19, 2012
It was one big commercial for a video game, which is why people love it!
November 18, 2012
One big commercial for a video game.could not stand it ,walked out of the theater!
November 11, 2012
This one is so bad, that I was rooting for the aliens to kill all the humans!
November 11, 2012
A perfect premise for a great movie blown! I used a video edit prog. and took out all the ridiculous/moronic parts of the movie and kept the good to best battle scenes, and I have only 16 minutes left! And I was being generous! Kids under 10 might like it.
October 18, 2012
bad movie
October 09, 2012
the first 15 minutes of the movie are hilarious....after that it just gts silly.
October 02, 2012
not as bad as the critics suggested..still not the best movie, but worth a watch.
September 22, 2012
the best pure adrenaline rush since id:4! should scoop multiple oscars for sure!
September 05, 2012
terrible. i was bored from start to finish. couldn't wait for it to end. plot and lines are off the chart lame.
August 31, 2012
to finish my last.... the alien effects were very very good (thanks, transformers!) and it had the right mix of clichés, improbable circumstances and triumphs to make it a good alien action flick. well worth watching... one of those movies that's worth owning just to watch every now and again.
August 31, 2012
no interspecies sex that i saw but the interspecies fisticuffs were pretty good. look, it's a movie about a pretty simple, old board game - just what level of indeptch "human condition" type storytelling are you expecting? go watch driving miss daisy again if that's what you look for in a movie. battleship was a lot of fun to watch! sure, liam's role is pretty much just that of the father who disapproves of his daughter's suitor but who cares - it's not a movie about him. yes, the plot is laid out fairly early on, but it's the resolution that we come to watch. the movie was very well done and loads of fun. the alien effects were very very good (thanks, transformers!) and it had the rig
August 29, 2012
the interspecies sex scene was very graphic and lasted 17 minutes.
August 29, 2012
by the end of this idiotic movie the cliches were coming so thick and fast i burst out laughing.
August 29, 2012
astonishingly stupid plot and dialogue. wow.
August 19, 2012
i wish i could give it a lower rating than one star. the dialogue was weak and very repetitive. they beat that stephen hawkins quote (the analogy comparing christopher columbus to extraterrestrials) into the ground. ok!! we get it!!! the aliens are the europeans and we're the indians. now, how about coming up with something original?
July 15, 2012
absolutely amazing!
July 14, 2012
back off, aliens -- you're not taking our planet!
July 14, 2012
well put together film
July 05, 2012
action fans haven't had it this good since raiders of the lost ark.
July 04, 2012
kudos to the producers for having the guts to make the toughest, grittiest film about war since platoon.
July 04, 2012
this movie was amazing and incredibly true to the game on which it's based.
June 28, 2012
the perfect summer blockbuster! seen it three times already and i'm goin' back for more!
June 28, 2012
absolutely the single worst movie ever made. i waited through the credits for them to say the joke was on me. doesn't it seem odd that earth was being invaded by an only marginally more advanced group of aliens? they didn't even have a death ray! what's up with that? dumb movie - really dumb and terrible acting.
June 21, 2012
hands down the best movie of the summer!
June 20, 2012
my wife and i met at a "battleship" tournament in illinois so this had added meaning for us.
June 20, 2012
best movie based on a game since "clue!" it also happens to be one of the ten best action films ever made.
June 16, 2012
it's like "battle los angeles". the best part about this movie is it has one blonde (brooklyn decker). maybe they should call this movie "battle hawaii"??
June 14, 2012
reminds me of the board game.
June 14, 2012
action packed and i quite enjoyed it .
June 14, 2012
better than the game
June 13, 2012
better than the game
June 12, 2012
pretty good, not outstanding
June 12, 2012
it had good atcion and i enjoyed it
June 11, 2012
the special effects are great. this movie is worth seeing for the special effects only.
June 11, 2012
this was a really bad movie! great cg but that it.
June 10, 2012
save it for dvd.
June 10, 2012
the most disappointed i have been in a big blockbuster since transformers 2.
June 10, 2012
must see! great movie
June 10, 2012
amazing special effects - the only bad point i have is the lead actor - would have been better with someone else!!!