Battleship - User Reviews
Thank you for rating this movie!
Read your review below. Ratings will be added after 24 hours.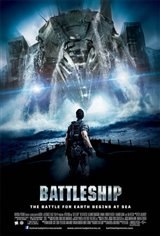 3.82 / 5
User Rating
Based on 684 votes and 212 reviews
---
Please rate movie 1 to 5 stars
Showing 151 to 200 of 212
May 22, 2012
rhianna is the sexiest babe on the planet, and i knew if anyone was going to save earth, it would be her.
May 22, 2012
just like the classic board game! brought back so many pleasant memories!!!
May 22, 2012
all points awesome! the filmmakers definitely knew what they were doing.
May 22, 2012
the most fun i've had at the movies since the room.
May 22, 2012
Yay ammerika wooo ammmerika
May 22, 2012
surprised me, considering what i walked into the theatre expecting. those who walked in expecting the cannes film festival etc... know damned well what they were in for... (douchebags always lose)
May 22, 2012
awesome movie loved it
May 22, 2012
this is a rental or a bootleg movie.this must have been a paycheck movie for liam neeson because he was hardly in it.the action was ok but the casting was wrong.rhianna was ok i guess but i believe even if she had a nude scene this ship would still sink. it cost 210 million to make & only made 23 million...enough said. i guess they can make a connect four movie now or hungry hungry hippoes
May 22, 2012
awesome,super like, well made action sequences.
May 22, 2012
it took a while to resemble anything close the the board game. i liked how they incorporated the grid and shot blindly at each other, but it seemed too brief. that suspense could have lasted longer. otherwise it seemed eerily similar to the star trek re-boot. everyone dies then suddenly the bad boy who needs to grow up and defeat an undefeatable alien force, gets promoted to the highest rank and steps up to the plate and wins. hmmmm.
May 22, 2012
fast paced, fast moving,grip the arm of your chair!1 loved it
May 21, 2012
amazing movie for 2012!
May 21, 2012
amazing graphics, lots of action & not boring! really enjoyed it!
May 21, 2012
i little bit far fetched, but it was funny and entertaining.
May 21, 2012
good action movie
May 21, 2012
this movie was the warm gooey center of a turd sandwich! save your money!
May 21, 2012
got dragged to it...not really my kind of show
May 21, 2012
this movie was a little better than expected but it does appear to be a poor rip off of independence day. the acting left something to desire considering the main characters are all unknowns. if it wasn't for the only funny character i would have fallen asleep. turned out to be better than expected but not good enough to dominate the box office. if you have to see a movie that your boyfriend wants this movie won't be extreme punishment.
May 21, 2012
best movie, we enjoyed every moment when they honoured the veterans, that was the best.
May 21, 2012
liam is in everything
May 21, 2012
best action flick ever and military does not disappoint this time.
May 21, 2012
unexpected entertaining movie!
May 21, 2012
with old school heroes, edge of your seat action and women who do more than scream, this movie is a must see.
May 21, 2012
surprisingly entertaining
May 21, 2012
i like all action movies and this movie met my expectations. it's very fast paced with lots of action. rihanna is not so bad as an actress.
May 21, 2012
in a time of bad movies this is one of the better action flicks
May 21, 2012
how many times do we have to see the aliens get beaten by the poor old humans? we need to wake up and realize that this is the elite trying to make you think it's just another good old fun movie when in fact they are just trying to hide and discredit that they(aliens) have always been here. disclosureproject.org
May 21, 2012
pure popcorn summer action flick, great on the vfx/explosions,etc,just check your brain at the door and you wont be disappointed by cheesy dialogue. it's loud,fun,and sounds looks like transformers,so visually it hits all the high notes. mindless escapism with big budget looks.
May 21, 2012
great action!
May 21, 2012
short on dialogue which probably is a blessing. big explosions. (spoiler alert!) i am glad they saved the world but left me wanting just a little more character development.
May 20, 2012
big summer movie: big sound, big explosions, big music, big action.
May 20, 2012
great movie...the action was great and being x navy was very real.just remember its sci-fi.and enjoy!
May 20, 2012
honestly this movie is much better than most people expected. great action movie, with some truly epic moments (some cheesy moments too, but that's expected).
May 20, 2012
battle la part 2 but this time the action is in hawaii and it's the navy instead of the marines.you've seen this movie if you've watched the new battlestar galactica series, though that was much better written. dumb fun but go cheap night if you can. still trying to figure out some of the improbabilities and plot holes. make sure you stay for the extra scene after the credits. i was the only one left in the theatre where i was that saw it...
May 20, 2012
seriously, this was one of the worst movies ive ever seen!!! i dont fault the actors, but but i do fault the writers, directors, and producers of this! save your money, and when it comes out for rental, which will be very soon, then rent it and be grateful for not wasting your time! please, please take this advice!
May 20, 2012
good special effects; not too much of a storyline; mediocre acting
May 19, 2012
great action,though a little over the top at times,good soundtrack to go with the action.
May 19, 2012
i was expecting a piece of junk lets face it based on a board game but man was i pleasantly suprised
May 19, 2012
edge of your seat entertaining! reminds me of independence day but better. set in honolulu hawaii!!! humour, story and good acting. must see - 5 stars!
May 19, 2012
suspend disbelief, grab some popcorn and sit back and enjoy this ridiculous, (at times) funny and action packed movie. if you're looking for a serious film then move along because this movie is all thrills, action and comedy. go watch 'remains of the day' or the 'english patient' and let everyone else in the theater enjoy the movie.
May 19, 2012
love the movie
May 19, 2012
lots of great action
May 19, 2012
great battles throughout! love it!
May 19, 2012
take out the first 15 min. and the last 5 mins. of this movie and you have a very entertaining movie.the special effects were amazing...hands down.
May 18, 2012
great movie!
May 18, 2012
it's a struggle to make it past the first 20 minutes of bad acting, and dreadful writing, but once the invasion starts, the film becomes a heckuvalota fun. enjoy.