Baywatch
Thank you for rating this movie!
Read your review below. Ratings will be added after 24 hours.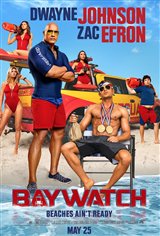 ---
Please rate between 1 to 5 stars
Showing 51 to 71 of 71
June 03, 2017
Go watch it for a fun night at the movies. Don't listen to the naysayers
June 01, 2017
As someone who loved Baywatch growing up I was not disappointed.
June 01, 2017
Terrible. I would not recommend this movie to anyone. Run.
May 31, 2017
I was so disappointed with this movie. I'm NOT recommending it to anyone. I can't believe how phony the scenes were with the fire....really unprofessional.
May 31, 2017
Again the movie studio critics come out to endorse a crap movie. 2017 has been the year of crap movies so far. Hollywood is dead.
May 30, 2017
Great entertaining,stunt scenes, and humorous take on the Baywatch genre. Liked the cameos of former BW stars, dialogues, and outtakes.
May 30, 2017
Plain, old, simple movie. Not worth watching.
May 29, 2017
Entertaining brainless summer movie. Funny, with a feel good ending. Reminded me of Sat AM cartoons when they were good. Worth $6.
May 29, 2017
Funny as hell. The Rock doesn't dissappoint
May 29, 2017
It's everything you hoped it would be. 5/5
May 29, 2017
Had funny humor!
May 29, 2017
Soo funny!!! Loved it
May 27, 2017
The critics said to take a pass which means to me it's a good movie. A great story - not really but the humour was great, especially the banter between Diane and Zac. If you need a good laugh, it's worth a look.
May 27, 2017
Very funny not the best script but worth watching
May 26, 2017
This is a start of Summer movie...not too serious. It won't go down in the annals of history. It may convince people to get in better shape...and you feel happy after you leave the movie theatre.
May 26, 2017
Great scenery :-) not much else
May 26, 2017
Baywatch is an enjoyable film, light with a lot of humour. Dwayne Johnson and Zac Efron are great in their roles. Enjoyed it immensely!
May 25, 2017
One of the year's ten best.
January 11, 2017
The most anticipated movie of 2017.
December 13, 2016
When are they going to reboot SPACE: 1999?