Beasts of the Southern Wild - User Reviews
Thank you for rating this movie!
Read your review below. Ratings will be added after 24 hours.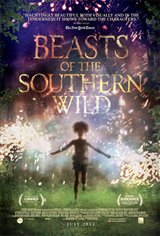 ---
Please rate movie 1 to 5 stars
Showing 1 to 28 of 28
March 04, 2013
moving, shocking & relevant
February 23, 2013
This little lady is amazing
September 28, 2012
NOT BAD
September 20, 2012
brilliant, creative, original
September 20, 2012
not bad! great visuals
September 19, 2012
great!
September 18, 2012
thanks for contributing. it's helped me udernsatnd the issues.
September 18, 2012
excellent!
September 16, 2012
it was okay...
September 15, 2012
i'd love to see this movie. too bad that none of the suburban movie theatres show it. what's wrong with cineplex - do they think we are all idiots just because we don't live downtown.
September 15, 2012
great movie!
September 11, 2012
fairly good.
September 08, 2012
excellent!
September 02, 2012
just an okay movie
August 27, 2012
interesting movie but nothing special
August 26, 2012
very nice.
August 25, 2012
unique and original story that almost plays like a documentary.this poverty is in-your-face and real.it shows that the the first people to suffer from the effects of climate change are the most vulnerable on our planet.
August 24, 2012
truly a work of art. could not take my eyes off the little lead actress. she should be nominated for an oscar. truly an outstanding performance. well done. although it may not be to everyone's taste - this movie delivered all the emotions and experience one wants when they go out to be entertained.
August 23, 2012
not good at all. not bad enough to be a 1 star film, but still god awful.
August 23, 2012
an intriguing film about a louisiana community living on the fringes. the little girl in the starring role is incredible.
August 20, 2012
a bit disappointing, but not completely horrible.
August 17, 2012
this is an amazing and unique film. in the theatre, when the film ended and the credits started to roll - no one moved - everyone was still processing. beautiful.
August 16, 2012
great performance, especially hushpuppy. slow moving at first, but enjoyed the movie
August 15, 2012
fairly good!
August 09, 2012
excellent film, beautiful story and visuals. highly recommended.
August 07, 2012
not my style
August 05, 2012
no not for me
August 04, 2012
strong movie. interesting and powerful. incredible performances.