Beautiful Boy (2011) - User Reviews
Thank you for rating this movie!
Read your review below. Ratings will be added after 24 hours.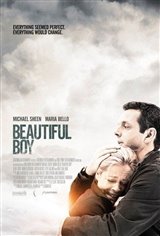 ---
Please rate movie 1 to 5 stars
Showing 1 to 24 of 24
August 04, 2011
Powerful and full of life lessons...be prepared to cry!
August 04, 2011
A tragedy told with a great moral meaning.
August 04, 2011
Amazing,sad tragedy,told so beautifully!
August 04, 2011
beautiful and moving!
August 03, 2011
Amazing tragedy told in such a beautiful manner!
August 03, 2011
Very emotional, but liked it.
August 03, 2011
"Beautiful Boy" is a really beautiful movie!
August 02, 2011
Beautiful,moving,tragedy told in a gentle manner!
July 29, 2011
I enjoyed this movie most of the time. Sometimes it moved too slow but with the nature of the subject I can see why. The acting is superb and I will watch again when it is DVD released. Subject matter sadly is all too real in today's society.
July 28, 2011
I think this movie deserves a three star rating.
July 27, 2011
Powerful and incredible!a tragedy that pulls you in and never lets up!
July 26, 2011
Excellent!!Moving and raw emotions give this film an incredible Oscar nod!
July 25, 2011
A thoroughly heartbraking, yet enjoyable movie from beginning to end.
July 20, 2011
A tragic story with lots of depth!
July 20, 2011
A very well done and thought provoking movie. As parents we try to do our best raising our children. When children misbehave it is normal to question ourselves and ask what we may have done wrong. Yes parents can have a negative impact on a child but it is not always the fault of the parents. This harrowing tale, explores these issues.
July 18, 2011
Most of "Beautiful Boy" is unrelentingly bleak and depressing, but there are moments of understatement and grace.
July 18, 2011
Too melodramatic! Not engaging.
July 18, 2011
A heartfelt movie, would probable see again when it comes on video.
July 17, 2011
Powerful,moving and different to see the movie from this tragic point of view.
July 17, 2011
Well rounded movie!
July 15, 2011
A very nice movie for the whold family.
July 14, 2011
Very Moving, and lots of dialogue with no words...It's a side to these tragedies we don't get to see..Very powerful...bring kleenex!
July 14, 2011
tragic story ...........good