Beginners
Thank you for rating this movie!
Read your review below. Ratings will be added after 24 hours.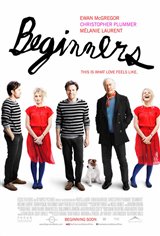 ---
Please rate movie 1 to 5 stars
Showing 1 to 49 of 49
March 02, 2016
Goran Visnjic has a small appearance, but the film is organized as a progression of interconnected flashbacks. Taking after the demise of his dad Hal, Oliver thinks about their relationship taking after the passing of Oliver's mom, Georgia. Not long after her demise, Hal turned out to his child and started investigating life as a straightforwardly gay man. He gets to be dynamic in the gay group, discovers love and turns out to be more legit with himself and with his child.
December 22, 2015
Beginners may look shallow, but I'm trying to convince you that it is actually a great movie. Ewan McGregor, Goran Visnjic, Christopher Plummer... they all make a great acting crew without which this movie wouldn't have been this fun, exciting and possible. I know that the subject is not really going to be according to everybody's taste, but hey no movie is perfect, right? Following the moving scenes that can touch anybody, you will start to understand why this movie is great and underrated in the same time.
May 14, 2012
i really loved this movie. great characters, words not wasted. this is a thought provoking film, so it is not for all. christopher plumber was wonderful.
January 05, 2012
Good movie. Plummer gives one of his best performances, as does McGregor
January 03, 2012
Good movie, with many emotional moments with some surprising comical overaly.
October 27, 2011
A wonderful movie about life!
October 26, 2011
surprisingly good,excellent sound track
October 25, 2011
I only think that this movie only deserves a three star rating.
October 24, 2011
A very good movie.
October 23, 2011
Poetic but dull.
October 23, 2011
Just love the action
October 22, 2011
Pretty good movie, overall good story line.
October 20, 2011
Touching movie. Slow parts.
August 08, 2011
I adored this quiet but mighty film. The casting is perfection. I love a director that trusts the audience enough to not spell out every little detail. People are complicated.
August 04, 2011
Lots of warm characters to appreciate in this movie!
August 04, 2011
A little slow, but picks up in the middle...very moving!
August 04, 2011
it was ok
August 03, 2011
It was a slow movie..needed more dialogue between father and son, as the talking dog takes the best lines!
August 02, 2011
Engaging movie and well done.
August 01, 2011
Great cast! Worth seeing.
August 01, 2011
slow and sad, but there are moments that connect the viewers.
July 31, 2011
Very charming film
July 31, 2011
A truly insperational movie, that both me and my girlfriend enjoyed!
July 30, 2011
Fun,great cast,and the talking dog steals the show!
July 28, 2011
Quiet, senstive and thoughtful. I loved this artist masterpiece. Have always loved Ewan and of course, could watch Plummer read the phone book. No surprise that we care about the very human plight they both experience. Saw it with my mother and she felt the same way.
July 27, 2011
I think this movie was well made and I gave it a three star rating.
July 26, 2011
It was okay..would have liked more of father and son relationship to be developped
July 25, 2011
Christopher Plummer is super as usual. This is sad, funny, well written drama. I very much enjoyed it.
July 22, 2011
I loved this movie because it actually told a story without all the flash and 3D of today. Christopher Plummer was a amazing as always. A great movie for adults.
July 21, 2011
A lovely film with great acting by Ewan McGregor, Melanie Laurent, and Christopher Plummer. Sad but very touching. For serious film lovers.
July 21, 2011
The movie moves too slow and simply drags.
July 20, 2011
Smart,funny,witty...a little slow at times..the talking dog steals the scenes!
July 16, 2011
Christopher Plummer is great here
July 15, 2011
The movie drags and simply move too slow.
July 14, 2011
Christopher Plummer has his movie roles in years, and Ewan McGregor is great in his supporting role.
July 14, 2011
Not a bad movie at all.
July 13, 2011
"Beginners," is the most gentle and intimate film I have seen in quite some time. This is a lovely story about learning how to begin accepting things into your life.
July 12, 2011
By far the best movie I have seen so far this year. Amazingly clever and cute.
July 12, 2011
I think it's a all right movie for some people but not for me.
July 11, 2011
Performances were good but script was slow and boring.
July 10, 2011
Following the death of his father - on the heels of learning he's gay and has a young lover - Oliver [Ewan McGregor] has to come to terms with his inability to form a lasting relationship when he meets Anna [Melanie Laurent] and begins to fall in love. The movie skips around as Oliver's memories flitter between his childhood and his father's life as a freshly come out of the closet 75-year old gay man. Collages of what the sun/history/nature looks like at various points add whimsey as Oliver explores his relationship with his father, pre and post his coming out coming. The film ends, logically enough and emotionaly appropriately, with a beginning. Christopher Plummer is Oscar®-worth
July 09, 2011
a good "artsy" movie,however a little long and characters not developed.
July 03, 2011
Painfully dull. I expected a bit of humour, a dash of flair. Nope. Deadly. Actors worked hard witht the script. What this needed was pacing and wit. Dragged on and on and on.