Ben-Hur - User Reviews
Thank you for rating this movie!
Read your review below. Ratings will be added after 24 hours.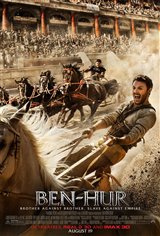 ---
Please rate movie 1 to 5 stars
Showing 1 to 50 of 60
February 21, 2017
awsome!!!
December 03, 2016
Really cheesy movie - slow and lacklustre. Should be called something else because it in know way compares to the original.
October 06, 2016
Incredible!
September 25, 2016
Excellent - loved how they incorporated the story of Jesus into this more than the original. Original hard to beat, but really enjoyed this version too.
September 17, 2016
awesome story
September 06, 2016
Loved it!
September 05, 2016
Ben Hur is an outstanding adaptation of the classic novel and the 1950s movie that garnered as recall 11 Academy Awards the most ever won matched only by Titanic.. I found it to be an inspiring and action-packed story of love turned to hate between two brothers in ancient Jerusalem. How that hatred that almost destroyed them was transformed by a rising and mystical Messiah who threatened both the entire Roman Empire one brother fought for and the high status and beliefs of the other brother.. A moving message of the power of Love so needed in our world and nation so divided by hate and fear.
September 04, 2016
Boring, story is not interesting at all. The two main actors are good actors but the rest are not. Its a video!! If they want to make these remakes make good ones....money grab.
September 03, 2016
dud..dud..dud........should I say anymore..if there whas anything lesser than a one star rating.. it would get my vote
September 03, 2016
Very exciting movie! Good storyline!
September 03, 2016
Ha. The people with the truthful reviews won this one. 28% rating on Rotten Tomatoes, and a one star from me. This one sure will not be sitting beside my original copy.
September 02, 2016
I really enjoyed this movie....story was great.
September 01, 2016
Nice remake, better on the love angle but lacking on the rest of the film compared to the 1959 version.
August 31, 2016
Awesome remake it's a must see!!! I'll own this movie for sure, it will be right beside the original version.
August 31, 2016
Good movie
August 30, 2016
I enjoyed it, but watched the 1959 version yesterday and it was much better. Even the color was better.
August 28, 2016
The action in the beginning was hard on my eyes. I had to turn away because I couldn't follow it It seemed to smooth out and not bother my eyes anymore, once I got used to it.
August 28, 2016
great re-make of a classic film.
August 28, 2016
Loved it! Exciting movie and an important life lesson as well!
August 27, 2016
Bad version, bad actors, no personality. Cheap movie. The best...Horses!
August 27, 2016
Great action scenes! Incredible story line.
August 27, 2016
very good movie-kept my interest all the way thru-the chariot race was awesome-im sure the 1 and 2 star ratings were from people who didnt even see the movie. i give it 4 stars
August 27, 2016
Good movie
August 27, 2016
I had to see this movie since I am a fan of the 1959 classic. I'm satisfied with this remake. It was worth my time. Tottally recommended.
August 26, 2016
I attended the movie with two friends and we thoroughly enjoyed it. I have have seen the both previous versions and liked this much better.
August 26, 2016
This movie was much better than the 1959 in many ways - the story line - the battleship & chariot race scene - the fact Jesus shows up more - the ending showing forgiveness & a new hope - but I'm sure there are many who will think other wise but to bad for them!
August 26, 2016
Exciting, engaging and entertaining. Exceptional visual perception of the battle of ships, chariots, and brothers
August 25, 2016
PLEASE DON'T WASTE YOUR MONEY.........THE WORST MOVIE I HAVE EVER SEEN.......CHARLY MUST BE TURNING OVER IN HIS GRAVE.......sucks>>>>sucks
August 25, 2016
Wonderful movie & Beautiful ending
August 25, 2016
Loved it, have watched more than once. Gotta see it on the big screen for the visuals alone !
August 25, 2016
I agree it does have a slow start, but the chemistry between the two leads is so engaging, I didn't mind. I thought they did a good job of building up the suspense, actually. Good acting from Toby Kebbel and Jack Huston. Actually, pretty good acting all the way around. Stunning visuals, awesome ship battle and chariot race, and the Crucifixtion scene of Christ brought tears to my eyes. In fact, I cried through the whole last ten minutes of the movie. Brotherly love and forgiveness for the win !
August 25, 2016
We found it hard to see why this movie cost $100 Million to make. There is no comparison to the the original Ben-Hur and for those who never saw it I can see why you would give it 5 stars. One of the worst endings of a spectacle film in movie history. Camera pans down from the crucifixion of Jesus to the chariot race circus. There's more...
August 24, 2016
I really enjoyed it and my wife too. It deserves 5 stars. The story is compelling. The scenes with chariots are superb. The scene of the escape from the boat was awesome too. For me 1 star rates don't make any sense. There is just one scene where the camera was like moving with a dance but it was too short to take out a star only for that. I loved it!
August 24, 2016
enjoyed it overall; but handheld camera work annoyingly too jerky-flitty on close-ups; but long/wider shots better, as well as action scenes in race gave edge-of-seat thrills, realistic horse+chariot tumble-crashes. good storyline with ending more inline with a Christian message like the book rather than the old 1950's era hollywood movie.
August 23, 2016
Just finished watching this movie with 3 friends. We all thoroughly enjoyed it. Read a few critiques reviews and wondered if they watched the same movie. The movie followed the original movie in many ways but with a surprise ending that we all loved. I seem to note lately that when critiques give a movie a bad rating and I watch it we are generally at opposite ends of the spectrum - they dislike it and I love it. Having said this it seems the others I was with came to the same conclusion for this movie. The story was well developed with good action scenes.
August 23, 2016
This Movie did a good job. But...the first 45 min. could have been done in 20 min...alot of the motions were like the camera was jerking...but still not bad..The chariot scene was really great..I would give this movie a 3.5 star...Still a good watch...
August 23, 2016
Here is my one-star for the movie. I believe I know where all the 5-star - or most of them - are coming from.
August 23, 2016
Morgan Freeman - best of his career. Did the popcorn have something on it? Or maybe it was free? Why don't the movie sponsors give us real people a break and leave it to us to put real comments about the movie here.
August 23, 2016
Great movie, I loved it !!
August 22, 2016
Astonishing! Morgan Freeman gives the performance of his career!
August 22, 2016
Loved it! It was a fast two hours. All the one star reviews make no sense to me.
August 21, 2016
I went to see ben hur and was looking to be disappointed because the trailer made the film look cheap it and when I saw it I like it as this was a remake was made really really really good, is it better than the classic ???? for me I would say no but it was worth seeing it on the big screen and I would go to see it again, my only beef would be the weak start, the flash backs on remembering and I hate the film poster as it made to make the movie look dumb, and don't listen to people giving it a one star their review doesn't reflex the film
August 21, 2016
very good movie the story line very well combined in the mix of matching time lines though out history good action war i enjoyed it a lot i give it 4 stars
August 21, 2016
My wife and I went to see this movie the day it was released. I had high hopes but they faded within the first 30 mins. This movie is unwatchable. The camera work didn't pull me in...it pushed me away because it was such a muddle visually. I thought movies today were made with steady cams not camera operators who are filming as if they were drunk. The action sequences had so much potential but the cameras were too close so what we saw was confusing and incoherent. The other big problem was with casting...apart from Morgan Freeman the other actors brought no presence to their roles. They were empty. A great story poorly portrayed.
August 21, 2016
It's worth my time, great story
August 21, 2016
I give it one star for a tiny bit of eye candy by the lead actor.
August 21, 2016
Good story. Great action.
August 20, 2016
I can't even give this movie 1 star! This was a truly idiotic idea to remake this classic movie. And as the 1959 version was filled with pathos for the characters, this remake was nothing more than a D-class action movie. Mark Burnett and Roma Downey did a wonderful job of producing The Bible for t.v., but they really struck out with this movie.
August 20, 2016
Pure junk and I haven't even seen it as yet. God with dreadlocks giving advice, sounds captivating.
August 19, 2016
Almost as good as the original! The chariot race is totally exciting, excellent, well done.