Ben-Hur - User Reviews
Thank you for rating this movie!
Read your review below. Ratings will be added after 24 hours.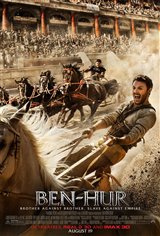 ---
Please rate movie 1 to 5 stars
Showing 51 to 60 of 60
August 19, 2016
This was a great and modern retelling! Would love to see a remake of Citizen Kane starring Zac Efron.
August 19, 2016
as several reviewers have already commented, very bland, acting was mediocre; not sure why you would try to remake a classic such as this. don't waste your money for this at the theaters, just buy the re-digitized version on blu-ray
August 19, 2016
Nowhere close to the original Ben Hur with Charlton Heston and Stephen Boyd. The casting is horrible and the acting mediocre. Never try an remake an original which won the most Oscar awards during its time. Really disappointed with this one.
August 18, 2016
Epic story of love and hate. Love wins again.
August 18, 2016
Deduct the questionable ratings of "5 stars" and the rating for Ben Hur drops to 1.6 stars. Personally, that is a more accurate rating. Have to really wonder - the movie is not even out yet and 12 ratings at 5 stars???????
August 18, 2016
I saw this movie at a screening. Very poor. To me, the 3-D was bad. My friend did not like the movie either. Nice people acting, but poor acting. I would not pay for tickets to go, and cannot believe ratings of "incredible" and "best movie ever".
August 18, 2016
I have to agree with the person who said, "bland story." And the 6 people on the elevator at the theater who all saw the movie, had the same opinion. One even said, "a piece of junk." Just in case you are wondering how I saw the movie, I got free tickets to a screening in Vancouver. Very disappointing. I am glad I had free tickets, as spending hard earned money on this movie would have been a bust.
August 18, 2016
Other than the 3D effects and computer generated chariot races the movie is very bland. Ben Hur with Charlton Heston that came out in 1959 is still the best Ben Hur ever made.
July 27, 2016
Incredible story!
July 27, 2016
Best movie ever!