Blue Valentine - User Reviews
Thank you for rating this movie!
Read your review below. Ratings will be added after 24 hours.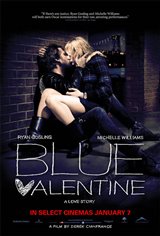 ---
Please rate movie 1 to 5 stars
Showing 1 to 50 of 93
October 24, 2011
Great performances but depressing. Wasn't my cup of tea.
July 01, 2011
I absolutely loved this movie. You could feel every emotion of each character. Also very relatable to real life experiences.
June 18, 2011
A beautiful movie. Superbly told, equisit acting, clever directing and such a raw insight into a relationship that means you may only possibly like this movie, if you've lived it. Just beautiful.
May 06, 2011
I love those two but I hated it..... I thought the story would be better. Truly disappointed.
May 02, 2011
Agree with previous reviews, it was very raw and very realistic. Fascinating movie!!
April 07, 2011
Excellent performances by the leads. Depressingly true to live portrayal of the birth and death of a relationship.
April 05, 2011
Great performances but depressing. Raw look at a real relationship.
April 05, 2011
Beautifully acted and a real look into what a marriage truly can be like.
April 05, 2011
It was an alright movie,nothing great,slightly "dark".Worth a rent but I wouldn't watch it again.
April 05, 2011
BAD MOVIE,awkward to watch romance movie? watch this with ur spouse and feel awkward...didn't care for this movie
April 04, 2011
the story line was hard to follow because it went back and forth in time, but if you watched it carefully it was a good movie
April 04, 2011
The acting was great, but I felt it was too slow for me.
March 30, 2011
Michelle & Ryan are brilliant in this movie. I'm only giving it a 3 because it is so damn depressing. I was down for days. Not that every movie has to have a happy ending ... but my gosh, from the opening scene this one is for the truly BLUE. So, I'll give it that. Well done. But hard to recommend, as so many people want to escape from the every day.
March 28, 2011
Sad but realistic depiction of modern relationships. Leading actors are great.
March 27, 2011
The movie was well done, but slightly depressing at times.
March 21, 2011
It is always a treat to see Ryan Gosling on the big screen. Not only is he a very sexy man, he is also a spectacular actor. I thoroughly enjoyed the chemistry he and Michelle Williams had in the film. Both of their performances were fantastic. Thinking retrospectively, the film was great, but while I was watching the film, I felt that the plot-line could have used more spice. The dialogue was great and I believe the movie is a realistic depiction of the ups-and-downs one may face while in a relationship, but the story could have used more work. Overall, I do recommend this film to anyone who can stomach lots of drama, dialogue, and sex. If you do watch the film, please note that the dramatic
March 21, 2011
not as bad as I feared
March 19, 2011
good, but not as good as i expected it to be.
March 17, 2011
This film tore my heart out. The acting was so good, and the story subtle, believable, and genuine. Michelle Williams was amazing. I cried for a long time.
March 14, 2011
Depicts the phase some marriages go though and how hard it is to find your way back to the love that seems lost.
March 13, 2011
good, not for kids
March 11, 2011
Superb acting; excellent movie!
March 11, 2011
Not as I expected in a movie.
March 09, 2011
Wow a truly realistic portrayal! Ryan and Michelle play their characters so well that you feel like you are in the story.
March 06, 2011
Beautiful but heart wrenching movie. The acting was impectable.
March 06, 2011
Over rated! While great acting is clearly shown, the plot is boring and unrealistic. I had a lot of hope for this movie and was sad to be let down
March 05, 2011
realistic and human portrayal of the realistic ups and downs of a relationship.
March 04, 2011
Amazing acting by Michelle & Ryan.
March 04, 2011
A great look at how modern day marriages often end up. A struggle from the beginning, this movies lovers do a great job portraying a falling out of love between two people.
March 03, 2011
i wish they had shared more of the growth of their relationship.
March 01, 2011
This movie is a gut-wrenching experience.The marriage breakdown of the protagonists is depressing to witness.But,the main characters are realistically portayed by Ryan Gosling and Michelle Williams(deservedly Oscar nominated).
February 28, 2011
I loved this movie. To me it is an epic Love story. It displays the real love that actually happens to people, and that love when it dies. It's highly relate-able. It's raw, and vivid and soul catching. Ryan gosling kicks in however with a sigh of comic relief. Michelle williams was a very good protrayal of a broken woman. Both actors where amazing, story line was amazing. Love isint always a fairytale, sometimes it's a blue valentine..
February 25, 2011
A little corny but moving in parts
February 24, 2011
Showed how people grow apart if you dont have the same goals. Good movie!
February 21, 2011
Good throughout, disappointed in the ending. For me, I found myself saying 'what the heck-credits??? - where is the ending???'
February 20, 2011
Good story but damn depressing.....worth seeing ... oh ya!!!
February 20, 2011
Beautiful story with realistic feeling of a relationship journey with a feeling of reality that touches the heart and ultimately reality is sad. Wonderful story that is told in such a short amount of time!!! Worth seeing!!!
February 17, 2011
ok movie i guess...
February 16, 2011
Wonderful acting to compliment a great movie.
February 16, 2011
Not worth the money for the ticket. Ending not a full ending, chemtistry between to the main leads....
February 12, 2011
Acting was excellent (actors were able to convey the intensity of emotions), however, everything else about the film was poor, including the plot. It was way too long and drawn out. I do not recommend this film. 1.5/5 overall -BC
February 11, 2011
Ryan Gosling is fantastic in all his movies.
February 08, 2011
Amazing storyline. Out of the ordinary cinematography. Love and hate, both passionately portrayed by Gosling and Williams. Blending past events with the present and not knowing how far off you are from the real moment is what strikes me as beautiful directing and editing of the film.
February 08, 2011
It was a waste of time and money
February 08, 2011
This movie made me want to purchase 100 cats and live alone for the rest of my life.
February 08, 2011
i like it very much . iam a great fan of ryan gosling .
February 06, 2011
Heartwrenching, moving, and extremely depressing.... but incredible performances. Never a boring moment. I feel like I actually know the characters their performances were so raw and real. But don't expect a cute little romance.
February 06, 2011
good movie
February 06, 2011
A great but painful love story. Ryan Gosling and Michelle Williams both put in stellar performances. A story about life, love and the hardships that it entails.
February 06, 2011
it was weird, did not keep my attention