Body of Lies
Thank you for rating this movie!
Read your review below. Ratings will be added after 24 hours.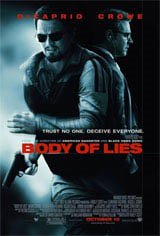 ---
Please rate movie 1 to 5 stars
Showing 1 to 48 of 48
February 21, 2009
a pretty decent film
February 21, 2009
Great movie! Can't go wrong with Leonardo...highly recommended!
January 03, 2009
The plot was poor for any actor. This is definitaley a renter or wait for it on T.V.
November 18, 2008
nothing like i expected to see, great look at what is happening behind the scenes that we have seen through the eyes of the media .... though not a documentary rather an action, thriller it does paint a great different image of a never ending struggle.
November 16, 2008
Fantastic Film/Docudrama, this is what is happening in the middle East NOW. This is a film about a crazy War. Someone here said the romantic bit was unnecessary. I say it is an integral part of what helps Roger Ferris make some (towards the end)of the decisions he makes. I like to think that he and the Nurse fall in Love and grow old together. Wonderful film, I say Bravo to Mr. Ridley Scott. He has done it again made an excellent Film on a very touchy subject.
November 08, 2008
great acting, great movie
November 03, 2008
I really liked it. A little sad to think that something like the movie exists in the world today.
November 03, 2008
Loved the movie. Lots of action and double dealing....
October 31, 2008
very good!!!
October 28, 2008
Solid. Visually enticing, great acting, no boring moments, fairly decent twist, worth seeing in the theatre.
October 26, 2008
Too much violence.
October 22, 2008
I really enjoyed this movie I saw it last night...I would defiantly recommend it!
October 21, 2008
Well done!
October 21, 2008
Great movie. The low scores (1 or 2) must be coming from people who have not seen the movie.
October 19, 2008
Very entertaining spy-flick. Not top-notch, but still a great watch.
October 19, 2008
An excellent movie with lots of action. Decap. deserves an Oscar.
October 18, 2008
Absolutely fantastic movie; this is the world of today and they walk among us. This is reality
October 18, 2008
Better than most "terrorist" films that is weakened by a "saved by the bell" ending .Gritty film that suffers from the "Hollywood" ending.
October 18, 2008
This movie was realistic and cannot be compared to movies like Eagle Eye. The acting was well done by the entire cast. I especially liked the actor who played the Jordanian agent named Hani (very charismatic)
October 17, 2008
those who say this movie isnt anything special dont really understand how well made this movie is very realistic
October 17, 2008
good movie ,,, nothing special
October 17, 2008
Sorry Leonardo and Russell - good acting but terrible movie script. Like watching a very long CNN report on middle east. I rarely want to get up and leave - but towards the end I felt like it.
October 15, 2008
Russel Crowe was superb. Leo Dicaprio was good as usual, but not at his best. Sometimes an actor can only be as good as the lines he's been given I suppose. The story line, set direction and spectacularly filmed scenery made for an entertaining movie. signed - GWH
October 14, 2008
With all the junk out there today it's refreshing to not be able to figure out the plot before the small popcorn is gone. Sometimes a longer movie is better, more time to develope characters and plots. Two exceptional actors only lifted up the expierence.Title says it all, especially how we got over there in the first place.Remember "Wag the Dog".Well who's wagging us now.It's not Blood Diamond,but it'is happening now!
October 14, 2008
Boring, no way should it be compared to Eagle Eye. There has to be more than a couple of mega stars to make the movie. I can compare this to The Women, baddddddd
October 14, 2008
I thought it was a very enjoyable movie. Both Russell Crowe and Leonardo DeCaprio were awesome, especially LDeC. Well worth going to. 4* LMD
October 13, 2008
I love it love it , awesome movie.Leonardo DiCaprio is one of the best actors ever. i didn't mind to sit for 2 hours , i actually didn't feel the time at all . i give it 5 stars
October 13, 2008
a little long, but worth the wait for a nice ending
October 13, 2008
I liked it! Comparatively, much better than Eagle Eye or Rightous Kill.
October 13, 2008
Awesome. Twists and Turns everywhere, and just when you think ...
October 13, 2008
Very slow paced movie with very little action. 2 hours of wasted time...
October 13, 2008
Pretty good action sequences. Some of it goes beyond being believable but enjoyable 2 + hours.
October 13, 2008
realygood
October 13, 2008
What a boring piece of crap !! Dont waste your money. Its another typical case of just because there are big time actors in it everyone assumes its so good..well it wasnt
October 13, 2008
Great movie.. from the beginning to the end
October 13, 2008
Absolutely loved this movie! Best movie of the year for me! Di Caprio is a damn good actor! A beautifully executed and intelligent movie!
October 12, 2008
Two thumbs up!!!!
October 12, 2008
Great show; lots of action, time flies by with the action and story line. one of the best of the year so far...
October 12, 2008
Awesome acting by everyone! Some "funny" parts...other than that, everyone did a superb job in acting. Pay attention to the movie as it CAN be a bit confusing...
October 12, 2008
A outstanding performance by Leonardo Dicaprio. A great movie with alot of actions and twists and turns.A must see.
October 12, 2008
Leo is an amazing actor!!! great movie!
October 12, 2008
A VERY VERY VERY GOOD MOVIE 5XXXXX STARS.
October 12, 2008
Full of action, and will get you wanting more after every scene. Di Caprio and Crowe bomb it together with great chemistry. Definetely a four star!! Look for more of my reviews. E.B.A.
October 12, 2008
AWESOME MOVIE! LEONARDO AT HIS BEST! ENJOYED THE WHOLE MOVIE! CINEMATOGRAPHIE WAS AMAZING!
October 11, 2008
not again "terrorist theme" based movie... first Iron man..then eagle eye and now this one.. can't Hollywood think of some new threat to the mankind.
October 11, 2008
Its a really good movie, but the only problem is, its too long so be prepared to sit in your seats for 2hrs.
October 11, 2008
One of the Best Movie of this year. Leo + Ridley + Crowe = Entertainment :) Don't Miss it.
October 11, 2008
lots of action and good storyline