Bolt
Thank you for rating this movie!
Read your review below. Ratings will be added after 24 hours.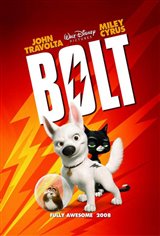 ---
Please rate movie 1 to 5 stars
Showing 1 to 48 of 48
February 16, 2018
Cute, adventurous animated movie for kids and their parents alike.
March 31, 2014
It was a really cool movie! It was packed with action and adventure! I love Bolt the dog! He is so cute! Also the Rhino the hamster is adorable!
September 01, 2010
A great movie; proof that you don't need super-powers in order to be a super-hero!
July 12, 2009
It is a pretty good movie for a 3-4 yr old,especially If They like dogs like My 31/2 yr old Grandson does....Seeing it with Him the fouth time gets pretty old.
March 24, 2009
Pretty damn good. Good for all ages. Must see :)
March 17, 2009
it was aming and cute but sad at the same time.miley cyrus should act on more cartoon movies
March 10, 2009
my kids love this movie
March 06, 2009
this movie rocks
February 28, 2009
3 words: Horay for Bolt! This movie is soooo good. I don't know why it didn't win a Oscar.
February 28, 2009
great for the kids, especially a birthday party.
February 16, 2009
Was sooo dissapointed in this movie. I truly didn't like it and I love disney cartoon movies.
February 13, 2009
amazing 3-D version!!!!
February 10, 2009
what-a-3d-rush!
February 09, 2009
SO FUNNY!!! Even I enjoyed, great for both kids and adults!!!
January 30, 2009
AWESOME! Rhino & the Pigeons are FUN-NY!
January 28, 2009
absolutly funny! i think when rhino was at the animal shelter and was making the dogs play with him in his ball was the funniest part everyones thumbs up!
January 27, 2009
thumbs up!
January 17, 2009
AWSOME!!!!!!
January 16, 2009
i think bolt is the coolist movie for children and a lot girls love miley cyrus so does my daughter loves her wishing to get tickets on her brithday
January 16, 2009
it was awsome
January 02, 2009
Everyone will love this movie. I is great.
January 01, 2009
HILARIOUS! The best Disney movie of 2008! I sure hope it becomes a nominee for the ACADEMY AWARD FOR BEST ANIMATED FEATURE!
December 31, 2008
Fun Story, Great Animation, Believable Performances, Best 3D film I've ever seen. 2 thumbs up.
December 31, 2008
Bolt was an amazing movie but I would have to say that the hamster Rhino was the funniest part of the movie.I think that it should of got a five star.My family loved the movie so if your family wants to watch a movie Bolt is the perfect movie for you.
December 24, 2008
bolt was awsome
December 22, 2008
very good all kids will love it so will adults 9/10 very funny a must see
December 14, 2008
Loved it....went in with no expectations since I'm 36 years old....however it was really really good. Definitely worth taking your child to see it.
December 12, 2008
bolt looks like my old dog.also reminded me of the times my dog ran away(always came home).the cats also reminded me of my old cats too.good movie!
December 09, 2008
very predictable
December 05, 2008
this movie was hilarious for the whole family! Definitely a 'must see'!
December 04, 2008
BOLT rules!
December 02, 2008
very funny, would recommend it to anyone, not just kids!
November 29, 2008
Kids loved it. Lots of Fun!
November 28, 2008
SO FREAKING AWESOME!!!!
November 27, 2008
Very cute Very charming Your whole family will enjoy!
November 24, 2008
Best animated movie in a long time right up there with "Finding Nemo"
November 23, 2008
A great film for the family. The attention to details was fantastic. The 3-D was very good 7 the pigeons were a crack-up laugh.
November 23, 2008
it was awsome
November 23, 2008
Cute...but not as good as Finding Nemo.
November 23, 2008
AWESOME!!!!
November 22, 2008
Great movie. My kids enjoyed it and ther 3D viewing was awesome.
November 22, 2008
loved it ...very funny great family night for the whole family
November 22, 2008
The movie was a little predictable, but that's only a minor flaw considering how well-done it was. The tagline for the movie is "Fully Awesome!" and I completely agree. A definite must-see.
November 22, 2008
BEST MOVIE EVER!!!
November 22, 2008
Amazzzing
November 21, 2008
Excellent movie, with lots of laughter, excitement, and adventure, this movie is sure to please. Definetely a five star movie, and even better in disney digital 3d. Look for more of my reviews. E.B.A.
November 21, 2008
I thought this movie was absolutely fabulous!!! Great for the family, as well as people of all ages