Brooklyn - User Reviews
Thank you for rating this movie!
Read your review below. Ratings will be added after 24 hours.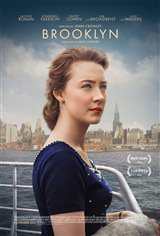 ---
Please rate movie 1 to 5 stars
Showing 1 to 23 of 23
April 14, 2016
One of the best movies I have watched in a long time. It's a little slow moving but very captivating. I really got a feel for how our early immigrants must have felt when arriving in a strange land and how their hearts were torn for their loved ones back home
March 29, 2016
Saoirse Ronan and Emory Cohen are brilliant in this movie.
March 27, 2016
Saoirse Ronan performs brilliantly, especially in scenes with Emory Cohen as her Italian boyfriend. One of the best movies I've seen in the last five years.
March 22, 2016
Loved this engaging movie! As an Irish girl myself, it had very special meaning.
March 19, 2016
loved every minute of this movie
March 12, 2016
Great movie .... The star of it .... I found her so captivating.... Very enjoyable .....
February 26, 2016
Performances were very good. Movie was very well cast. Not much in the way of humour or real drama. Dragged a bit. If it wasn't for the two main actors, this movie would have been in trouble. Could have been much better, but not a waste of time.
February 21, 2016
Perfect! I went to see it twice. Expressions, storyline, action and holding on until the end. Real.
February 17, 2016
Excellent film adaptation of Colm Toibin's beautiful novel about a young Irish woman who struggles to make a life for herself in New York. Saoirse Ronan is outstanding and deserves an Academy Award nomination for her nuanced performance. A touching and heartwarming tale of a young woman coming of age. Bravo!
February 16, 2016
Beautifully filmed and acted. Sweet and real.
February 08, 2016
Excellent movie and great acting!
February 05, 2016
This movie should win best picture this year.
January 26, 2016
I thought that this movie was mainly a "chick flick" and it was. However, I loved the movie and would recommend it highly.
January 23, 2016
Loved this movie. It has everything, you will laugh, then you will cry, then you will be overwhelmed with romance. Every girls feel good movie. Also, a great reflection on leaving your home country and the trials of that experience. Beautiful movie.
January 20, 2016
Feel good movie of the year.
January 12, 2016
A fantastic movie. Definitely a beautiful story with superb acting. A rare glimpse of how real movies were made in the good old days!!!
January 09, 2016
Great story....truly classic and appropriate costuming. Loved it from beginning to end.
January 03, 2016
Sorry forgot to rate this movie, so I give it a solid 5 stars, but if I could I would give it TEN stars, that's how great it is.
January 03, 2016
This is a wonderful movie. I absolutely loved, loved, loved, it. The actresses and actors are superb. I found the story to be so heart warming and endearing, a combination of sad and happy. All I have left to say is I will be purchasing this movie for sure when it is released and will be watching it at least a thousand more times.
December 28, 2015
A superb movie in every aspect!!! A rare experience. Not your typical Hollywood offering. Probably the Irish and Canadian input made this such a fantastic production.
December 21, 2015
What a breath of fresh air this film is...lovely all around. If this doesn't win at least 1 Oscar the world is in worse shape than I thought.
December 19, 2015
boring and lame....a waste of time...
December 14, 2015
Really a fantastic film. Great story, great cast, happy and sad. I truly enjoyed it. The cinematography was excellent too. Fully recommend it. Watch out for Julie Walters and the other boarding house girls - they are hilarious.