Bruno - User Reviews
Thank you for rating this movie!
Read your review below. Ratings will be added after 24 hours.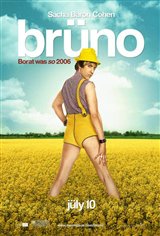 2.74 / 5
User Rating
Based on 911 votes and 201 reviews
---
Please rate movie 1 to 5 stars
Showing 1 to 50 of 201
January 09, 2017
Heartbreaking and realistic look at the gay community.
February 07, 2011
one of the worst movies ever made....a complete waste of time!
February 16, 2010
Worse than terrible. Overly simplistic, predictable, and mundane. For shock value to work, the material must be fresh, creative, unique, and bizaree. this was locker-room, and childish nonsense in a boring manner. The stages scenes--all of them--was cheesier than Blair Witch Project. Even 911 is more believable than this would-be satire. Taboo nothing. This is mindless gibberish. Chidish antics at its most BORING.
January 16, 2010
Nowhere near as funny a Borat but it has its moments. A few scenes had me laughing really hard, and others just the opposite. A mixed bag but still worth watching if you're a fan of Mr Cohen. Overall I enjoyed it.
January 02, 2010
disgusting
December 18, 2009
absolutely hilarious! you people don't understand what cohen was after. the people that are discusted by this are the same idiots that cohen would have made a fool of in the movie. in fact, the coments by some people make this movie and more funny!
December 16, 2009
pure trash that has no comedic value at all
November 23, 2009
If you can bear the incredibly awkward and painfull parts, it is worth it for the incredibly witty, sharp, hillarious and well thought out majority of the movie.
November 18, 2009
Absolutely horrible!!! Simple as that. DO NOT WATCH...your better off scratching your own eyeballs with a pin.
October 13, 2009
Garbage.
August 30, 2009
everyone who gave a bad review doesn't realize that the movie is making fun of ppl like them, their own fears and prejudices.
August 18, 2009
Bruno = BRUTAL! YIKES!!!
August 16, 2009
Exceptional!!! Outragous yes...but couragously poking fun at everthing taboo and putting close minded rednecks to task. Puts media whores and religous simple minded zealots on display for deserved ridicule. Go Sacha!
August 14, 2009
My rating is listed as 1, but officially I'd give it -5 so that it would negate anyone voting 5, which is unconceivable to me. Those people need a labotomy.
August 12, 2009
this movie was crap!TOTAL waste of money!
August 07, 2009
WASTE OF TIME!!!!!!!! I would def. give it a zero star. Terrible movie!!!!
August 05, 2009
best movie ever!!!!!!!!!!!!!!!!!!!!!!!!!
August 04, 2009
doyou have any minus stars? like minus 3 zillion stars? what an idiot. is there a miota of intelligence in this man? what a bloody waste of time. did you know you can get your money back up to 30 min. of being in the theatre? we did. jeez. i've never before written a review here but am warning the whole universe!!!!
August 04, 2009
a sad end to Sacha's fabulous career
August 03, 2009
Zero stars if I had the option. Ridiculously bad. Waste of time, waste of money and I have to find something to repress these memories. A prime example for reading these reviews prior to going to see a movie.
August 02, 2009
i give it a negative million cause it was that bad
August 01, 2009
Okay the people who didn't like this movie..... Why did you go see it in the first place? you obviously knew it was going to be disturbing and hilarious at the same time. Thats the whole point of the movie. GREAT AND WORTH THE WATCH. With some good friends with a crazy sense of humor!!!
August 01, 2009
A few laughs. Mainly just slapstick comedy. Little intelligence. Portrays gays in an offensive and embarrassing way. Save your money see something else.
July 31, 2009
This film doesn't deserve even one star, Cohen has degraded himself and and the entire comedy profession with this film. I personally give it a -3
July 31, 2009
terrible, waste of time and just disturbing
July 31, 2009
Bad bad bad.
July 30, 2009
What a terrible movie, such a disapointment! I am not a prude or dont appreciate the usually silly humor, but this wasn't good at all. I read bad reviews on this site and thought people did not know what they were talking about (Borat was so funny!) However it didn't take long to realise they were right. Most funny parts were in the commercials! Please do yourself a favour and watch something else
July 30, 2009
I watched it. I am obviously a little more in tuned to previews than some of the viewers who complained. Dah?! Did you see the previews. What did you people expect. It's just as vulgar as Borat - so why is anyone shocked. Honest;y, stupid people who like to have something to complain about should blame themselves for not enjoying it. If you dont have an openess to crude humor then obviously you shouldnt have watched it. It's not like the previews indicated otherwise. I thought it was in typical Sasha style - similar concept to Borat with a different character.
July 30, 2009
After waiting so long for this movie, I was a little disapointed. It's not at all as funny as I had hoped. Did not live up to my expectations. Borat was much better.
July 26, 2009
I agree that many people are rascist towards Gay's but it was interesting to red some of the comments where people were being rascist to americans for being rascist to gays.... Wow GOOD JOB at defending your people whoever they might be, Basically if you don't like gay's or don't want to see a different view of our society don't watch it, frankly i thought this movie to be excessive in the way it was trying to make its point, but i guess some people can't figure it out.
July 26, 2009
Arguably the worst movie ever made. No humour; no credible story; an insult to the movie going public. Caught a matinee and there were fewer than 10 people in the theatre.
July 24, 2009
Do not go see this movie! Was there for no more than 20 minutes and left and got our money back.
July 23, 2009
it was nasty and not funny at all
July 23, 2009
Hilairious! Don't go see it if your expecting a nice heartfelt Disney story. If your only comment was that it was vulgar, what did you expect honestly. Its actually much smarter then most of these people think. Very funny!
July 22, 2009
Pathetic!O/5!
July 22, 2009
Holy Bruno Haters, I guess no one likes to see the reflection of our f****d up society but if you've paid to see this the jokes on you flaky! I dig! I get it and it's really what comedy has boiled downed to, unless your such a fruit cake you aren't even capable of processing this...
July 22, 2009
I really enjoyed Borat but this movie was a bunch of crap. I couldn't care a less about the homoerotic stuff but it was not even funny. What a waste if 2 hours!
July 22, 2009
I was laughing so long from some of the scenes that I just rolled over some of the slower parts... too funny. Even if you only like one scene, it's worth the price of admission.
July 21, 2009
so funny all of guys should of known wat to expect out of this movie, it was hilarious, wasnt as good as borat , but it had some parts that were funnier than any part in borat.
July 21, 2009
Gay effing movie trust me DONT WASTE UR MONEY
July 21, 2009
I have to admit that this movie made me laugh dozens of times but the story line or the actual movie its self was stupid and almost boring personally i would rather go see Borat again i rate this 2*
July 21, 2009
YOU ROCK SO MUCH!!!!!!!!!!!!!! Bruno is the best movie ever and Bruno is so cute i would die gist to see Bruno or have him e-mail me i if you get this Bruno i would love to say you are so cute and you ROCK so plz e-mail me back and today is my b-day too so love you Bruno.
July 21, 2009
funniest movie of the the year!!!
July 21, 2009
Bruno is so cute pluse funny i wouled to talk to him so e-mail me
July 21, 2009
I thought this would be as good as hang over but this is a failure. Borat was way better.
July 21, 2009
Worst movie ever!!!!
July 21, 2009
IF this was a good quality Gay comedy I would have no problem giving it a 5/5 since I am not homophobic and I'm pretty open minded....But come on people BE REAL AND LOOSEN UP..This movie was ABSOLUTE RUBBISH!!!!!0/5 no doubt!A horrible waste of time.
July 21, 2009
Anyone with a bit of common sense and good taste (straight or gay) will give this movie 0/5. Go watch something else cuz this was horrible...it truly SUCKED!!!!Yuck!
July 21, 2009
Absolutely Pathetic movie!!!