Bucky Larson: Born to be a Star - User Reviews
Thank you for rating this movie!
Read your review below. Ratings will be added after 24 hours.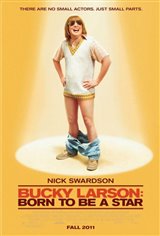 ---
Please rate movie 1 to 5 stars
Showing 1 to 10 of 10
September 20, 2011
If you saw the trailer you saw the only laugh in the entire movie. It's sad that it's rating keeps it from it's target audience of 12 and 13 year old boys
September 19, 2011
This movie is terrible - shame on you Adam Sandler
September 14, 2011
Not one genuine laugh out moment.
September 12, 2011
It had its moments. This is definitely bordering on the absolutely insane pushing the envelope for a laugh. What's next? Mating with animals. Common Sandler and the gang get your heads out of the gutter!!!
September 12, 2011
Even the Tree of Life made more sense than this garbage. And that movie had dinosaurs in it.
September 09, 2011
yes you can tell how good a movie is from the commericals. Thank you for your insight, no point seeing any moveis
September 09, 2011
Just by looking at the commericals the last week for this movie I know it's plain straight out retarded and dumb.
September 09, 2011
FInally a movie worth watching, unlike the Help! Go SEE THIS and not the HELP!
September 09, 2011
i havent seen this movie but it looks horrible
September 05, 2011
We won't see a funnier movie all summer. 10/10