Captain Fantastic - User Reviews
Thank you for rating this movie!
Read your review below. Ratings will be added after 24 hours.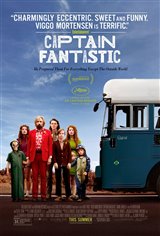 ---
Please rate movie 1 to 5 stars
Showing 1 to 11 of 11
February 12, 2017
Great movie !!!
February 12, 2017
Great movie !!!
February 12, 2017
Great Movie, The children were fantastic and the chemistry between them and their father, Ben was fabulous Viggo portrayed a loving father Very talented cast
November 29, 2016
One of the worst movies I've ever watched. Can't believe I wasted two hours.
November 02, 2016
OK call me crazy call me loopy but I just watched this incredible movie America is facing the most concerning Presidential Election in 8 days time. If you really care about our future our children our real values this movie is for you. It has a few weak moments but due to the devoted direction cast and story this is a classic on its own.
September 14, 2016
A wonderful film with such memorable characters, terrific acting and a very engaging story line. I could see it again already. Excellent.
August 21, 2016
Wonderful movie. In fact the only one I've cared to see all summer. The characters played their parts exceptionally well--all fine actors. I saw the show in Ashland, Or., and went to see it because the writer and director Matt Ross grew up in Ashland. We are proud of you Matt! Someone should submit this fine movie to the Motion Picture Academy for consideration for an Oscar or two.
August 11, 2016
A really original movie which deals with interesting ideas in an entertaining and creative way. There are no absolute good guys or bad guys, and the audience is challenged to keep an open mind. The entire cast is excellent, including the children, and in spite of a few plot holes the story is engaging from beginning to end. Very enjoyable.
August 02, 2016
I thoroughly enjoyed this movie. It shows a family surviving in the wild away from selfish values and materialism. It is a eye opener on how values have changed in a modern society. It is an original idea movie, which I like instead of the rehashed crap Hollywood is making today.
July 31, 2016
Not sure what I just watched for 2 hours??
July 16, 2016
Impeccable!