Charlie St. Cloud
Thank you for rating this movie!
Read your review below. Ratings will be added after 24 hours.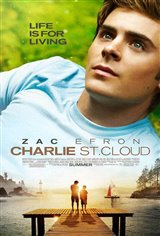 ---
Please rate between 1 to 5 stars
Showing 1 to 50 of 83
November 26, 2010
liked the scenery, liked the relationships. movie moved slow and was a bit on the saccharine side.
November 13, 2010
LOVED IT..Zac Efron has come along way since the H.S.M movies..
November 11, 2010
Liked it.....not too sad......
October 27, 2010
Great acting, heartwrenching film, and beautiful people-what more can one ask for? :)
October 08, 2010
It was an ok movie...very different than I thought it would be though. Not a huge fan of all the in-between life scenario.
October 06, 2010
I have not seen it yet but , I seen the reviews and my children have seen it they thought it was a great movie so I agree with my girls I cant wait to see it ....
October 04, 2010
Can't wait till the DVD comes out
October 03, 2010
Awesome movie! Caused a few tears between my mom and me!
October 02, 2010
too sentimental for my taste
October 01, 2010
Better than expected. Zac does a good job with the material he's been given. At times predictable and at times illogical, but it does have some thoughtful scenes to make it worth the price of admission.
September 30, 2010
Trailer does bring in high expectations for the movie but sadly the movie itself falls a tad too short to meet the high hopes it comes with. On the brighter note, movie is sweet, pausible and straight-forward. Performances are sincere. However, one can't help but feel that rather than charlie's brother being a ghost/spirit, is just a figment of charlie's imagination that he eventually releases from his mind.
September 29, 2010
It was a very sweet movie
September 29, 2010
Very good a great story about love.
September 25, 2010
loved zac efron in this movie, but the story was kinda lame
September 24, 2010
Lovely Movie ! =]
September 23, 2010
Good supernatural story and acting was good as well.
September 20, 2010
I loved this romantic comedy !! Exspecially watchin Zac Efron , he is veryy yummy !!
September 16, 2010
a little slow, but really enjoyed this movie
September 16, 2010
I don't think I've ever been so board. He's pretty and nice to look at but I didn't find their was much story. Wait and see it when it comes on TV
September 13, 2010
Loved this movie.
September 13, 2010
Amazing preformance by Zac and Charlie! Made me tear up.
September 12, 2010
I liked this movie because it shows that Zac Effron can act (this is coming from someone who does not enjoy High School Musical) I loved the cinimatrography. Go with a femail friend because the guys are not going to sit through it.
September 11, 2010
A touching show.
September 10, 2010
movie was good, nice story..however seemed to drag at times. Zac Efron good move to more serious role.
September 09, 2010
Silly love story.
September 09, 2010
Some very touching moments
September 06, 2010
Zac Efron is a good actor.
September 05, 2010
i loved Zac in this movie a great change away from musicals, also the plot was great too!
September 04, 2010
Good acting, needed more of Kim Bassinger.
September 04, 2010
great story!
September 04, 2010
My daughter and I loved this movie! Zac Efron was amazing in this movie.
September 04, 2010
great movie
September 03, 2010
Zac Efron was wonderful.
September 02, 2010
Good acting implausible story.
September 02, 2010
it was okay ;D
August 30, 2010
Not the best chic movie for a guy. Please go with your girlfriends and not your boyfriend.
August 30, 2010
great movie loved it!
August 28, 2010
Zac Efron is good in it, actually no one is bad in this film. It just feels slow and pointless by the end. People are calling this film a flop for Zac Enfron, while i feel had he not been in this film...it would have done worse.
August 26, 2010
A bit sappy.
August 25, 2010
great acting and storyline....tearjerker
August 24, 2010
great acting, pretty good story line
August 23, 2010
Nice movie.
August 22, 2010
Good movie
August 22, 2010
very good
August 20, 2010
The movie was excellent. A few surprises, and tears! Great acting and action scenes.
August 19, 2010
I enjoyed the movie, loved the scenery, thought the little brother was perfect. I also never knew Zac Efron could look so hot.
August 19, 2010
Amazing! Great acting, great ending.
August 18, 2010
too maudlin and predictable for my taste