Charlie's Angels: Full Throttle - User Reviews
Thank you for rating this movie!
Read your review below. Ratings will be added after 24 hours.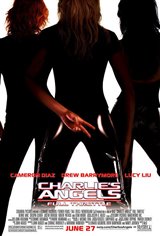 3.38 / 5
User Rating
Based on 3104 votes and 139 reviews
---
Please rate movie 1 to 5 stars
Showing 1 to 50 of 139
March 31, 2018
It sucks, like almost every movie with kick-ass-wannabe "empowered" women as leading characters. D. Barrymore is ugly (for an actress) and the oversexualization of supposedly empowered women is stupid. Either make a movie with female characters who are treated with dignity and not turned into plain sex objects, or rather make a movie with male character(s). I, as a woman, prefer to watch hot guys over slutty women.
September 14, 2017
It may be even worst than the first (if such a thing is possible) Drew Barrymore makes TERRIBLE films.
August 20, 2017
Cameron Diaz and Drew Barrymore..... Need I say more
April 10, 2006
i think charlie angles2 was a goood movie
February 04, 2006
it was very very nice bt nt my stile
January 05, 2006
i think it is amazing and it is 1 of my favorite movie i alwayz like to seeee it and the first part 2! they are my favorite! kwwl movie and it rocks alot!
September 17, 2005
i think this movie rocked.they proved that girls can kick but hard.they rules.woooooooooo
July 11, 2005
it was perrfect i even have the movie and my favorite actress is cameron diaz so i do have all her movies ok bye i love charlies angels full thorttle........bye
March 02, 2005
It was a great movie. I know that the stunts were way over the top and could never happen--but that is what makes it fun. Honestly, try escaping reality for once (to the people who thought it sucked). The Angels are great, I love their divers personalities. Lot`s of eye candy for both the guys and the girls--Justin Theroux how sexy can you get?? I never tire of watching this movie. I bet I`ve seen it at least 13-15 times. The music is perfection, and the cars are sweet. The comedy is light, but makes you chuckle a few times. Bernie Mac is a way better Bosley than Billy Murray was. The opening scene with the helicopter stunts was a killer--a g
February 14, 2005
I LOVED Seamus o`Grady. You don`t see evil characters like that anymore.O Yeah not any hot evil guys anymore.
July 10, 2004
it was like the greatest movie ever ! i have allready watched it 3 times today ! and i watched it twice yesterday with my little sister
June 13, 2004
i thoguht it was awesome, i would reccomend it to most people! especially if you loved the first one!
April 20, 2004
the movie sucked... do not spend time watching it
February 23, 2004
The only reason i watched the whole movie was beacause of Justin Theroux(Seamus O`Grady.) Even though the movie sucked..he made it all worth while.
January 28, 2004
I thought this movie was great.....but i think they added too much matrix effect into all the stunts...though i did like their martial arts skills....I maybe looking forward to a 3rd one....
January 05, 2004
I thought it was great, i watch it whenever i can
December 29, 2003
This is the best movie EVER!!
December 12, 2003
I am watching it 24/7!
December 09, 2003
I watch it whenever I can! Make a third one!!
November 16, 2003
I thought charlie`s angels was so cool it was why better then the first one. It had every thing hotties,hotties, it was funny and good music. Hope ya make a other one. Luved it!!
November 14, 2003
IT WAS AN AWSOME MOVIE WITH THREE GREAT ACTRESSES! A DEFINITE MUST SEE MOVIE!
November 10, 2003
I watched it 6 times because it was sooo good! i loved it and justin theroux is sooooooooooooo hot!! ;)
November 02, 2003
I watched the movie 13 times, that is how good i think it is. Although i really wish there was more pictures of Justin Therouz`s charicter on the internet.
October 26, 2003
it was really funny and justin theroux was really hott!
October 21, 2003
i thought it was the best movie in history and also it has the best stunts i have ever seen.
August 31, 2003
what was the story again? not sure there was one...otherwise, Cameron Diaz shone, and I wasn`t too impressed with the other "Angel"`s performances. Not sure I`d ever want to see a movie with Demi Moore in it again after this one; her ego seems to ooze out of her. Some great cameos, and Diaz was really free in her portrayal, but without a good story, how good can a movie be?
August 28, 2003
It was just hilarious!
August 10, 2003
it was an AWSOMEEEE movie
August 05, 2003
It wasnt that great I believe. It didn`t satisfy my movie craving.
August 01, 2003
It had some really corny jokes and matrix knock off moves, but I actually really enjoyed seeing it with a couple of my girlfriends, it was a great ladies night out show.
August 01, 2003
GREAT MOVIE
August 01, 2003
the movie was great better than the first one.
July 29, 2003
this movie was too cheezy...I mean, it is supposed to be cheezy, but this was WAY too cheezy...I thought the first one was better...
July 29, 2003
Full THRottle has no plot! All it showed was the three girls dancing. BOsley didnt have a lot of lines and the scenes jump form one naother with no order! WHAT KIND OF MOVIE IS THIS?!?!?!
July 28, 2003
I thought that Charlies Angels Full Throttle was the best movie i have ever seen for the longest time! Their was so much action going on. And the cast was great! Ive spent alot of money on this movie so far ive seen it three times in the theatre i cant wait till it comes out! I want to go see it again! this movie is the best!!!!!!!
July 23, 2003
all i saw was three girls dancing and changing their clothes.. what`s the purpose of this movie anyway??
July 22, 2003
I found it a little far fetched. I enjoyed it but I would not rush out to see it again....
July 21, 2003
The first one was better, but with this one..the action was unrealistic. Some funny parts, but you usually see the second movie as a flop. Hope they don`t come out with a third!
July 19, 2003
Great actions but a little too exaggerated
July 19, 2003
It was totally cool. Drew, Cameron, and Lucy are totally awesome. It could do without some parts, but other than that; I loved it.
July 18, 2003
what the heck was that!? it was the worst movie ive ever seen in my whole 190 years of watching movies!. I would like to tell all the fine money spending people to save there money.Full throtle is more like a kids movie with adult content.I`ve seen more adventure,and action in movies with the likes of fried green tomatoes.(lol)In the conclusion of this review, dont go to this movie to late, you`ll end up falling to sleep!!!!!
July 18, 2003
Great eye candy for summers day, especially those rainy dull ones. More moves than "James Bond" and the "Matrix" combined. Sure none of it is possible but with the likes of Cameron Diaz, Drew Barrymore, Lucy Lui and Demi Moore who cares? The movie plays out like one long music video so don`t expect much in the way of plot but it`s fun while it lasts and you get your moneys worth.
July 18, 2003
This movie rox! It has many camieos and has alot of funny scenes! It was excellent!
July 16, 2003
I wasn`t expecting anything good but i was shocked to find out just how bad it was. Save your time and money.
July 15, 2003
for the first time at a movie i was actually bored.a felt like they were trying to make it more of a comidie more than an action movie.most of the action parts were computerised.a terrible movie ecept some funny parts.Shia LaBeof rocks.
July 14, 2003
It was an awesome movie! the stunts were so kewl! i love drew, lucy and cameron, they did such a good job on this film. it was HILARIOUS!!!
July 14, 2003
I somehow got talked into seeing this movie with a friend. By far the hugest disappointment of my life, although I didnt have too much expectation for it to be good...so in a way, it met exceeded expectations! If it wasnt for Lucy Lui, I would have walked out five minutes into the movie, rather than half-way through. Drew Barrymore looked disgusting, and I dont see why people think that Cameron Diaz is hot...she has the face of a man, the body of an anorexic 13-year old, and the annoying voice of a hyena trapped in a pit.
July 13, 2003
I thought that the Charlie`s angels movie was pretty good. Some parts seemed out of place but overall i enjoyed watching it.
July 13, 2003
IF the stunts done were more believable. IF there wasn`t so much giggling going on. IF Cameron, Drew and Lucy refrained from laughing at inside jokes that aren`t funny to everyone who is sitting in the theatre paying to watch you. AND IF what was meant to be funny in the film didn`t turn out to be stupid. Then maybe i would`ve thought the movie was funnie and the stunts would`ve left me in awe. However...too many ifs...too late. The movie was a bomb...a total failure.