Christopher Robin - User Reviews
Thank you for rating this movie!
Read your review below. Ratings will be added after 24 hours.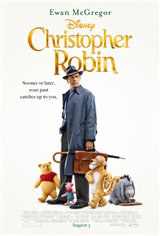 ---
Please rate movie 1 to 5 stars
Showing 1 to 50 of 68
December 10, 2018
My 6 year old grandson was bored :(
November 17, 2018
My 6 year old was bored - funny, the one liners were over his head. He said, he didn't choose Winnie the Pooh!
November 06, 2018
My family and I really enjoyed this movie and makes you feel like a kid again.
September 23, 2018
NICE FUN FAMILY MOVIE AND TWO THUMBS UP!!!!
September 22, 2018
Never saw this but this movie looks terrible so I have no need to see it. Someone hasn't rated this one star yet well here you go. This movie would be a waste of my time to see
September 21, 2018
A warm and endearing movie. It slowed down the pace of our hectic world for a while. A great family movie.
September 19, 2018
If you haven't seen Winnie the Pooh or read the books during your childhood this movie would mean nothing. I have so totally nostalgic and made me even weepy in some spots.
September 07, 2018
Thought there would be a lot more interaction between pooh and humans. Found it somewhat boring. Would not recommend.
September 06, 2018
This is one of the best movies I've seen in a long time!
September 05, 2018
It was very well done with the pooh characters, but it certainly wasn't a little kid's movie. Lots of preschoolers in the audience. I'm sure the basic theme of the movie went right over their heads. A kid under the age of 8 probably isn't going to understand the point of the movie.
September 03, 2018
Very cute family movie. The pooh characters didn't disappoint. Some great one-liners from pooh. Makes me want to relax more and enjoy my life as much as possible. What more can you ask for.
September 03, 2018
It wasn't the worst movie I've ever seen, but, I definitely wanted my time and money back after it was all said and done. There's nothing else I can say about that. I would rather watch a really nice yellow or orange wall get painted a vibrant color and just watch it dry. It would be a better idea than going to watch a movie like this. Crap... I'm taking away a star
September 03, 2018
Great message, brought back the Pooh childhood memories, although could have done without the war scene for kids
September 03, 2018
I took my seven year old to see the movie and he did not like it. I found the movie very dark and depressing and definitely not for pre teens.
September 03, 2018
I loved this movie so much. It was very family friendly and catered to audiences of all ages
September 03, 2018
A perfect movie, from script to casting to direction and all else. Must see for any age.
August 31, 2018
Total nostalgia for me and my daughter. Hits home with the message that family is important. Bringing Christopher Robin from his childhood to his adult life was set perfectly.. I laughed, I cried, and I can't wait for it to come out on DVD
August 30, 2018
wonderful movie for all ages from children to adults.
August 29, 2018
The entire family from youngest child to eldest grandparent ..we all enjoyed this movie. Can't wait for the DVD.
August 27, 2018
This is a film every adult on the planet should see. I adored it and I'm 70 years old!
August 26, 2018
Sweet, adorable movie about the real important things in live!
August 24, 2018
Slow in some parts, if it were 20 mins shorter it would have helped. Not as funny as we hoped
August 23, 2018
Finally a movie that was excellent compare to the other movies that are showing that were dumb stupid and waste of your money and time!!!!
August 19, 2018
I really loved this movie and so did my 8 year old daughter, I like how after losing his way Christopher Robin comes full circle (but he really fights it) great show for all ages
August 18, 2018
AMAZING BEAUTIFUL SWEET movie!! My 10yr old girl & I LOVED it ? what a beautiful story... blessed our young hearts & made us happy:)
August 17, 2018
I loved Winnie the Pooh's messages. I disliked the glumness of the forest. It was supposed to be summer time, but they filmed it in the rainy fall.
August 16, 2018
Lovely movie with a great message for the crazy world we live in
August 15, 2018
I loved the animal characters. The voices were remarkably close to the original voices. The story line sent a good message. I thought it was geared more toward adults than little children but older kids would probably enjoy it.
August 14, 2018
It's actually a movie made for adults. My wife and I both enjoyed it very much.
August 13, 2018
excellent movie....
August 13, 2018
A wonderful family movie. Want to go back and watch again.
August 12, 2018
A touching story about what is important in life. No animation - real characters.
August 11, 2018
Good movie, but was charged 10 dollars for 8.50 matinee prices quoted before 6. We were there at 4. Rip off!
August 11, 2018
tigger is my fav cant wait to see it
August 10, 2018
GREAT STORY, I LOVED IT AND HIGHLY RECOMMENDED
August 10, 2018
wasn't a bad movie but i wouldn't go back to see it. a little bit of a disappointment.
August 09, 2018
Kind of dull and dark for kids....
August 09, 2018
The story was wonderfully told. Age old story about how as adults we get caught up in our day to day responsibilities and forget to pay attention to the REALLY important aspects of our lives...those who love us. The animation was beautiful. Wonderful!
August 08, 2018
The movie definitely has a good message. But.....I wouldn't take the children to see the movie. Maybe I would take my husband. Yeah.........the message is good for some adults. I'm against burdening the children with adults stuff. So, that is my comment.
August 08, 2018
This movie was a tender and sweet reminder to reconnect with the good in our lives, the Poohs and Tiggers and all as well as to value what really is most important: our relationships and love for each other.
August 07, 2018
This movie was great for kids and adults. The message it showed was powerful for all to see and hear. We took our 4 and 7 year old grandsons who also picked up the sensitivities of each of the characters. The story told with each character gave a lesson to all. The-animated characters were adorable . A must see for kids and adults
August 07, 2018
Best movie we've seen in years.
August 07, 2018
Great family movie. I saw it with my 23 year old son and we both enjoyed it.
August 06, 2018
originally i wasn't going to see it but it was showing before the second feature at the drive inn but in glad i saw Christopher Robin, it great movie as it had some slow points but i like it never the less, the animals charters look real and the humor was funny, dont listen to the negative users reviews go see for your self
August 06, 2018
Great movie and enjoyed going back to Poo Bear.
August 06, 2018
Delivers all the action you'd expect and more! Pooh rules!
August 06, 2018
Terrible movie, My kids, 4yrs and 8yrs wanted to leave half way through. I wanted to nap..it was boring and no thought into the story. Thumbs down on this one.
August 06, 2018
Exciting adventure will make you feel like a kid again.
August 05, 2018
CUTE FILM, GOOD STORY
August 05, 2018
Possibly a fine movie for adults who grew up watching Pooh. But I was watching it through the eyes of my 4-year-old, and he was bored silly. Lots of dialog between grown-ups, very slow pacing. Apart from the opening scene, Pooh and friends don't show up until nearly half the movie is done.