Cinderella Man - User Reviews
Thank you for rating this movie!
Read your review below. Ratings will be added after 24 hours.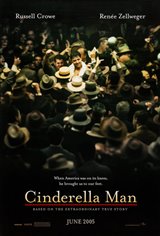 3.82 / 5
User Rating
Based on 4112 votes and 87 reviews
---
Please rate movie 1 to 5 stars
Showing 1 to 50 of 87
March 09, 2012
i never liked russell crowe and renee zellweger. but when i seen them play in this film that completely changed my attitude towards them. this is now my favourite movie and i have gained so much respect for those actors. i now look for any movie russell crowe has made and makes because he truly is a very talented actor.
April 15, 2007
very good. I really enjoyed it
April 05, 2007
An excellent movie about the sad times of the great depression
February 08, 2007
excellent portrayal of the great depression at its worst.
February 04, 2007
It is one of the best movies ever made...to be enjoyed over and over...provides inspiration to all of us...Russell Crowe was fabulous...James J. Braddock deserved to be immortalized...great, great movie!
December 31, 2006
One of the most enlightening, enriching and heart opening movies i`ve ever had the pleasure of watching. It takes hold of the heart and soul and doesn`t let go.
October 08, 2006
a very great movie!!!
September 19, 2006
GREAT MOVIE, GREAT STORY.
April 01, 2006
It was one of the greatest movies about the underdog, and survival of the depression. I especially enjoyed the realization that survival can make a person achieve their wildest expectations. I loved it!
March 06, 2006
great movie. best this year. i just rented it on dvd. was on the edge of my seat at the last. this showes what a man will do for his family.
January 30, 2006
it made me a have a better understanding about boxing in the early 1900`s and what my grandfather was able to witness.
January 27, 2006
Just a reallly good movie!
January 01, 2006
The movie put me in the depression of the 1930`s and Jim was my inspiration for a better life. The Cinderella man wore his name well!
January 01, 2006
It was one of the best movies I have seen. I ended up renting the movie. Being a woman and not into boxing I wasn`t expecting to really enjoy it, boy was I wrong. Truly a well done movie. The critics are right about oscar buzz.
December 28, 2005
This movie was the best movie I have seen all year. The acting was perfect. The movie is simply one of the best, and should win many awards. Cinderella man showed what a great athlete Jim Braddock was and how much people need someone like him to give them hope. To bad there is not very many athletes for people to look up to like him anymore anymore.
December 12, 2005
Amazing cast, acting and story. Ron Howard really got it right...wouldn`t change a thing. Rent the dvd and watch the special features, you will have new respect for Crowe.
December 11, 2005
Well done movie. Keeps you on the edge of your seat.
December 08, 2005
Great story, great players and excellent description on emotion.
November 12, 2005
THIS MOVIE WAS ONE OF THE BEST MOVIES I HAVE EVER SEEN. VERY INSPIRATIONAL. WHEN YOUR DIRT POOR LIKE THAT YOU HAVE TO JUST BELIEVE. I CAN REALLY RELATE TO THAT PERSON,, HE GAVE ME HOPE.
September 26, 2005
Excellent! I love it!
September 10, 2005
TOTALLY PUMPED UP!!!!
August 16, 2005
Ron Howard does it again. A excellent movie to see. Definitely oscar nomination material.
August 05, 2005
I thought it was a great show. A very moving story. And I might add that I am definatly not a boxing fan. I think boxing should be banned actually. Connie
August 02, 2005
An Oscar must!! Perry D Toronto
July 28, 2005
To Hollywood: how many succesful boxing movies can you put out... do something new you tools!
July 15, 2005
Oscar Worthy performances by Renee Zellweger and Russel Crowe i bet this movie will win a lot of oscars I hope so Truly aMAZING
July 14, 2005
Excellent - I loved it from start to finish. It was believable and just nicely put together. Go see it. - vrl
July 12, 2005
Anyone who puts this movie down obviously doesn`t know a thing about movies! This is a true story (and very accurate), with amazing performances by some of the greatest actors today. The fighting sequences alone make the movie worth seeing because they were done exactly as the real fight was, punch for punch! The story is so relateable to the human emotions because we all face real trials and challanges! This is a must see film!
July 09, 2005
Awesome. It feels like I was being hit.
July 08, 2005
a very enjoyable, although predictable movie. Great acting by everyone, especially Giamatti
July 07, 2005
what a pathetic excuse for a movie...OVERLY-sentimental mindless dribble...melodramatic, vomit-inducing acting... poor cinematography (esp. the fight scenes)... exemplifies all that is wrong with hollywood... in a word: corny... not worth your $10... in fact, viewers should be paid to see this film.
July 04, 2005
good movie! i have to say it was TOO long, like 2 hrs 45 mins counting previews and stuff...but it was still a REALLY good movie! russell crowe is fantastic, ditto for paul giamatti. oscar performances. renee zellwegger wasnt bad either but didnt look too nice...not a bad performance but i wouldnt call it oscar quality. anyway, if youre in the mood for an intense movie, go watch it, its not the relaxing type though.
July 04, 2005
one of the best movies on my list, its been years since i`ve walked out of a theatre with that feeling of having seen a truly great film. Only flaw is Max Baer`s character, he was`nt the villain they potrayed him to be.
June 30, 2005
Can i just say..."WOW". This movie will take your breath away, and may even provoke a few tears! Incredible movie...so worth every penny and more! MUST SEE!!
June 27, 2005
Can you believe this movie only made back half its production cost in the first 3 weeks? Too bad, cause this movie was incredible. Probably cause this movie is up against movies like Madagascar and Batman Begins. Oh well...
June 26, 2005
Look for an Academy Award for Paul Giamatti this time around. He is absolutely excellent every moment he is on the screen.
June 25, 2005
I love Russel Crowe and his performance here was one of his best.
June 24, 2005
I loved this movie! I was the only person in the movie theatre when I saw it. The drama was intense.....I was worn out by the end of the film but it was a good worn out. Russell Crowe should receive an Oscar bid as should Ron Howard, Renée Zellweger and Paul Giamatti. This could have been just another underdog movie but Crowe and Howard save it from that. Yes, Braddock is portrayed as a very straight, moral man but you see his swagger and courage in the ring when he fights. Crowe is completely believeable in a "Tom Hank`s role" because he has not only the acting skills to play the part but the physique as well. The Oscar bid for Crowe c
June 23, 2005
A great view of life during the depression.
June 21, 2005
Overall, it is the typical underdog cliche. Scenes were tense at times however, knowing the outcome as a real part of history tends to put a dampener on things.
June 21, 2005
Loved every minute. Absolutely best movie in a long time. Hope it wins lots of Oscars because it deserves several.
June 20, 2005
I really liked this movie, in many ways. The boxing part of it was outstanding, because it felt like you were in the fight yourself. I also really liked the story line; I had no idea who Jim Braddick was, but after this movie I felt for his character. Yes there is alot of boxing movies coming out lately, but this movie is worth seeing, trust me!
June 19, 2005
Excellent story, excellent acting and excellent casting. I nominate this film for Oscars as best movie, best male lead actor, best female lead actress, best male supporting actor and one of the best for directing. Congratulations!
June 18, 2005
A truly amazing and inspirational film, based on an extraordinary real life underdog story.
June 17, 2005
Encouraging and uplifting, thank you Ron Howard for a movie that I can honestly say is worth seeing.
June 17, 2005
An excellent feel-good movie. Thankyou Ron Howard. I`m a sucker for underdog stories, and this one was no exception. Some say Max Baer was demonized, so maybe hardcore boxing fans have a quibble. Me? No quibble -- you`ve gotta have a bad guy in a show like this. Russell Crowe delivers as usual. Chemistry was a bit lacking between Crowe and Zellweger, but, hey, they were playing a married couple with 3 kids in the height of the Great Depression. Bravo!
June 15, 2005
best movie I`ve seen this year, should be another oscar nominal for both lead stars
June 13, 2005
This is an excellent movie. I would think many oscars are due for this picture. One of the best movies I have seen.
June 12, 2005
If it wasn`t for Renée Zellweger this would be pretty good but unfortunetly she drives me crazy with that stupid expression. No matter what role she plays, there it is. Not much talent if you ask me.
June 12, 2005
Best movie I have seen in a long time. THey had one of the best marriages ever. so good!