Cloudy with a Chance of Meatballs - User Reviews
Thank you for rating this movie!
Read your review below. Ratings will be added after 24 hours.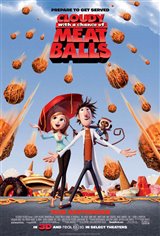 ---
Please rate movie 1 to 5 stars
Showing 1 to 45 of 45
November 03, 2014
Very good movie to watch.
February 05, 2014
Classic Bill Murray summer camp comedy and still one of my all-time favourites.
August 02, 2011
Good movie, but not the best. Was definitely a family movie.
November 18, 2010
Clever, funny, different.
February 28, 2010
Fabulous!
January 22, 2010
this movie is both hailarious and awesome and wow this movie was way better than g-force in so many ways because i think kids would enjoy this movie more than g-force and you will see how its better than g-force and there both good movies
December 30, 2009
i loved this movie it was amazing and the characters personallitys were well made from the director
December 29, 2009
i loved this movie it made me fell like a kid again or something like that and the monkey and some of the main characters were hailarious
December 29, 2009
i love this movie especially when brent turns into chicken brent
December 29, 2009
i thought this movie was hailarious infact the people who made this movie should be proud for the amount of votes this movie recieved
December 28, 2009
i think this movie was amazing from begining to end and this movie was hailarious
December 28, 2009
this movie was hailarious throughout and it may not be the best movie but it certainly was in my top 3 list for one of the best comedy movies for this year
November 30, 2009
COOL MOVIE!
November 29, 2009
I saw cloudy with a chance of meatballs and I have to say i was pleased with it and it was very funny.
November 27, 2009
terrific, wonderful, awesome! one of the best movies i've seen all year. i liked it as much as my granddaughter.
November 11, 2009
this is an awsome movie
October 31, 2009
it was the most funny movi i have seen
October 28, 2009
good movie
October 20, 2009
very well done! I have not read the book but this movie was great. My kids are 9 and 4 and loved it.
October 20, 2009
Most original animated film since Monsters Inc. Laughed out all the way through! Five stars!
October 18, 2009
it is so funny me and my freinds laughed through most of it.
October 18, 2009
Laughed and laughed! I haven't laughed this hard at a kids movie. The kids loved it too. Can't wait for the DVD.
October 13, 2009
The previews don't do this one justice. Excellent movie ... even for us adults. Original with lots of laughs.
October 12, 2009
I dont like to not like a movie just to not like it. This movie would have been great for a little kid, all of the "funny" references that were geared towards adults have been done SO many times before. Definitely an original idea and encourages the use of ones imagination, which is much needed for children these days.
October 11, 2009
omg i love it
October 05, 2009
A great film for the family.
October 03, 2009
wicked asome and funny
September 30, 2009
I didn't really want to see this movie before when I saw the trailer, but after I read the comments that people saying it is so funny, I decided I'll go see it. Our home family loved it, we laughed from beginning to end.
September 27, 2009
i loved this movie so much it was so funny and cool!
September 26, 2009
Awesome, hilarious movie! Fun for all ages. Great family movie! The movie gives you an appetite and so much more. We laughed and laughed! A must see.
September 23, 2009
I enjoyed it. The plot was interesting enough, the sub-plot about how the weather girl coped was interesting. The animation was smart and funny. 4 stars.
September 22, 2009
It was a pleasant experience!
September 20, 2009
Very great movie. Girlfriend and I enjoyed it a lot.
September 20, 2009
LOVED it! It was entertaining from beginning to end. I thought it was much better than mosters vs aliens, and Up. GO WATCH IT!!
September 19, 2009
So I went into the movie expecting a pleasant time but nothing overly crazy boy was I wrong. What an excellent movie, excellent plot, excellent animation and extremely funny! my buddy and I couldn't stop laughing. I recommend this to adults just as much as to children.
September 19, 2009
Ridiculously funny.
September 19, 2009
good movie. creative and lots of laughs.
September 19, 2009
For those that liked "The Hangover", you just MUST gotta go see this, because it is probably the second best thing after that movie! 5 Stars for Bill Hader's extraordinary performances!
September 19, 2009
An extremely fun and entertaining movie even for adults. Not one boring part!
September 18, 2009
One of the better 3D animation movies for the year, recommended for all families especially the teens
September 18, 2009
super good
September 18, 2009
Hilarious and Awesome in 3-D!!!!
September 18, 2009
A Full Price movie indeed! Funniest film ever after The Hangover for this year.
September 18, 2009
BEST MOVIE EVER!!!!!!!!!!!!!!!!!!!!!!!