Collateral Beauty - User Reviews
Thank you for rating this movie!
Read your review below. Ratings will be added after 24 hours.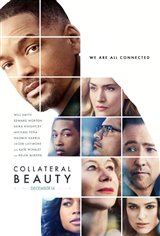 ---
Please rate movie 1 to 5 stars
Showing 1 to 48 of 48
September 26, 2017
I liked the twists. I dislike it when you figure things out near the beginning. So I liked that it took me a bit of time to figure it all intertwined. It was actually a tear jerker for me, especially being a father of a little girl. I rather enjoyed it and liked that the parters weren't conniving in a bad way, it was actually in a way that benefitted everyone involved which was nice to see.
August 06, 2017
Well written. Great casting. Plot drew you in and unlike most movies it had an ending that tied together all the characters and their stories.
July 23, 2017
A thought provoking story, that touches on the absolute dispair of the grief journey. Well worth the time!
May 13, 2017
A fantastic movie! I think the critics got it wrong with this one. I guess they wanted Will Smith to act in the typecast way they have come to love the actor. He did step outside his comfort zone perhaps but I feel it made the character all the more believable. Highly recommend.
January 29, 2017
what a beautiful spiritual movies
January 28, 2017
The most touching thing to me the portrayal of a father who's lost a baby daughter. The different way in which a man tries to deal with the tragic emotions a loss such as this incurs is played out in Will Smith's expressions so convincingly. The mothers were much more easily able to talk about their losses, but the dad just couldn't find the way on his own. A broken man begins to be repaired. Please see this movie at least twice. There is a lot being said and it takes more than one viewing to get it all. Love it
January 26, 2017
I loved this movie! So well done! Amazing storyline! Also, bring your Kleenex box. I cried multiple times.
January 16, 2017
Will Smith's acting is just amazing!!! The acting of the rest of the cast is really good as well! Only problem is that some of the concepts in the movie are too abstract.
January 08, 2017
Just watched this movie. Excellent
January 04, 2017
Very moving story. Will did an excellent portrayal, other actors very good. Only discomfort was in the idea that actors were hired to trick Will. To me, that wasn't a good thing, the means would not have justified the ends. But his eventual realization was a good thing for the character.
January 02, 2017
Profoundly beautiful and moving.
January 01, 2017
Loved the story..actors were fantastic, especially Will Smith. Good food for thought. Have had many great conversations with my peers, my kids and my grandkids about the movie. Hard to find a movie these days that you can do that with!
January 01, 2017
The movie is good on many levels and is satisfying, but not quite enough. It has some lovely plot twists, which made it worth my while. I wish they had delved deeper into the characters, and their stories. Something is missing. You will feel this film deeper and more profoundly, if you have lost a beloved one.
January 01, 2017
Loved it. Everything was so perfect from the acting, soundtrack, photography wow. The story line was something that made you smile this holiday season.
December 31, 2016
Thoroughly enjoyed this movie - heart wrenching story and well acted. Highly recommended. We see movies about 50 movies per year and this was our favourite for 2016.
December 30, 2016
Great movie , some would say true story.
December 30, 2016
Very Good Movie...
December 30, 2016
This movie was really well done- so unexpected and unpredictable at times. Very unique storyline and the actors all did an amazing job.
December 29, 2016
Emotional, unfortunately I related to his hurt, you have to lose a child to understand
December 29, 2016
great story
December 28, 2016
Not Will's best picture. It lacked originality. Tons of cliches. 2 thumbs down.
December 27, 2016
Real emotion...sadly could relate...if you have lost a child a must see...
December 27, 2016
This movie was stupid and boring. If they were trying for a knock-off of "It's a Wonderfull Life" they missed the mark by a landslide. it was predictable. Waste of time and money.
December 27, 2016
This was just the ideal kind of movie to me - great actors, excellent plot, creative ideas, and some real heartwarming relationship issues being developed and explored. Loved it!
December 27, 2016
Great movie ! She's a real tear jerker,
December 26, 2016
Dragged on and on. Should've boycotted this one.
December 25, 2016
I really loved this movie. Will Smith was very believable. Great family movie.
December 25, 2016
I am a big Will Smith fan and he truly delivered. He pulls at your heart's strings when his face shows anguish. It is multi faceted in that delivery. Great Actors always want to achieve this and he does. The story line is intriguing. I loved the picture. Helen Mirren of course was superb as well as all the supporting actors. I will go and see it again,.
December 24, 2016
The twist in the screenplay.If your not a Smith fan he will win you over with his performance.
December 23, 2016
A little bit slow at times but worth seeing. Again Will gives a great performance.
December 23, 2016
loved this movie...great acting
December 23, 2016
Terrific...loved it
December 23, 2016
During this Christmas season, there are lots of fluffy jingle bells holiday films both on TV and the movies. This movie, besides having superior acting, had some depth; sorely craved at times. The holidays are not all marshmallow fluff and glitter. Glad to see such a beautifully done movie. Hats off to Will Smith for choosing something other than sci-fi space invaders and Armageddon-style this time!
December 22, 2016
It's amazing so nice and wonderful
December 22, 2016
Well acted. Very touching. No car chases or lasers. This is for adults.
December 21, 2016
anyone who has lost a child should see this movie. people don't understand what it's like. this movie told the true story & the pain that goes with it..
December 21, 2016
Beautiful, heart-warming and full of twists and surprises. Best film I've seen in a looooong time.
December 21, 2016
This was the worst movie I have seen in a long while. The depressing story line dragged on & on. The only thing redeeming about it was the happy ending. Don't waste your money! I thought it was going to be an updated version of It's a Wonderful a Life but It wasn't even close.
December 20, 2016
Loved it!! Very touching....
December 20, 2016
Best movie I've seen all year, I was amazed by the plot and loved the surprises throughout!
December 19, 2016
Loved It. It had all the emotions a movie should. Plus a great cast with some awesome acting.
December 19, 2016
Great movie and the acting was amazing.. star studded.
December 18, 2016
Don't listen to the reviews, listen to your heart, just go see this film and enjoy. Will Smith is still good and who doesn't love Helen Mirren, Ed Norton and Kate Winslet!
December 18, 2016
If you like Will Smith, you'll love this movie!
December 17, 2016
This is a horrible movie. Rarely do you see false advertising for a movie to this degree. There was a good idea involved in this movie, but it got lost along the way. It tries to manipulate the audience with a very easy source of tragedy, but without any heart. It is difficult to get across how badly this movie fails since the trailers and summaries don't tell you enough facts. The summary is like the trailer. Parts are true, but leaving out the truth. Will Smith does a good job trying to bring Howard to life as a character, but the character is pretty poorly written. His friends? Are horrible people. Not just badly written characters, but actually terrible people that the movie wants you to sympathize with. Just don't go see this movie. It is really bad, dishonest, and manipulative in the worst way. You have to do more than have a tragic premise to make a good movie. I'm not sure how many great actors read this script and said "Yep, this will get me an Oscar." It is a movie that tries to force you to feel bad, instead of trying to get there in any ways that makes sense. Just save your money and watch a good film at home instead.
December 17, 2016
I saw the movie and really enjoyed it, and the surprise ending. It brings up so many deep emotions within a person as it touches your heart in so many different ways. Everyone in the movie was excellent. I loved it. Nice to see a movie without violence for a change & one that doesn't insult our intelligence.
December 16, 2016
Excellent movie. Great acting and a great story.
December 08, 2016
Tragedy, grief, love, tears finding your way, stellar cast and acting, two twists that I did not see coming made for a great movie.