Corner Gas: The Movie - User Reviews
Thank you for rating this movie!
Read your review below. Ratings will be added after 24 hours.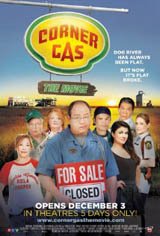 ---
Please rate movie 1 to 5 stars
Showing 1 to 29 of 29
February 21, 2016
Funnier than Deadpool, that's for sure.
January 31, 2016
Hilarious!
August 17, 2015
Funniest movie ever!
December 22, 2014
Loved the movie - I don't know why - but I was expecting a cameo from Stephen Harper! I would have really liked to have seen it at the theatre but it wasn't shown in our area.
December 12, 2014
Great casting and acting for a movie and series made in Canada Bravo
December 12, 2014
I loved this movie. I have watched the series reruns over, and over, and over. I can't get enough of this fantastic Canadian humour. The entire cast is like family, and the writing is brilliant. It was so good to see everyone again, and I hope there's another one down the road! I know it's not for everyone, but for those of us who are smart enough to appreciate how good Corner Gas is, we are thrilled with this movie!!!!
December 10, 2014
loved the movie. My only complaint was it wasn't in theatres long enough. I was able to watch it on it's last night, but my wife couldn't.
December 08, 2014
Funniest movie out there! Wouldn't be surprised to see this top the box-office for the next few weeks!
December 08, 2014
Going again this week!
December 06, 2014
best script, best jokes
December 06, 2014
Very disappointed. Quality of acting and comedy writing did not come close to the tv show.
December 06, 2014
As a longtime fan of the show, I loved every bit of this movie!
December 06, 2014
Just as great as the show!
December 06, 2014
Fun movie.
December 05, 2014
No laughs, no stars. An embarrassed silence in the theatre. I left after 20 mins, asked for and received my money back.
December 04, 2014
Two hours of pure fun!
December 04, 2014
Unfortunately, I am not simple and dim-witted enough to enjoy either the TV show or the movie.
December 04, 2014
If you loved the series, you'll love the movie. It was like catching up with old friends.
December 03, 2014
Excellent movie! Great story line, and, as always, the acting is first class. Like movies about space, movies filmed in Saskatchewan need to be seen on the big screen.
December 03, 2014
Great to see Corner Gas on the Big screen. Great show, loved the movie.
December 03, 2014
Stupid movie, stupid show, just plain stupid
December 03, 2014
Worth the wait, but get to the theater early if you want a seat!
December 01, 2014
An absolutely unfunny, nothing-to-offer, brain dead waste of time and money.
November 29, 2014
Lived up to the hype.
November 26, 2014
I haven't laughed this hard in ages!
November 26, 2014
Loved it!
November 21, 2014
Laughs by the gallon! Would love to see a DESPERATE HOUSEWIVES movie.
November 19, 2014
Funny, funny movie! Expect multiple Genie noms! Well done, guys! Well done!
November 18, 2014
I loved it, too!