Country Crush
Thank you for rating this movie!
Read your review below. Ratings will be added after 24 hours.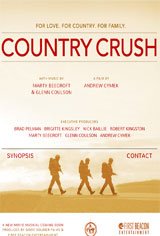 ---
Please rate between 1 to 5 stars
Showing 1 to 9 of 9
December 10, 2017
This movie was quite possibly the goofiest thing that anyone has ever recorded. Someone needs to worn a guy before the singing just starts out of no where. Charlie is a drama queen, who should be wondering how he landed this cute blonde, instead he is a Whiney beaatch. My 14 yr old son could write, film and direct a better movie than this. Definitely no Rudy, but if you have 2 hours to waste, it was fun to watch with my family and laugh at how bad it was. To the actors; you may not want to put this movie on any resume' or application.
September 17, 2017
Loved the singing by all! The songs were very good! The story is one that has been told many times over! Good movie overall!
September 08, 2017
Simply terrible
September 08, 2017
This is the worst movie I've ever seen. Ever.
July 16, 2017
Munro Chambers was great, but the supporting cast was average. The wife of Munros brother was unconvincing as a country wife, her mannerisms screamed "big city."
April 02, 2017
Thought the movie was excellent. Would highly recommend
March 22, 2017
Movie was Fantastic! Could not believe how much the story line got to me. Only questionable thing that I would point out, who ever played the bartender must have been an extra, it was tough to watch him get his lines out. It was like watching Charles Barkley Golf.
February 24, 2017
Amazing movie with a lot of heart and soul! Great job Andrew Cymek writer,director...and Brigitte Kingsley ( producer)!
January 27, 2017
Made me feel all the feels.