Couples Retreat - User Reviews
Thank you for rating this movie!
Read your review below. Ratings will be added after 24 hours.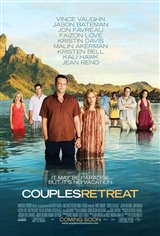 ---
Please rate movie 1 to 5 stars
Showing 1 to 50 of 66
November 24, 2014
A good movie... made me feel like I want a boyfriend.
February 21, 2011
such a disappointment..i thought i would die laughing because Vince is always funny but mMY GOD...this movie was so boring, i don't get how this was suppose to be a comdey
September 27, 2010
Sooooo baaaaaadddddd.....
February 05, 2010
Funny and entertaining. A movie that is truly enjoyable.
February 01, 2010
I really liked this movie. The yoga stuff was pretty funny. my wife and I both laughed through the whole movie. very funny.
January 30, 2010
It seems like Comedy today means unappropriated, my suggestions are comedy should be something that doesn't help people commit adultery.
December 07, 2009
Great movie, really enjoyed - will never view yoga in the same way again.... felt rating should have been at least 14A
November 20, 2009
this movie was sooooo funny !
November 15, 2009
decent movie, but was hopiing for a bit more laughs. thank god malin ackerman and kristen bell were in this movie because they were the best part of the movie. they looked so sexy and even the other 40 yearold oe looked great in lingerau
November 13, 2009
This movie was great! Vince Vaughn is hilarious as always!
November 09, 2009
You should add a 0 as even 1 star is too much for that silly, silly movie. What were they thinking? Total waste of money.
November 09, 2009
Fun movie. Great for couples to see.
November 08, 2009
2 stars wait for the dvd
November 08, 2009
Meh. Most of the funny parts were in the trailer. I heard bad reviews before going, but it still turned out to be better than I expected. It won't hurt to wait for the DVD though.
November 08, 2009
This was a total waste of money and time we wasted watching it!!!!!
November 06, 2009
This movie was so funny!!! It was well worth the full admission ticket price. I would see it again.
November 04, 2009
Hilarious, i loved it!
November 02, 2009
It was better than I expected. Actually, it came across as more of a self help movie for estranged couples with a soft edge approach to humour.
November 02, 2009
I think those people who did not like this movie must be single! My husband and I loved it.
October 30, 2009
I quite liked it, and I will like to say something to those who are giving negative comments. Don't write on the wall telling people not to waste their time or money and that you walked out an hour into the movie or half an hour into the movie, because reality is, you just wasted your money by walking out and not sitting through the "crappy movie" or "brutal movie." I LOVED IT! NOT A WASTE OF MONEY OR TIME!
October 29, 2009
THIS MOVIE BLOWS... GOT A HEADACHE WATCHING IT... FELT LIKE LEAVING BUT TOOK A SNOOZE INSTEAD. BORING!!!
October 28, 2009
Brutal... period
October 28, 2009
My wife and I just saw this movie. I had to convince my wife not too walk out after the first 30 min's. But after an hour, thats all I could take..... We left and a few other people followed. Go see something else...
October 28, 2009
Terrible, don' waste your money or time. 4 stars my bu_t. Neg 4 stars maybe
October 28, 2009
I thought I had seen the worst movie ever, but this one is now taken its place. That was 2 hours of my life, I will never get back! Not Funny, No plot, brutal characters..... I like a variety of movies, but this one is just about the worst movie I have ever seen. How it got 4 starts is unbelievable. I would only recommend this movie to someone I want to play a practical joke on ! Don't waste your money or time!!!!
October 27, 2009
This movie was hilarious. The scenery beautiful. The characters very real. A MUST SEE MOVIE!
October 25, 2009
how this got 4 stars at this site & more realistic 12 percent approval on Rotten Tomatoes is amazing. This is a 12 percent movie. Extremely bad.
October 22, 2009
amazing movie.. funny!!
October 21, 2009
I thought that this movie was well worth the money! Just when I needed a good laugh.I would definitely recommend it to my friends.
October 20, 2009
If I could give this movie a negative star rating that would still be generous. This movie was rock bottom awful.
October 19, 2009
My husband and i both loved this movie,consistently funny Vince & the cast were all great!
October 18, 2009
me and my family liked the movie a lot
October 18, 2009
can't believe those who didn't like it? very enjoyable and fun after all those weirdo movies. makes a couple appreciate their relationship and fun humor in their problems. thks for a great movie "D"
October 18, 2009
it's too bad that juvenile 16 year old sex jokes, farts, and adults with most body parts exposed are seen as entertainmemt. no sursprise there are so many teens (male and female)being pressured into unwanted sex. yet,we think these movie stars are cool. when in fact, the majority have worse morals than the fans who idolize them.
October 17, 2009
Great movie, don't understand all the negative reviews. Jon and Vince were great!!
October 16, 2009
It was an okay movie, has a few laughs. 3 stars
October 15, 2009
WORST MOVIE THAT HAS EVER BEEN PRODUCED!!!!!!! LEFT HALF WAY THROUGH, COULDN'T TAKE HOW BORING IT WAS!!!! DONT WASTE YOUR TIME OR MONEY!
October 15, 2009
Great couple movie. I think you had to be a couple to enjoy it. The whole theater was laughing in some spots, very rare in a comedy these days. Of couse some over the top moments but I don't want to watch real life!
October 14, 2009
90% boring, 5% annoying and 5% laughs. If you found that the trailer was funny, those were the only parts.
October 14, 2009
wow..this movie was hilarious
October 14, 2009
Vince/John what happened you used to be funny. Obvious and not well built.
October 13, 2009
Very well done...lots of laughs!
October 13, 2009
great movie for couples. many laughable scenes. worth watching in the theatres.
October 13, 2009
Not a very funny movie at all!
October 13, 2009
Very much enjoyed. Loved all the characters. Well acted. Glad they didn't portray Trudy as a hoochie. She was respectful and sweet. Great that none of the wives played as insufferable nags. The characters were all played as grown mature level-headed people. A good watch!
October 13, 2009
GREAT MOVIE ! recommend to all couples !
October 12, 2009
Vince was so good in this movie. The best part I liked was the yoga part. Highly recommend it all people who like Vince Vaughn and I would like to see another movie with him.
October 12, 2009
very good
October 12, 2009
I loved it very funny movie!!!!!!!