Crank: High Voltage - User Reviews
Thank you for rating this movie!
Read your review below. Ratings will be added after 24 hours.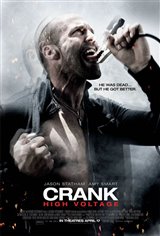 ---
Please rate movie 1 to 5 stars
Showing 1 to 50 of 57
July 28, 2010
Augh! My eyes! Seriously, I felt like I needed some Aspirin and Gravol after seeing this movie. I think I enjoyed it more than the first one, because this one dropped all pretense of even considering pretending to make sense. There are many times in this movie where it's reminiscent of a first-person shooter video game, Grand Theft Auto, a manifestation of ADD on film and a Roadrunner/Coyote cartoon, with the amount of physical punishement Chev Chelios both sustains and walks off. Repeatedly electrocuting a character is the kind of things that falls squarely in the realm of animation. When I watched Sheitan, it looked to me like a film helmed by a lunatic. All the cast and crew seemed to
July 09, 2010
ott and ridiculous! but still awesome
October 13, 2009
Awsome Movie Non Stop Action
October 09, 2009
Really bad! and i'm a Jason Statham fan...
September 25, 2009
worst movie I ever seen in 35 years Jason don't ever do a movie like this ever , you'll lose your integrity..
September 14, 2009
disappointed, liked first one more
September 13, 2009
2 much the same as last movie
July 15, 2009
Slam-bang actioner may well be the best of the series.
June 29, 2009
great and amazing movie ever
June 29, 2009
awesome movie
June 29, 2009
i loved this movie it was even better than the first crank movie
June 29, 2009
jason statham and amy smart are acting geniuses
June 19, 2009
I am a jason statham fan, and for that reason alone I gave it 2 stars....I didnt go see the movie and I know it would be crap. Talk about making a movie for the sake of making a movie...pud
May 18, 2009
TERRIBLE MOVIE!! One of the worst I've ever seen in my entire life. It was repulsive! DO NOT WASTE YOUR MONEY.
May 11, 2009
best part of this movie was the trailers and the popcorn. waste of a movie and i was actualy looking forward to this movie. My feeling is they shouldve left this a singular movie and not a sequel.
May 11, 2009
Wonderful. Absolutly brings you to the edge of your seat with wonder. Cant wait for the next one!
May 10, 2009
WASTE OF YOUR HARDEARNED MONEY. YOU'LL WANT YOUR MONEY BACK. STAY HOME AND WATCH BASEBALL BOTH ARE BORING
May 01, 2009
waste of time and money
May 01, 2009
a bit much, acting was less then stallar
April 30, 2009
Best Movie Ever!! Great use of characters from the original.
April 30, 2009
AWESOME MOVIE!!! Even better then the first Crank.
April 28, 2009
No stars! Should have been a porno mvie/fighting movie and never on big screen. boooooooooooo
April 28, 2009
Pathetic waste of money and time.Would not buy it on dvd if it were 0.25 We walked out after the first 30 minutes. So dissapointing. Should have been reated a porn movie instaed of just adult.
April 27, 2009
good but the end is stupid
April 27, 2009
weird movie. not was i expected, could have been 10 times better
April 26, 2009
I loved the first crank, watched it several times. High voltage is sooooo bad. No content, short, award. worst movie ive seen in a while
April 26, 2009
Excellent movie. All those interested in a purely ridiculous non-stop action movie will love this. Anyone looking for content is going to be sorely disappointed, and you deserve what you get if you actually go see this.
April 25, 2009
Crank was crap. We should not have to endure such a thoughtless sophomoric incompetence of a movie.
April 25, 2009
Really? You wouldn't expect this from Jason Statham? It's just like every other "action" flick he's ever made. It's your own dumb fault for assuming otherwise.
April 25, 2009
it was horrible, i feel asleep. it was like a way to fast pase comic book :S weird.
April 25, 2009
booooooooooooooooooo
April 25, 2009
Best action movie evar!
April 24, 2009
Like his other movies, but this was pure junk. Sad ... 2 hours I will never get back!
April 23, 2009
So bad. My husband decided this was the movie to see on hid bd. IT WAS SO BAD WE WALKED OUT AFTER 23 MINUTES. As avid movie goers. This is the worst we started wathching in the last 5 years.boooooooooooooooooooo
April 23, 2009
There was rarely more than 5 minutes that passed between sex or topless women scenes. Should not be seen by anyone with any kind of intellect - this movie is far below what I would expect from Jason Statham!!
April 23, 2009
Initially, I thought this would be an excellent movie based on the first Crank. After 20 minutes of nearly constant nudity, I walked out. What a waste!
April 23, 2009
A very base insult of a movie with no redeemable content. The concluding image says it all and it is directed at the audience. I sat there and heard people say, what the ****, that's it. A graphically appropriate response for this movie. It felt like I was the victim of a golden shower, (look it up you will see what I mean).
April 22, 2009
I was embarrassed for JASON STATHAM for being in it and for myself for going to see it!
April 22, 2009
cool movie had alot of action in it liked really cool go see it. :)
April 22, 2009
its awesome
April 22, 2009
Loved that part where Jason Statham became the Ghost Rider at the end, haha! I bet there won't be 3rd sequel after this, cuz there is no way they could continue this intense story plot anymore, Boo YA!
April 22, 2009
a bit much, Statham is better than this junk
April 21, 2009
You enjoy violence? Go serve Canada oversea's...bunch of peons.
April 21, 2009
Worst movie ever, I did laugh quite a bit though but mostly at how dumb the whole thing was.
April 21, 2009
Awesome Show...most entertaining in months
April 20, 2009
what could have been a decent action flick was instead turned into a XXX show. you couldn't go more than 5 mins without seeing some form of nudity, add that to a 5 minute hardcore sex scene, equals 2 thumbs way down and a film that should have a xxx rating
April 19, 2009
Don't waste your time and money. Take out the profanity and nudity and you have a 30 minute movie. If you decide to take this movie in, leave your brain at home and enjoy.
April 19, 2009
THIS MOVIE WAS WASTE OF TIME>>>IM HSPPY I DIDNT GOTO THE THEATERS TO WATCH IT>>>JUST HOME!!!!
April 19, 2009
Overload of violence. Reminded me of the old freddy movies where i laughed until I cried. The pace is double that of the first movie and they go way over the top to make sure you laugh and hate everyone that dies. This movie is not for the elder of the timmid. It will keep you laughing and saying " good lord whats next? " The ending was amazing.. AMAZING.. if people say they didnt like the ending it is because they are against seeing a little nudity and violence in a movie.. not everything has to be a happy hollywood ending.