Crazy Rich Asians
Thank you for rating this movie!
Read your review below. Ratings will be added after 24 hours.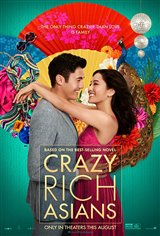 ---
Please rate between 1 to 5 stars
Showing 51 to 87 of 87
August 31, 2018
Refreshingly funny. Original and a fun cast. Go see it you won't be sorry
August 29, 2018
Great movie. Loved the beautiful people, opulent scenery and story line. This movie was very entertaining and the acting was good. I see a few sequels coming out of this movie and am looking forward to seeing more!!!
August 28, 2018
Very good story line, i loved everything about the movie. I will buy it when released.
August 28, 2018
Fun, soapy, humorous, fantasy.
August 28, 2018
Very good movie. Very enjoyable. If you've read the book, it's not the same, but it is very very well done. I'd definitely watch again
August 27, 2018
Amazing movie! Loved it 😁
August 26, 2018
Nice light romance...ancient storyline
August 26, 2018
Very entertaining. A lot of laughs.
August 26, 2018
The movie was excellent. The scenery, Wow! Singapore is beautiful. Awkwafina stole the show! She was too funny. The entire movie audience last night were laughing me too! The cast diid an excellent job. More Asian films like this one would a welcome pleasure.
August 25, 2018
Giving this movie five stars. Enjoyed the whole movie. Very uplifting and fun. Music was great. Actors were good. Scenery of Singapore was lovely. The theatre was full...
August 25, 2018
A must see movie for all asians!
August 25, 2018
It is funny and well cast. Awkwafina is hilarious! It is about time Hollywood sees the light (or $$$) and start producing more asian cast movies. There is a humongous market in China and Asia as well the local North American Asian communities that would love to see this type of movie. Well done Warner Bros. Pictures!!!
August 24, 2018
Not my cup of tea for sure and for certain. Making stars of monetary wealth is not an attractive or entertaining proposition. The people are pretty but the story sucks as well as the theme.
August 23, 2018
Nothing spectacular. Nice scenery, good acting, poor story, boring.
August 23, 2018
Absolutely loved it!! Great comedy and fun characters!!
August 23, 2018
Fun and interesting, a lighthearted, cute movie albeit unrealistic.
August 23, 2018
Great entertainment, enjoyable.
August 22, 2018
Chose this flick as a last minute choice not really expecting to like it . I was pleasantly surprised ....I loved it ! Lots of laughs and great acting . I recommend it wholeheartedly .
August 22, 2018
I went last night with some friends we had liked the movie we had a good laugh
August 22, 2018
Funny movie and I can relate this movie to the other comedy movie: The Big Fat Greek Wedding. The wedding scene is amazing. I love it!
August 22, 2018
Disappointed but enjoyed all the glitz. Predictable plot. Loved shots of Singapore and casting.
August 22, 2018
Fun cast! Loved the mom
August 21, 2018
Great comedy, loved the cinematics. Chemistry between the two lead actors was great. A real feel good movie. Loved the sound track.
August 21, 2018
It was very well done. It was about respect and family.It was a beautiful love story without all the sex madness.
August 21, 2018
10/10 This movie saved rom-com!
August 21, 2018
Outstanding movie and cast. Anyone who rates this low is butthurt that an asian movie in hollywood is #1 in the box ofice
August 20, 2018
Not a five star movir
August 20, 2018
Not a 5 star movir
August 20, 2018
A solid film and lives up to its hype about bringing back the rom-com genre. Aside from the fun of the glitz and glam of the super wealthy, the storyline of East vs. Westernized East is something that many foreign-born Chinese experience, and I'm glad it was shared through this film.
August 20, 2018
The movie is a typical love story. But it shows the life of rich Asian. And the actors was great.
August 19, 2018
Didn't measure up to expectations. Lead female and lead male, did a good job, as did the Mother character was good but a number of supporting players were questionable. Expected this movie to be more of a comedy based on trailers.
August 19, 2018
Boring. Nothing unique
August 17, 2018
Funny, lots of inside jokes which Americans may not follow. Great shots of Singapore and great introduction to beautiful places around S.E. Asia. Love that house in Malaysia where E. Yang had her Bible study party.
August 16, 2018
An excellent, insightful, humane, colorful, and romantic movie. It made me want to be Asian, no, that's not it...it made me want to be rich, no, not that...it made me want to be moral and ethical, yes, that's it. Another great day at the movies!
August 15, 2018
Hilarious!
August 15, 2018
This movie was boring and no story line don't waste your time and money
August 15, 2018
The first half is kind of slow but the second half is really good and pulls everything together. Overall a nice film with some great pictures of Singapore.