Crazy, Stupid, Love.
Thank you for rating this movie!
Read your review below. Ratings will be added after 24 hours.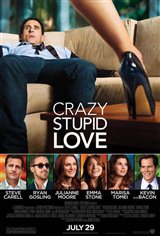 4.20 / 5
User Rating
Based on 844 votes and 272 reviews
---
Please rate between 1 to 5 stars
Showing 201 to 250 of 272
August 01, 2011
Very funny, great cast combination
August 01, 2011
funny, realistic, very entertaining
August 01, 2011
Hilarious, touching, great acting
August 01, 2011
Awesome, funny, and totally engaging!!
August 01, 2011
Very funny movie with a great cast and storyline.
August 01, 2011
i love love loved this movie!!!!! see it!!!!
August 01, 2011
Funny and moving story with a lovely cast.
August 01, 2011
Hilarious,smart and witty writing...great cast..fun for everyone!
August 01, 2011
I am glad to see Steve Carell can act, not just being funny. Ryan Gosling is great, playing his part well. I do think there's more Kevin Bacon can do, what a waste on him for the mere scenes in the movie.
August 01, 2011
One of the funniest and best cast movies I've seen in a long time!
August 01, 2011
An all-ages movie that was entertaining throughout. A better side of Stev Carroll.. I would recommend it, even tthough it would be 'almost' a chick-flick.
July 31, 2011
Great movie. It's hilarious
July 31, 2011
LOTS OF FUN MOVIE!!
July 31, 2011
it was very funny!!!
July 31, 2011
It was a really funny movie. I think Ryan Gosling is dreamy!
July 31, 2011
I loved this movie. There is something to taken from each twist to the story. I laughed and I cried. A movie for everyone who has ever been in love or wants to be in love. Nothing is as it seems at first but I really liked the actors and thought all of them played their parts wonderfully well, a true ensemble cast. There was even a cameo role by Josh Grogan who played the part of a sleaze really well. Two thumbs up and I have told all my friends they have to see it.
July 31, 2011
This movie was good fun.
July 31, 2011
Wonderful,funny,amazing script and acting great too!!
July 31, 2011
Wonderful movie. Great soundtrack. It actually had a story!
July 31, 2011
Starts out slow, but the ending will kill you!
July 31, 2011
A smart and funny script. A lot of sub-plots but all the actors were great for their role.
July 31, 2011
fun, funny, good attitude
July 31, 2011
Very entertaining!
July 31, 2011
Steve Carell fans won't be disappointed in his latest outing, where he plays an everyman stunned to find out that his wife wants a divorce. With help from player Ryan Gosling, Steve takes a dip in the bar scene, but learns that this is not the answer to long-term happiness. Well-written, and with solid supporting performances, particularly Analeigh Tipton as a love-struck babysitter, Crazy, Stupid Love entertains!
July 31, 2011
This wasn't a RomCom as I predicted it to be. It really had something or everyone, and 2 plot turns I never saw coming. I found myself laughing out loud in many moments, and thats not usual for me.
July 31, 2011
Made me cry
July 31, 2011
I LOVED THIS MOVIE!!! Just a great movie all around. I haven't laughed that hard in a long time!
July 30, 2011
very very good movie, good part is all the previews are at the beginning
July 30, 2011
Although this movie did have a few surpises, I would have to say that it was just slightly better than average. Not memorable, so wait for the DVD release.
July 30, 2011
This is a thoroughly entertaining movie with excellent performances from its excellent cast. While very amusing, it also has some tender moments, as well as a neat twist that no one could have foreseen. My only criticism is that a couple of scenes get unnecessarily too slapstick, not to mention the improbability of the graduation scene. I know the audience is supposed to "suspend belief," but a large part of that scene is totally ridiculous, not to mention as superfluous as the incorrectly placed comma after "stupid" in the title. Sorry .. can't help being a grammar freak! lol
July 30, 2011
Fun movie. Good cast and a nice mix of humour/drama. The crowd seemed to enjoy it as well. Attended the Vancouver advance screening on Monday, July 25th. My dad noted the humour reminded him of that from 'Father of the Bride' from the early-90s, and that he liked the performances from Moore, Carell, and Gosling.
July 30, 2011
Movie was funny there were a few parts where I laughed quite hard but with Steve Carell in it I thought it might be funnier. Having said that though I thought the movie was great and could appeal to someone looking for a laugh and a bit of romance.
July 30, 2011
summer fun, OK and not bad after all.
July 30, 2011
Great ensemble cast. I always thought Ryan Gosling was a good actor, but he was excellent in this. Emma Stone was adorable as always See it!
July 30, 2011
Pretty good romantic comedy!
July 30, 2011
I liked this movie more then I thought I would. It's got its hiccups but for thanks to its stellar cast, Crazy, Stupid, Love ends up being smart, sweet and enjoyable.
July 30, 2011
Loved this movie! It was so good!
July 30, 2011
Great cast, good story, lots of fun.
July 30, 2011
totally funny, totally touching. I really enjoyed this movie. A must see for everyone.
July 30, 2011
Amazing!!Great scrennplay and everyone can relate to one of the characters!Awesome for a date or with friends!!Very Funny..Go and see it!
July 30, 2011
A refreshing, topical, romantic comedy that brings our attention to lasting values. All characters are convincing and the way the surprise ending ties all things together is masterful.
July 30, 2011
Loved this movie from beginning to end,funny and romantic and not a typical chick flick movie.
July 30, 2011
I don't usually care for Steve Carell,but he outdid himself in this movie. Emma Stone sparkled and Ryan Gosling did his best. An enjoyable movie with some excellent parts.
July 29, 2011
nothing new, or original here.
July 29, 2011
Decent script, Good actors, 4 stars.
July 29, 2011
Great cast, great chemistry and wonderful unexpected twists!
July 29, 2011
this movie is a must see because it has its laugh out loud moments and we were not expecting that "twist" that they have incorporated in the film. If I have the opportunity to watch this film again, ill do it again
July 29, 2011
Hilarious ! Romantic and funny ! There re some scenes that make you laugh loud and some touch deep your heart. Ryan Gosling looks great and his abs,hmmmmm, ....
July 29, 2011
great from beginning to end
July 29, 2011
This is an absolutely enjoyable film with something in it for everyone. Lots of laughs and twists and turns! Also, I would venture to say it is a great date flick too! Thank you Warner Brothers Canada and Tribute!