Crazy, Stupid, Love.
Thank you for rating this movie!
Read your review below. Ratings will be added after 24 hours.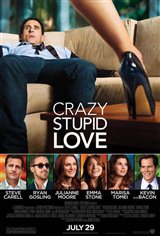 4.20 / 5
User Rating
Based on 844 votes and 272 reviews
---
Please rate between 1 to 5 stars
Showing 251 to 272 of 272
July 29, 2011
Great movie! Funny. Sweet. Laughed out loud. Had a great plot with lots of twists (don't find out before you go - the movie's better with the element of surprise) Recommend it to anyone!
July 29, 2011
I recommend you see CRAZY, STUPID, LOVE for yourself. Great acting, brilliant script, touching scenes and crescendo's to a hilariously funny ending. Haven't laughed that hard in a long time.
July 29, 2011
The cast is outstanding, dialogue snappy and pace moves you along to surprising revelations in the final quarter of the film.
July 29, 2011
Thought the movie was very witty, laughed throughout the film. I also always loved Steve Carrell humour style. Funny & entertaining film overall.
July 29, 2011
Great movie; out loud funny; the theater was totally into it. All stars were awesome great.
July 29, 2011
very funny, and the twists in the movie are great. ryan gosling was shirtless and Julianne Moore looked stunning.
July 29, 2011
Hilarious! Favourite movie of the summer so far.
July 29, 2011
Thanks so very much for the passes, saw it Monday and was waiting to be able to review it. Unlike Bad Teacher this is a movie you can attend with the family, there is no nudity, there are a few off-colour jokes,scenarios, but nothing raunchy, just funny, funnier and funniest! WELL DONE, great cast, great comic timing, great chemistry, great directing, all in all GREAT MOVIE!!!
July 29, 2011
One of the best movies I've seen in a long time.
July 29, 2011
Great cast and story line. Very funny movie.
July 29, 2011
Better than I expected, with good acting all around.
July 29, 2011
The movie is incredibly funny that include great performances from all the actors.
July 29, 2011
The acting was all right. I especially liked the storyline involving the teenagers. Emma Stone is adorable and Ryan Gosling is great eye-candy. That said, the writing was less than great--too many coincidences and clichés. The whole trendy bar scenario was depressing with 20-something women being depicted as shallow and easy.
July 27, 2011
This was a great movie. It was very funny and excellent acting from everybody.
July 27, 2011
I was expecting an amusing, albeit predictable, movie. Boy was I pleasantly suprised! It was the perfect blend of funny and sweet, and excellent cast all around. Great writing, just a really really good movie!
July 26, 2011
Enjoyed it very much.Thank you Tribute for the double pass.
July 26, 2011
Great cast and awesome story!Everyone in the theater was laughing.I recommended this to all my friends.One of the best movies I've seen.
July 26, 2011
This movies is hilarious! It got great balance between romance & comedy! Great cast! Steve Carell & Ryan Gosling are perfect together! So recommend this movie!
July 26, 2011
My cheeks are still sore from laughing so hard. Crazy Stupid Love has a wonderful ensemble of actors with terrific comedic timing. It starts off a little slow but that is so you can get to know each character and root for them. The storyline is rich and the film is FUNNY. The actor who plays the 13 year old has some of the funniest lines in the show. You will hear lots of belly laughs in the theatre from the entire cast. I would go and see this movie again!
July 26, 2011
So I didn't really know what to expect from this movie, but it was really good. There were great actors/actresses doing some wonderful acting! Very entertaining & flawless so it deserves 5 stars! Loved it!
July 26, 2011
Funny and touching. The gardening in the dark scene is worth the price of admission.
June 26, 2011
Marisa Tomei hot and sexy !!!!!!!!!!!!!!!!!!!!!!!