Crouching Tiger, Hidden Dragon - User Reviews
Thank you for rating this movie!
Read your review below. Ratings will be added after 24 hours.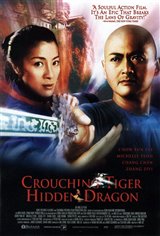 4.29 / 5
User Rating
Based on 6247 votes and 17 reviews
---
Please rate movie 1 to 5 stars
Showing 1 to 17 of 17
July 09, 2010
sweet movie
March 19, 2005
truth to be told, I only watched the swordfight between the two women take place, so in truth I`m not actually rating this till I watch it all. I`d recommend you see this, because my family liked it except for dad, who thought this was not Oscar-worthy, but what is?
March 18, 2005
michelle yeoh outstanding - great acting and action - i want to be her!!!
March 18, 2005
it was ok i mean it wasnt the best medeokre
November 24, 2004
loved it michelle yeoh superb great acting cinematography & soundtrack
May 16, 2004
It was a great movie. I had seen it 6 times this was a lovely movie Fred
September 14, 2002
This is one of those few movies that has great action and visuals, and also has a good plot and character development. Excellent balance. Superb film.
September 01, 2002
very very good. visually stunning
June 23, 2002
i thought to myself where are the dragons and tigers? then my friend tamsin said they are crouching and are hidden it says right here then when she told me that the movie became more clear to me thanx a bundle tamsin love annie
May 01, 2002
wow. interesting movie , way better than other nomination movies
May 01, 2002
Best fighting movie ever seen , better than Gladiator for sure.
February 18, 2002
it was action packed and it teaches you lesson
February 05, 2002
Very sensational, Breathtaking and Heartcapturing, and dream filled with emotion, my eyes watered at the last Scene.... Great movie no not great more than that... watched most every nice movie but two would stay in my memory forever this one and The Lovers.. this is my first posting regardig movies ..... tks to all
January 31, 2002
A great film portraying the Chinese culture, however it lacked meaning & depth for the film. Good fighting scenes. But I just didn`t get into it.
January 04, 2002
this movie doesn`t have a main idea.The plot was confusing and the ending was just plain stupid.
November 22, 2001
too good to end..
October 03, 2001
A beautiful film, whether you enjoy martial arts or drama. The cinematography was exquisite and the fighting was really exciting. Wonderful to see women in the antagonist role, especially when the film is so well done. Best to be watched in the original language with subtitles.