Cyrus - User Reviews
Thank you for rating this movie!
Read your review below. Ratings will be added after 24 hours.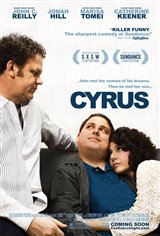 ---
Please rate movie 1 to 5 stars
Showing 1 to 50 of 72
December 12, 2013
Odd and boring
September 12, 2013
Funny !
March 02, 2011
Weak acting, script and direction = bad movie!
January 26, 2011
very dissapointing dark-comedy. I thought the movie had a good scrpt, but I thought the director lost a bit of focus with the organization, or lack thereof, of this film. It just didn't work for some reason, despite some good performances. Overall, it was pretty boring.
December 28, 2010
Horrible, waste of time, not worth renting
September 30, 2010
Not a bad movie.
September 28, 2010
average
September 26, 2010
average
September 23, 2010
Disappointed...
September 03, 2010
Unique comedy that works
September 03, 2010
just ok
September 01, 2010
ejoyed this quirky movie very much! Jonah hill is such a great actor. A must see for sure!
August 28, 2010
Funny in early parts, but the enjoyment faded fast. Cute movie in parts, just by the end you feel a nothing.
August 24, 2010
Completely overrated. The cast holds the fort but the story has big gaps.
August 22, 2010
Wonderful character portrayals, with some dark humour. But while it has indie cred, and character in spades, you'll find yourself wishing for more when it's all over.
August 16, 2010
I enjoyed it
August 15, 2010
It was quite cute and funny! Liked the family dyanamics and John Reilly is classic.
August 14, 2010
neither a comedy or drama, this is a well made and unique movie
August 14, 2010
very enjoyable, a pleasant surprise
August 13, 2010
I found this movie enjoyable, it was funny in parts and just kept you watching.
August 13, 2010
Hilarious!! I love John C. Reilly and this movie had me in stiches
August 13, 2010
great movie, love the story line about to let go something or someone for their happness so they could be happy and when you see the one you love is happy you are happy to.
August 13, 2010
An curious, well-written, well-acted and well-paced --if slightly dark comedy. Not for everyone, but certainly engaging, intriguing and worthwhile.
August 12, 2010
Entertaining but dark dramatic comedy. Well acted and good timing despite some slow moments.
July 30, 2010
Very nice movie
July 30, 2010
A nice combination of comedy,drama and dysfunctional behavior. Jonah Hill really steps into his role of obnoxious son.John C.Reilly and Marisa Tomeii are wonderful as usual.
July 30, 2010
Well-written and acted. Jonah Hill and John C. Reilly sure have been busy in recent years. They stay working, and I'm a big fan of Marisa Tomei's ... so it's great to see her many roles the past number of years. Great career resurgence (been a fan since way back with 'My Cousin Vinny').
July 29, 2010
A different comedy, interesting, sad and funny. Worth seeing!
July 29, 2010
Cyrus the manipulative little weasel who didn't act his age and didn't want anyone to come between him and his mommy, finally near the end appears to be smartening up. Not bad, but glad I didn't pay full price for this one.
July 29, 2010
I found this movie really hard to sit through. It was awkward and slow. I'm sure other people found it funny, but for the average person like me, it's just a bit boring.
July 29, 2010
Didn't meet my criteria.
July 28, 2010
I wouldn't classify this as comedy. Yeah, a few laughs here and there, but definitely more of a Drama or Romance.
July 28, 2010
Dark humour is back with a vengeance. All the main actors were great. A part 2 will be warranted and the laughs will keep coming.
July 28, 2010
Has the potential to be a good movie. The kind that dads like and laugh to. So give it a try. You might share a laugh with your dad too.
July 27, 2010
i really liked this movie.
July 27, 2010
it was fun to watch but it was nothing really special.
July 26, 2010
Not as much "Cyrus" as I thought. Too much Marisa Tomei and John C. Reilly.
July 24, 2010
Really offbeat, sweet and funny movie. Marisa Tomeii, John C. Reilly and Jonah Hill are great in this movie.
July 22, 2010
Isn't it interesting how children hinder their parents and their dating life.
July 21, 2010
Interesting but I would classify it a "melodrama"; not a fan of melodramas. Still well acted and unique.
July 21, 2010
was a good movie
July 20, 2010
This movie was weird, boreing and very strange. I even saw some people walk out on it.
July 20, 2010
I enjoyed this movie, it was kind of funny and intreging and well acted. I would recommend it.
July 20, 2010
Nice to see something quirky and different but the dynamics of the movie are quite strange. Maybe that's what makes it so interesting. Fun to watch but only 3 stars because I thought it would be funnier.
July 19, 2010
Fun to watch. Happy.
July 16, 2010
a fun movie, more enjoyable than I anticipated
July 16, 2010
Funny - cute - good story.
July 14, 2010
Very entertaining!