Daddy's Home - User Reviews
Thank you for rating this movie!
Read your review below. Ratings will be added after 24 hours.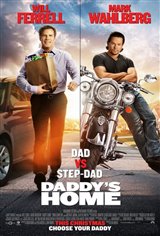 ---
Please rate movie 1 to 5 stars
Showing 1 to 35 of 35
May 07, 2016
Hilarious! Walberg definitely is an awesome comic straight-man and has a great sense of humour. I don't know why this man doesn't laugh at everything Will Ferrell says or does because he's funny as hell!
April 15, 2016
Did not even finish it!
March 29, 2016
Not as funny as "The Other Guys" but still pretty funny.
March 25, 2016
Full of cliches and stupid jokes. Will Ferrell is clearly a one-trick pony "actor" so I get why he's in this moronic flick, but Mark Wahlberg what were you thinking?
March 25, 2016
Best Will Ferrell movie i've seen . Not as crude as most of his movies such as Anchorman 2 or The Campaign . Sure , it is silly at times but good enough story and plenty of laughs . Enjoyed it.
February 06, 2016
I love this movie
January 31, 2016
Funny lol
January 28, 2016
Predictably stupid beyond belief. What's really scary is the people who come out here and say how great it is. Future leaders or losers?
January 23, 2016
Hilarious. Laughed from beginning to end
January 18, 2016
So clever and uproariously funny!
January 18, 2016
My dad and I saw this and laughed our asses off 20 times better then the other guys
January 18, 2016
Terrible movie don't waste your time or money
January 16, 2016
Took 12 year old thought it would be ok for her, not PG at all! More like PG 13 or older. Was an ok movie, not worth movie ticket.
January 13, 2016
IT WAS NOT PG RATING AT ALL JUST A PASS TIME SILLY MOVIE
January 09, 2016
Just what I expected a Will Ferrell and Mark Wahlberg movie to be. There were some very funny scenes mixed in with a bit of the ridiculous. LMAO
January 09, 2016
There was nothing else to really see this week, so I decided to see this and give one of Will Ferrell's movies another chance... big mistake! 0% funny! I don't know what's worse, the movie or some of these brainless idiots giving it a good rating because it was "cute!"
January 07, 2016
This was a cute and enjoyable story. It had a lot of underlying humour, not a slap stick funny, but more subtle. Anyone who loves Will's movies, should get a kick out of this. Thomas Hayden Church was a laugh!
January 05, 2016
A poor movie ! It certainly wasn't funny. In fact, a waste of time.
January 05, 2016
Cute movie, not a barrel of laughs though....a lot of adult humour and mature jokes. Ok movie, not as great as a lot of people have rated it.
January 05, 2016
Supper funny
January 05, 2016
By far the worst movie I have seen for awhile
January 03, 2016
My husband and I thoroughly enjoyed this movie. Lots of laughs. Great entertainment.
January 02, 2016
How this got 4 stars is beyond me. Dumbest movie I have ever seen. Had I been alone I would have left.
January 02, 2016
One of the best comedies of the year. Wasn't expecting much, but thoroughly enjoyed this one
January 01, 2016
Long movie to sit through when only the last two minutes are worth watching.
December 31, 2015
Typical male bashing, it more like a romantic comedy. Most funny parts are found in the trailers. Forever MGTOW
December 31, 2015
Light and funny. Enjoyed more than I thought I would
December 30, 2015
Not even close to "The Other Guys". To parents of younger kids: please, please, please don't bring them to see this
December 30, 2015
Somebody should wash Ferrells mouth out with soap.If your low class you will probably watch this movie. A single diget IQ is who this movie was made for.
December 30, 2015
filth Ferrell should be ashamed of himself. But that's the only kind of movies he can star in.
December 29, 2015
A comedy classic!
December 28, 2015
Funny movie well done started slow but picked up fast.
December 26, 2015
Movie was sold out.. anyways, was predictable but entertaining! 3 out of 5
December 25, 2015
worst movie of the year wouldn't waste time on it save your money
December 25, 2015
HIlarious