Dave Chappelle's Block Party - User Reviews
Thank you for rating this movie!
Read your review below. Ratings will be added after 24 hours.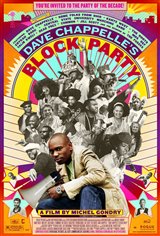 ---
Please rate movie 1 to 5 stars
Showing 1 to 27 of 27
May 18, 2006
Dave Chapple screwed up his relationship with the comedy network now he needs a way to make a quick buck through your money into a sewer ..... you`ll get more satisfaction
March 30, 2006
If your a real Mos Def Fan, you`ll mos def go see this! he smashes his lyrics! Mos Def turns it out! there`s no bling bling with him, there`s no big lights, a grazillion people on stage, no dancers, just straight-up MOS DEF giving you real hip hop!!
March 22, 2006
Amazing movie.... feel good, the music, the jokes.... Very entertaining - think I had a smile on my face the entire time.
March 19, 2006
Just Plain Annoying but then again it`s dave chappelle.
March 18, 2006
PEOPLES!!! THis movie is where it`s AT!!! MOVIE of the year No DIZZZOUT!!! Best $10 dollaz spent in me whole life!!! ON da real tho...if you love HIP HOP (one thing bout music when it hits u feel no pain!), love DAVE CHAPELLE, and Love being BLACK ( & even if you ain`t :P) you gonna Love BLOCK PARTY...from beginning to end I was JAMMIN!!!! What!?!?! CRAZINESS!?!? The only regret?! WHY WASN`T I THERE!!!!!!!!!!!
March 18, 2006
I didn`t know any of the music but I still enjoyed the movie a lot. You don`t agree? Hit me!
March 17, 2006
Great documentary. Amazing music. If you are a fan of Dave, it is a must see, and a must own.
March 16, 2006
this movie was horrible. do not watch it. the only good part was when that guy on the bus had fried chicken!
March 14, 2006
One word... IM RICK JAAAAAAAAMES!
March 14, 2006
This movie is meant for REAL hip-hop enthusiasts, not mainstream "g-unit" mini-thugs. It is the most fun I`ve had at the movies in a while. It made me say " I wish I was there". If you are a hip-hop fan, know a lot about the culture and love Dave Chappelle, you will enjoy this movie. But this is the type of movie that some people will love and others will hate. 4 stars from me.
March 12, 2006
If you love hip hop and rap and love Dave Chapelle, this movie is for you. If you are not a fan of hip hop and rap and love Dave Chapelle, you will be disappointed. There were some funny moments, but its more about music than jokes. If you hate Chapelle and Rap, why are you reading this review?
March 11, 2006
da movie rox! it is like soooo amazing. my friends and me just laffed and laffed at jox and hip hop stuff. these guyz r gr8. nothin more to say except maybe u hav to be very smart to get the jox (my friend rufus did not like find it funny - he thinkz he so smart cuz he still at skool, but he not), so check your iq b4.
March 10, 2006
omg what is this?? honestly ram`s roti place provides better entertainment. big up to all my desi peeps, also big up to all my non desi peeps, keep it real, btw the way the movie was boring and i didn;t know who some of the people in it. Maybe if they brought in some bollywood stars and had some hindi songs and dance it would brighten up the movie. big up to BOLLYWOOD.
March 10, 2006
let`s just sum the movie up in one word..."awesome".
March 10, 2006
This movie brings the true message of hiphop out...that hiphop is about the people, it unites people and can be a powerful force!!! I have a whole new level of respect for Dave Chappelle, I went with like 7 friends and we were laughing our aaaaasses off!!! When the music started playin, we were all bumpin to it...then we went back to my house and jammed out on good beats, (number of us MC)...inspired us to keep makin music!! IF you are a dead prez, mos def, talib kwali and fugees fan...you`ll love this....50 centers and g-unit hip "poppers" need not apply
March 09, 2006
It was great, I think some people were dissapointed because they thought they were going to see sketch comedy or stand up. Great concert, wish I could have been there and great comedy sprinkled in by Dave naturally...love when he pulled "Mr. T" on stage lol
March 09, 2006
if u like real hip hop and jokes see the movie...people that say this movie sucks is because they luv g-unit and all that other hip "pop"...one of the best movies this year!
March 05, 2006
This movie was simply amazing and any hip hop fan would agree!!! If you`re in the mood to listen to some real hip hop and laugh at some good jokes, this is the movie for you. *****(5 Stars)
March 05, 2006
great movie, the musical performance was awsome, and dave chapelles witty jokes were funny, go see this movie!
March 04, 2006
I went with my two friends; I sat sandwiched between them, staring at the screen doing all I could to not actually sand up and start dancing! It was a great film not only with amazing music and lots of laughs...yes, you will LOL, but it had a depth. It was more then a great party it was powerful. Let's just say, I loved it! I went home and had a Block Party in my apartment and it was just about as fun as Dave Chappelle`s except in my case I was alone.
March 04, 2006
it was quite possibly the worst movie ive ever seen. i paid 11 bucks to see a rap concert by artists i dont like singing songs i dont know. there are maybe a handful of funny chapelle jokes in it but the rest is terrible
March 04, 2006
TERRRRRRIBLE!!!!
March 04, 2006
Comic book guy-worst movie ever
March 03, 2006
If you love hip hop at all, or like to laugh, see this movie.
March 03, 2006
hello people CHAPPELLE IS BAAAAAAACCCK ! pure jokes only dave could do Remember this is NOT a Movie in the sence of what we think is a movie more of a doucucomedy... so for people who think it`s the worst thing they have seen need to "OPEN YOUR EYES" & enjoy 4 once. 5 out of 5! Go see!!
March 03, 2006
CHAPPELLE IS BACK!!!
March 03, 2006
ok.... i dont know why the hell they made this movie. it`s the worst movie in history.