Deadpool 2
Thank you for rating this movie!
Read your review below. Ratings will be added after 24 hours.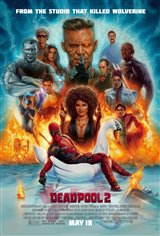 3.30 / 5
User Rating
Based on 552 votes and 170 reviews
---
Please rate between 1 to 5 stars
Showing 51 to 100 of 170
June 11, 2018
Ohhhhhhhhhh my god ! ! ! ! This movie is wow!!!!! Thank God ryan is funny
June 11, 2018
Great movie packed with action and great one-liners!
June 11, 2018
Almost as good as the last Fantasic Four movie.
June 11, 2018
A very very very lame movie.
June 10, 2018
Action and entertainment from start to finish
June 09, 2018
Movie was not so great.
June 07, 2018
If you're someone who can't stand profanity, or if Jeff Foxworthy is your favourite comedian (not hating, I think he's funny), then you'll hate this flick. If Monty Python seems too silly and banal for you, skip this movie. You won't get it. Deadpool exists in a world where he knows he's in a movie and is pretty critical of things. This installment is no exception. There's all sorts of inside jokes and references so if you've been hiding under a rock for the last 30 years, you likely won't get many of them. That said, I've seen this flick 12 times and I still love it. Your mileage may vary...
June 07, 2018
This movie was very good to watch. Ignore others who said that this movie was garbage because it wasn't. I would watch this movie again. The sequel to Deadpool 2 is a continuation to the first one. Ryan Reynolds added a few more scenes to the movie. Go see the movie and you will like it. Ignore the others who said it was crap and it sucks.
June 06, 2018
Terrible film.
June 06, 2018
This movie left me in tears, it is THAT funny... better than DP1 in my opinion... bring on DP3!!
June 05, 2018
Much better than Infinity War!
June 04, 2018
Worst than any movie.
June 04, 2018
Better than Star Wars Solo.
June 03, 2018
Not very good.Just took all the comedic bits from the first one and amped them up to ridiculous levels. Plot and story just silly and he talks way too much in this. It becomes very amateur hour -like and boring after awhile.
June 03, 2018
Stupid and pointless
June 03, 2018
Deadpool movies don't follow a fixed formula like other Marvels or DCs do. Awesome!
June 02, 2018
Gross. Very disturbing.
June 02, 2018
aweful with the aweful 1 liners!
June 02, 2018
Hangover was more funny than this movie. Terrible sequel.
June 01, 2018
Don't waist your money
May 31, 2018
The first was better. Not near as funny or clever as the original.
May 31, 2018
Lame and boring.
May 31, 2018
Funniest movie I've seen since The Hangover
May 31, 2018
As good or better than the first! Hilarious all the way through.
May 31, 2018
Loved it. ??😂😂😂😂
May 31, 2018
No brain movie. Just pure swearing.
May 31, 2018
I LOVED the whole movie!
May 30, 2018
Too many swears
May 30, 2018
First one was good ....this was Very Stupid not funny . Don't waste your money.
May 30, 2018
it's very funny! if you liked the first one, this one is better and i loved the first one.
May 30, 2018
It was hilarious!!! Absolutely loved it!!! Can't wait to see it again!!!
May 28, 2018
This movie was made in a hurry. A lower quality movie.
May 28, 2018
This movie sucked. What empty brained idiot wrote the script (if there was one) there's no story and it became agonizing to sit through
May 28, 2018
One thing screenwriters should learn from the success of Deadpool movie is to be truthful to the source material . When Deadpool was first introduced in the film X-Men Origins: Wolverine , the screenwriters never bothered to read the comics, and copied from Wikipedia instead. But the new film makers learned from their predecessors' past mistakes right from the look of the character and characterization. Now we have brightly colored source material based real superhero film done by the same actor. Now that's Superhero done right.
May 27, 2018
lots of action ! lots of laughs ! great for the whole family ,just kidding leave the kids at home . lots of adult humor .
May 27, 2018
Love the Deadpool guy but this movie really sucked. Looking at the sctreen to say " this is bad writting" took the cake in the middel of a sequence. The movie started to heat up 40 min in but by then you already tuned out.
May 27, 2018
very slow. dumb humour. wait til its on tv
May 27, 2018
This movie is one big joke - both positively and negatively. The novelty of Deadpool has worn off.
May 26, 2018
It gets better after the first 45 minutes, they just tried too hard with this one.
May 26, 2018
This movie was pure cinematic gold. Str8 family entertainment. Those who choose to knock this movie are prolly straight up brainwashed by the man and have been forced into the politically correct box. Mourn the loss of their freedom and sense of humor
May 26, 2018
This movie was totally out of context. No a real plot.
May 26, 2018
No so great.
May 26, 2018
Was really disappointed with this movie. I liked the first one and was hoping the sequel would exceed my expectations, but it was a big fail. Too much forced humour, poor writing, and just some ridiculous scenes throughout. I've always been a fan of Ryan Reynolds, but am worried the Deadpool franchise may be going downhill from here.
May 25, 2018
Fun movie to watch. Funny and never a dull moment. If you liked the first one you will like the second!
May 25, 2018
He was not my type of superhero.
May 25, 2018
Great movie!!! Jokes are tuned up but not for everyone. A superhero that can make fun or everything and everyone...including himself!
May 25, 2018
excellent. carries important message for society: racial profiling is bad. now you know what it feels like.