Deadpool 2
Thank you for rating this movie!
Read your review below. Ratings will be added after 24 hours.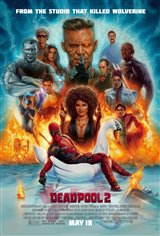 3.30 / 5
User Rating
Based on 552 votes and 170 reviews
---
Please rate between 1 to 5 stars
Showing 101 to 150 of 170
May 25, 2018
No so great from the point of view of action pack movie.
May 24, 2018
Lots of action; laughs; fun. Awesome!
May 24, 2018
Awesome movie!!!!!
May 24, 2018
Awesome movie!!!
May 24, 2018
Was what I expected. Funny and entertaining. No holds barred humour and uncensored violence. Not for the politically correct or swemish. If you liked the first one you'll enjoy. If you haven't seen the first one......
May 23, 2018
Worst movie of the year.
May 23, 2018
This movie was amazing, funny, and better than the first movie
May 23, 2018
It was noice
May 23, 2018
We gave this movie an opportunity to watch the whole story but the only 10 minutes of the movie we felt disgusted. Then we left and never asked for a refund. We are adults. Lol We knew part of the story from some of the reviews.
May 23, 2018
This movie was great! It's full of cuss words and dirty humor and everything that makes Deadpool great so if you can't handle that and youre giant Powder Puff don't go see the movie!
May 23, 2018
This sequel was not so great. I am very disappointed.
May 23, 2018
I think is the movie was with less swearing and profiling would much better.
May 23, 2018
Funny , real grasp for a better quality from the original, The writers are the true hero's only beaten by Ryan Reynolds and his skill. 5 stars
May 22, 2018
Uncomfortable barrage of "F-bombs" makes this a non-entertaining film for anyone over 30.
May 22, 2018
MARVEL YOU ROCK but this movie was a little disappointing. The swearing could definitely been held back. Marvel has the better movies for sure. Can't wait for ant man and the wasp so I can review that one too.
May 22, 2018
Not bad. The profanity could have dumbed it down a lot. The first one didn't swear as much as this one did. The ending dragged out. It started to get boring. Kill DeadPool of not. We get it just make the scene shorter. If you were going to end him then I could see why it would take so long but to find out in the end what really happens pathetic. Good movie but the first one was better for sure. If you really liked the first one then take your expectations and dumb them down a bit so you won't be a little disappointed like I was. I was hoping for the same hype or better then the first and it didn't quite make the cut but still good but not great. This is by far better then wonder garbage
May 22, 2018
Very good...hilarious...go see it.
May 22, 2018
It was freaking dope
May 22, 2018
An excellent and entertaining movie for those who are fans of this genre. Definitely not for everybody! If you are even slightly disturbed by extreme violence and profanity then this movie is not for you. Nothing is sacred in this movie, as all subjects are fair game to ruthless satire. Not for the faint of heart or politically correct of the world!
May 22, 2018
Not as good as the original, but still very good. Deadpool 2 has some pluses and minuses with it. Overall it is an enjoyable movie, but is drifting away from the polished tightness of the original. Pluses - We have Ryan's witty dialog again, and we have the trademark slapstick ultra-violence. We have the amazing effects. We have some amazing new characters, as well as some slapstick really stupid new characters. We have some hilarious cameos. The soundtrack is very good as per number 1 as well. Minuses - The movie drags at points. This usually involves some overly-done part of Ryan bemoaning his love. He just goes on and on and on. It is exausting and tiresome. We also have a winy kid who goes on and on and on about his anger and his abuse. The recoveries Deadpool makes from grievous wounds are also starting to stretch the audience's believability index (yes that's a real thing and yes it is supposed to be misspelled). I really really hope they just leave this alone now and stop making sequels. But we all know that is foolish thinking. There WILL be a Deadpool 20. PS: As I'm from there, getting really TIRED of watching Vancouver as the backdrop, PLEASE pick a new city???
May 22, 2018
I did not care how the actor face looks like. The swearing and profiling turned me off from this movie,
May 22, 2018
Ryan's' handsome face? Yeah sold me not!
May 22, 2018
Action, hilarious one-liners, fun movie.
May 22, 2018
Deadpool 2 is so much a personification of Ryan Reynolds. Don't get me wrong , there's nothing wrong about him and he's in fact quite talented and funny. Maybe the movie should be diluted a bit with something else?! I still enjoyed the movie despite a loose beginning, the ending is good and satisfying. I certainly loved seeing Ryan's handsome face evening for about a minute !
May 21, 2018
This movie was disturbing.
May 21, 2018
Thought it was super entertaining. Take it for what it is..lots of pretend blood and guts and swearing and crazy humour..if thats not your kind of movie save your money.
May 21, 2018
Beyond racist and full of swears, no thanks
May 21, 2018
This sequel is different from the first and still good. Hope stereotyping is not an intentional thing. Profanity, it's everywhere in North America especially in the States. From an entertainment point of view, 5 stars.
May 21, 2018
As far as sequels go this isn't bad but could have been better. If you think profanity is good not really. They could have got there point across without that. The ending was dragged out. Could have been shorter. I would recommend this but take your expectations and take them down a notch so you won't be shocked that this isn't better then the first one. If you have seen the first one then you should before you see this
May 21, 2018
Good movie. I think what a lot of people don't like is association between sexual deviance and a specific racial group. Stereotypes are hurtful.
May 21, 2018
The first movie was fine but this sequel was horrible.
May 21, 2018
thought it was going to have a crippling case of sequelitis. It kind of did, but it made up for it. There are people who didn't understand the plot, or appreciate this movie as A) a true adaptation of Deadpool's essence, and B) an introduction to the new characters who will be the face of the upcoming X-Force movie, as well as potential Avengers team members. There were a few minor discrepancies I had with the movie, hence why I only gave it 4 stars, but I won't get into those as they would be spoilers. I will say I wish that the few problems I had with the movie had been explored in other ways, but I think as far as sequels go, this was a beyond average endeavor. 85% approval rating.
May 21, 2018
An amazing movie the only bad part was Julian fire fist. Besides that it was great but the original is still a bit better
May 20, 2018
The movie was horrible as the poster. Well I think the poster is much better than the movie.
May 20, 2018
This why you don't make sequels
May 20, 2018
I wasted my time watching this lousy movie.
May 20, 2018
It made no sense, no plot, all special effects and action scenes to the hilt. I still don't know why that chubby kid was in the movie? so hard to sit there and watch this crap!
May 20, 2018
i liked the action, the jokes, the music and Ryan Reynolds. Less swearing would have improved this. But entertaining nevertheless.
May 20, 2018
This movie is good but not great. Definitely to much swearing and the comedy felt forced. Just tried to hard with it. The first one was definitely better. The ending is definitely dragged out where he fakes to keep dying. Just do it all ready or not. Could have been shorter and the flash backs with his girlfriend who cares. I don't usually rate movies but this one wasn't bad but it is definitely worth the watch but anyone who loved the first one definitely take your expectations and dumb them down a bit
May 20, 2018
Terrible acting. The movie was all about swearing and bad jokes.
May 20, 2018
Cool stuff :) LOVE IT
May 20, 2018
Enjoyed the movie 100%!
May 20, 2018
Very good. I actually didn't like the first one. This one has more heart stirred in with all the violence and profanity. Lots of laughs. Please leave the kids at home, not just for their own sake but also for your fellow moviegoers.
May 20, 2018
Too much swearing
May 19, 2018
This movie contains too much profanity. The decay of the film industry.
May 19, 2018
WOST MOVIE EVER
May 19, 2018
This was an awesome movie it kept me laughing the entire time and I loved all of the jabs that he made at other movies. It's up to par with the first one with even more humour and violence. It was very well done and I will be seeing it a couple more times and then wait for it to come out on DVD!!!!
May 19, 2018
This was a funny movie. In fact Ryan Reynolds was hysterical as the main character. Enjoyed the movie!