Dear John - User Reviews
Thank you for rating this movie!
Read your review below. Ratings will be added after 24 hours.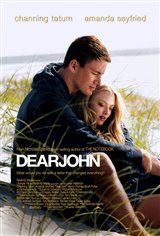 ---
Please rate movie 1 to 5 stars
Showing 1 to 50 of 59
July 27, 2012
can't stop my tears from falling! i can relate to this movie. great great great!
February 05, 2012
i loved this show as a kid and have been a judd hirsch fan ever since.
January 07, 2011
There were so many goofs in this! In the scene where John meets Savannah's parents, they're going up the stairs to the house and she's wearing a minidress and in all the other shots, she has bare legs but in this one, she's obviously wearing black pants underneath. It looks really strange. I guess it must have been cold on the day they shot it. I saw a ton of other continuity errors too, where someone would pick up a drink, then in the next shot, they would pick it up again even though they never put it down.
September 16, 2010
The best!!
July 20, 2010
I thought this movie was very good but the second half was really wierd and i felt that it was really creepy why would she have married that guy!
July 06, 2010
The first half of the movie was really sweet and enjoyable to watch. But the second half took a weird turn and I found the storyline unrealistic and reaching. But it's still enjoyable to watch I guess
July 02, 2010
Love Love Loved Channing and Amanda in this movie. i much preferred the movie to the book. They portrayed the love story exceptionally and showed what talented actors they both are. They brought out the perfect emotions. I found that except for a few deviations, the movie stayed very true to the book.
June 24, 2010
very bad movie. horrible ending.
May 31, 2010
The main purpose of the story in the book is missed in the movie. The ending in the book is gut wrenching but bland and "movie" predictable in the movie.
April 20, 2010
I expected this movie to be amazing like the notebook, & it wasn't. The girl just pissed me off, especially because it gives the misconception that people fall in love in a week..
March 29, 2010
I was with the movie about 2/3 of it. Until the end, its where the ending wasn't really convincing for me at all, on which why the girl broke up with John. Overall, it is still a decent movie, enjoyable and the story would touch many hearts of soldiers who been through similar events before.
March 20, 2010
I loved this movie. It was really a good fun movie.
March 19, 2010
AMAZING!!!! :O)
March 14, 2010
I decided to sit through this movie hoping that it would be as romantic as the notebook. It wasn't. I found the movie quite boring. I found the story to be less than interesting and there wasn't much happening in terms of their relationship. It was tragic and it portrayed a very insightful view of how difficult relationship can be between lovers and families when soldier's go off to war. It portrayed great sacrifice for ones country and determination which I can appreciate. However I found the love story to be bland and under developed. I rate this movie 2 stars out of 5 and would recommend waiting for the rental if you are interested. E.D
March 11, 2010
It was like seeing my personal life ... in a movie ... beautiful
March 11, 2010
I love this movie. It is soooo moving. I can completely relate.
March 07, 2010
It was absolutely amazing!
March 07, 2010
Very romantic, wonderful scenery also
March 03, 2010
This movie was so sad :( And John was so sexy :)But it was also really, good... kinda predictable. But good
March 02, 2010
terrible. i went in there expecting to cry and i did only it wasn't because of their epic love story (which wasn't all that epic). This movie was soooo rentable!
February 25, 2010
I walked into the theatre thinking it would be somewhat like the notebook, but it was pretty disappointing. the movie wasn't convincing enough and i was bored half way through. good thing i had a movie pass 'coz i would've been pissed if i had to pay for it
February 24, 2010
Beautiful, showing true family values and dedication to each other :) Good romantic story!
February 21, 2010
This was an excellent movie and well worth seeing.
February 21, 2010
Terrible movie- it looked way better in the previews!
February 17, 2010
i loved this movie
February 15, 2010
What a major waste of time- they added too many montages & lost the love story- actors were pretty bad & failed to create an emotional connection with audience- I should 've walked out
February 14, 2010
I honestly think the ppl who gave good reviews for this movie were paid to do it. The two stars I'm giving is solely based on Tatum's hotness. I cried once during the movie and it had nothing to do with their (unconvincing) love/relationship. Booooo! So disappointed. Seyfried sucks, they NEVER pair Tatum with a girl that matches his hotness.
February 14, 2010
It was OK. I was a bit disappointed. amanda is a great actress but I think Channing spends more time worrying about showing his top teeth than about what he is saying. It makes him look brooding all the time. Channing if i had your money i'd get m y teeth fixed because the rest of the package is pretty darn nice. The best thing about Channing is his face and body. He would make a better model, I fear, than actor.
February 14, 2010
Movie was awful
February 13, 2010
I usually don't write reviews, but this movie made me rage a bit. Its not a love story, its a story of really stupid decisions. In hindsight, I wish I didn't pay to see it in the theatres. It is BARELY even a (weekly) rental. Ugh.
February 13, 2010
Dear John was a beautiful love story it was sad at parts but beautiful at others lots of people rated it bad but they're probably jealos the can't find love that easy.Please watch it you will fall in love
February 13, 2010
Absolutely loved this movie! Although I didn't read the book, I think I will buy the book!
February 13, 2010
Terrible compared to the book!! They fall in love in a matter of 10 minutes!! Parts of the movie was ok, but I was really disappointed. Dear John, the book, compares to the Notebook really well. Dear John, the movie, does not.
February 12, 2010
It was an ok movie but it could have been way better. I was a bit disapointed.
February 11, 2010
Very touching movie! Brought back memories of first love. Great acting by both especially Tatum.
February 10, 2010
Havnt read the book, but i went with my girlfriend to watch it and i absolutely loved it. SO much in fact that i cant wait to buy it when it comes out. And believe me im not a romancy kinda guy, but honestly you owe it to yourself to watch this movie. Great job by both of them. Amazing.
February 09, 2010
OMG IM SO MAD they changed stuff from the book i really wanted to see him when he was still a bad guy in highschool, the boook is waaaaay better i must say
February 09, 2010
This movie was very good. The book, written by Nicolas Sparks, is a phenomenal story and I am truly happy they brought it to the big screen. I wish they focused more on the development of Savannah and John's relationship at the beginning like the book but besides that I thoroughly enjoyed it. I hope they continue to make more of Nicolas Sparks' books into movies!!!!
February 09, 2010
i love this movie me and my gilfreind loved it you should go and wacth this movie the best romance movie ever
February 09, 2010
awesome, nicholas sparks
February 09, 2010
This movie was terrible and I loved The Notebook! These two were together in the movie for a whole 20min the entire time it was so bad!
February 08, 2010
The book was better!!!
February 08, 2010
awesome movie, so much passion
February 08, 2010
Okay well let`s just say, it was a great movie, a fav of mine. I cried throughout the whole thing, had to go to the washroom, and missed the best part. OMG please stay in the movie k? but what i say was freakin' amazin :P go see it.
February 08, 2010
Bad storyline. Horrid acting. Very choppy. Very ill developed. Renter for sure.
February 08, 2010
The movie was really good... up until the end! The end sucks, therefore I dismiss the entire movie!
February 07, 2010
Awesome movie, did not like the ending but what can u expect
February 07, 2010
"Very predictable/simple, but "nice."
February 07, 2010
This was a truely amazing film. I was blown away. The acting by the two leads, the storyline, everything was just brilliant. This movie has so much heart. See it! Now!