Death at a Funeral - User Reviews
Thank you for rating this movie!
Read your review below. Ratings will be added after 24 hours.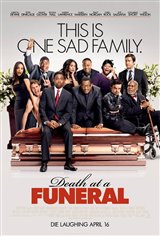 4.34 / 5
User Rating
Based on 1866 votes and 174 reviews
---
Please rate movie 1 to 5 stars
Showing 151 to 174 of 174
April 29, 2010
Big laughs, great fun!!! Rock and Martin have great chemistry. Tracey Morgan and Danny Glovers have one of th funniest scenes ever in a movie.
April 26, 2010
I expected a lot from this movie with actors such as martin, Tracy Morgan and Chris Rock. I enjoyed the movie I thought it was quite funny, maybe not as funny as I expected it to be, but still enjoyable. I thought James Marsden was quite funny in this movie and his depiction of his character's condition was executed quite well. Danny Glover's portrayal of his surly character was also very humorous. There were hilarious moments, disgustingly funny moments and over all it was a good movie. 3 out of five stars.
April 25, 2010
See the british version. It is much funnier. Strange the midget is the same guy in both versions...
April 24, 2010
Absolutely hilarious. I have seen the British version and I think this was better. I actually did not mind Tracy Morgan. Danny Glover was good too. James Marsden was great. In other words, the casting was great. My wife and I both laughed throughout. Highly recommended. Don't take it too seriously, just go in and enjoy it.
April 24, 2010
This movie was very funny I found the humor to be quite vulgar but whatever I laughed all the way through. the ensemble cast was all good, they all had perfect comedic timing which is key in a movie like this. The original was better but that's because the Brits are experts at underplaying the overwritten. This movie could have been better than the original but the constant use of the f-word was annoying and pointless. It would work as a theatre experience or a rental MOVIE LOVER
April 22, 2010
i was sure it woiuld be alugh out load but the stry was not mnmaking to much sice wait for dvd
April 22, 2010
Go see The Losers instead of this one, it's got the same actors/actress in it except it's better!
April 21, 2010
It was funny but not THAT funny. James Marsden, Cyclops in X-Men made, the movie. He was the ONLY funny one. Zoe had no purpose, Tracy Morgan was okay but he wasn't needed and Luke Wilson wasn't needed either. I love Chris Rock but the movie was a rental.
April 21, 2010
it's painful to watch, especially if u've seen the british version of the movie which was way funnier. I'm black and i like black comedy but this was like maybe one or two laughs...not as funny as i'd expected. they shouldn't have copied everything...u can't really translate british humour to american/black american humour...doesn't work. they should have changed the storyline or at least the sequence of scenes or something to make it more original. watch it online...don't pay for it.
April 20, 2010
It was actually very funny. I thought that seeing all those funny bits on the trailor would make the movie boring but I was pleasantly surprised.
April 20, 2010
Have no intention of seeing this remade movie. The original British version was hilarious and well worth seeing. The trailers that I have seen for this remake prove that Americans must always try to overdo everything. When will they learn the art of subtle humor!
April 19, 2010
For ur information, it is really not that funny to me at all. I watched with 3 of my buddies, none of us liked the movie
April 19, 2010
dont listen to anyones comments below, was actually hilarious, if they said its not their lying
April 19, 2010
Very funny movie - loads of laughs
April 18, 2010
HILARIOUS!!!!
April 18, 2010
This movie was great!! My husband and I laughed right untill the end... a must see movie! The audience was also dying of laughter!!!
April 18, 2010
Not very funny at all. I thought with all theses funny actors there would be some laughs....NONE
April 18, 2010
I am sorry, but this movie is BAD! Zoe and Columbus, I hope you two will do better in your next week movie 'The Losers', Cheers!
April 17, 2010
See the original Frank Oz film...much funnier.
April 17, 2010
fall alseep man, not funny at all
April 16, 2010
It is a painful movie to watch when you have seen the original movie that released in 2007 and thought that this movie could not be re-done. This movie shouldn't have been touched at all.
April 16, 2010
It was great. Just like Avtar.
April 16, 2010
pretty much exactly the same as the original, offered nothing new, which is why it is kind of dull
April 16, 2010
very disappointing movie, why didnt they even make this at the first place?