Derailed - User Reviews
Thank you for rating this movie!
Read your review below. Ratings will be added after 24 hours.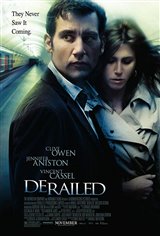 3.63 / 5
User Rating
Based on 1891 votes and 97 reviews
---
Please rate movie 1 to 5 stars
Showing 1 to 50 of 97
July 22, 2010
Such a good movie. Loved the twist and the acting is superb!
June 04, 2006
wickedd movie..very,very good..thrilling &sooo so so confusing..excellent..derailed is am ust see 4 all!!!!!!!!!!
April 16, 2006
it was an excellent movie
April 16, 2006
Oh god! This movie was a BIG MESS!!! Twists are supposed to enrich a plot not turn the movie into a big joke. When a movie ends, it`s supposed to end. This movie was just everywhere. Tone is important. You can`t just make every scene dramitic. Oh yeah, and birthday girl was better.
April 15, 2006
WOW! IT'S TRUE! Derailed just copied the plot from Birthday Girl and made it worse. The funny thing is that Vincent Cassel is in both of them. Rent both movies together and you'll see how much better Birthday Girl is.
April 15, 2006
Wow! It`s true. Birthday Girl is better. Derailed just took the same story and ruined it. Vicent Cassel is in both of them too which makes it funny. Rent both of them toghether and compare the two. You`ll see. Derailed has nothing on Birthday Girl and Aniston has nothing on Kidman!
April 15, 2006
good movie
April 09, 2006
Has any one seen The Birthday Girl? Seriously. PLAGERISM!!!
April 05, 2006
Derailed was good overall but predictable. It didn`t take me long to figure out what was going on. Still, the ending had a neat twist. Worth renting, for sure.
March 25, 2006
too predictable...figured it out within 30 minutes
March 23, 2006
I enjoyed this movie much more than expected. It got poor reviews but I think it was because of Aniston`s personal life. The acting wasn`t quite as good as Unfaithful but the plot was much better and had lots of unexpected twists.
March 23, 2006
derailed is a copy of another movie which i cannot remember the name of . does anyone out there know what movie that is? please me know
March 19, 2006
what was jennifer Antisin thinking of making this
March 02, 2006
derailed was a great movie and clive owen and jennifer aniston were great together i would reccommend it to anybody. and this movie was a thriller right threw the whole thing. i am definitely going to buy it when it comes out on video and dvd it is an AWESOME movie!!!!!!!
March 02, 2006
i thought it was an excellent movie and with the best twist i have ever seen. and i thought it was so suspensful until the very end . to me it is definetely a buyer. i give it a five out of five
January 27, 2006
What an interesting movie. It had multiple storylines and plot twists that were very difficult to keep up with, but due to a decent conclu-sion, it is mildy recommended by me.
January 22, 2006
action, suspenseful throughout and the unexpected ...I trhough it was great!
January 21, 2006
This one is definitely worth seeing! Great!
January 17, 2006
I really liked this movie!! It was exciting and thrilling!!!!!
January 06, 2006
Jennifer Anniston was amazing...The twist in the end was totally unexpected...
January 06, 2006
Derailed was a great suspenseful movie, I tohught Clive Owen and Jennifer Aniston were absolutely Great in this movie. They make you keep guessing till the end, and I love the twist.
January 06, 2006
Derailed was a great movie. it was well played out and very smart. This movie is un predictable (unlike other movie i know) and it keeps u on the edge of ur seat threwout the hole movie.
January 04, 2006
Derailed was a great movie...Jennifer Aniston really proved her acting abilities here! The twist was so great! I hadn`t heard anything about this movie before seeing it and am so glad I didn`t!
January 03, 2006
One of the worst movies I have seen. Slow, and very unexciting until the last 30 min. Wast of money.
January 01, 2006
Excellent movie.......very suspenseful!!!! It is definitely worth seeing this movie.
January 01, 2006
It`s a good movie. The twist in the plot is good, and almost unpredictable. Worth a watch.
December 30, 2005
Boring & Predictable...just when I thought they could do something with the "twist", it went the other/wrong way! BRUTALLY VIOLENT at times, much more than I thought it would be!
December 30, 2005
I just want to say to the person who says that Jennifer Aniston has no screen "presents" (presence) that you do not know what you`re talking about. I realize everyone is entitled to their opinions but she`s a good actress...she actually has a very warm screen presence and has been acting for plenty of years. ANYWAY, the movie was great!
December 30, 2005
I really enjoyed this movie. I went in not knowing what it was about and I think that`s the best way to watch this movie...go see it!!
December 28, 2005
I enjoyed the movie tremendously...it had a nice twist to it....
December 16, 2005
I have tried movie after movie to take Jennifer Aniston as a movie actress,she just has no screen presents. I like Clive Owen but I thought this movie was so boring,I had to force myself not to leave before it ended..
December 15, 2005
The the critic who wrote " No one would make so many stupid choices in a row" - Keep in mind this is only a "movie" not a documentary. Movies are not meant to be taken as "real" in case no one has pointed that out to you. And to the critic who wrote that the "wife would`ve noticed $130,000 missing from the account", apparently missed the detail that $10,000 didn`t come from their personal account, and I`m sure the screenwriter meant for us to realize that the large chunk of $100,000 came from savings (which people don`t go around checking every day).
December 15, 2005
I thought it was a GREAT movie. I`ve been recommending it to friends. I like movies where you don`t know what`s coming next - so I`d classify it as "unpredictable" in most scenes. Clive Owen is once again superb and Aniston plays her part convincingly. Can`t wait to buy the DVD when it comes out.
December 14, 2005
The movie was good. Better than i expected it to be. But my boyfriend totally predicted the ending, lol.. weird..
December 11, 2005
THIS MOVIE WAS HORRIBLE! WHO EVER LIKED THIS MOVIE IS SICK AND TWISTED! I expected so much better of this movie, it made me and i my friend cry! I think jennifer anniston should have done a better movie and i regret spending my money and time on it! i hope her new movie "Rumor has it" will be alot better. me and my friend will be going to see that to bring back our love fo jennifer anniston, she is one of our favorite actresses and we hope she does better inthis new movie, she was a great actress and played the part amazinly well , but i hated it.
December 11, 2005
Derailed was a really good flick. Jenn and Clive were great working together. It is tottaly worth seeing on the big screen.
December 07, 2005
I love this movie. Storry was excellent. Unsuspectable `till the end. Really good movie.
December 05, 2005
very good movie :)
December 05, 2005
not a bad movie, better than i expected
December 04, 2005
I really enjoyed this movie. Jennifer Aniston has strayed from her "sweet as apple pie" image and she did a wonderful job. Just when I thought that all loose ends were tied up by an inronic twist, there was another twist left in store for the viewer. This was an enjoyable suspense-thriller that I would definately recommend.
December 04, 2005
It was a good movie except I feel that it was a bit predictable. Overall a good movie.
December 03, 2005
EXCITING
December 03, 2005
More than 50% of users gave it 5 stars. I gave it a 4. Go and see it and know that most reasonable viewers would enjoy it. The 1-2 stars are unjustifiable,over-critical emotionally-driven harsh judgments of a well made film....the criticisms made by those who say things like `this is the worse movie I have ever seen` should never be trusted. They don`t deserve our attention.
December 02, 2005
My friend and I - late 40`s - both really enjoyed this movie!
December 02, 2005
It was a great movie! With lots of suspense. People who did not enjoy it are ones that over analyze it all and have to figure it all out before it all happens. Sit back relax and just let it happen. Movies are only enjoyable when you keep personal opinions about a star out of it and dont try to figure it all out in the start. Just sit back watch and enjoy the moment! Might find you like a movie much more...
November 30, 2005
I ignored my bladder pain - it was that good.
November 28, 2005
this is definately one of the hardest movies to watch. Your on your tows right after the setting all the way to the end. Its a great suspense movie with many twists and turn that you thought u should have known but didn`t.
November 28, 2005
u like suspense and not knowing what is gonna happen next? this is the movie for u..
November 28, 2005
Completely predictable and insulting. Very hollywood ending, too. Too many holes in the plot. Good rental, but don`t waste a trip to the movies for this drivel.
November 26, 2005
I wanted to slap the Clive Owen character (one hour out of the theatre and I can`t remember his name...not a good sign). No-one would make so many stupid choices in a row! And the "nod nod wink wink" between him and the detective at the end..please. Too many bodies, too many coincidences...suspend belief all ye who enter the theatre.