Doctor Strange in the Multiverse of Madness - User Reviews
Thank you for rating this movie!
Read your review below. Ratings will be added after 24 hours.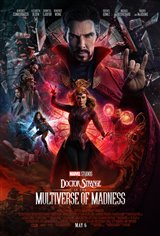 ---
Please rate movie 1 to 5 stars
Showing 1 to 36 of 36
May 23, 2022
Fast pace from beginning to end. Great story, great characters, great story.
May 23, 2022
Horrible! Bloody violence: unnecessary killings. EVIL!
May 22, 2022
The acting, special effects, and story are all top-notch, and it's a must-see for any fan of the Marvel Cinematic Universe. Benedict Cumberbatch is perfect as the title character, and the film's visuals are some of the best I've ever seen. If you're looking for a great movie to watch, Dr. Strange is definitely one to add to your list.
May 22, 2022
Best Marvel movie to date. Great action, great story, very emotional.
May 21, 2022
Caved in to the woke crowd. Killing off of inspirational women. Expected better. Not up to usual quality.
May 19, 2022
Great acting and plenty of action with Wanda the witch who steals the show. So into the next century. A good movie full of unexpected events and a wee bit scary and strange but FUN!
May 16, 2022
Decent action/fantasy
May 16, 2022
This movie is awesome in every way! 👏 Well worth seeing on the big screen for the special effects alone. If I have any criticism at all it would be the amount of witchcraft and sorcery/magic. It was a bit to much for my liking. Obviously it was necessary but maybe not as much. The movie was absolutely amazing though!
May 13, 2022
I loved the action, computer graphics, characters and the drama. Inorder to enjoy this film, you have to see Dr Strange's first movie. I enjoyed the multi-dementions. Especial when Steven and America go through several dimensional layers. Way cool. Especially guest appearance at the lumenadi council. I'm not a spoiling the cast cameo.
May 13, 2022
I liked the fact that they added people from all the multiverse
May 13, 2022
Thumbs up! Ten out of Ten
May 13, 2022
Great movie, never a slow moment. It just keeps going and keep you entertained. Loved it so much.
May 12, 2022
This was an ok movie. There were moments that stood out for sure. A few scarlet witch scenes were quite a horror-level scary. I would love to see a scarlet witch movie with those scary horror elements. It was formulaic. I actually dozed off near the end. Maybe I'm not into the magic part. Rarely surprised by these movies. I think Dr scratch should be darker and scarier. I totally remember that vibe reading the comics as a kid/ likely why I did not read many of them lol. Saw it in IMAX, I would recommend the least expensive screening. This had the potential to be epic.
May 09, 2022
This movie was amazing, Benedict Cumberbatch was an awesome Doctor Strange and is so handsome.
May 09, 2022
This movie was awesome, just saw today in theaters and thought it was great. Just as good as the first one.
May 09, 2022
Wow, so good.
May 08, 2022
Sorry gave 3 star in previous review, definitely a 4 star,it was very good!
May 08, 2022
Loved this movie!!!! Go and see it you won't be disappointed!
May 08, 2022
Action and story line was intense - just forget about how they try to introduce their WOKENESS CRAP IN IT - and enjoy Dr Strange at his best.
May 08, 2022
This is a phenomenal movie. Disney and Marvel are the best!!!
May 08, 2022
CGI is good but the story makes no sense.
May 07, 2022
Loved it👍👍👍👍👍
May 07, 2022
Had a nard time following this, and honestly stopper trying because the story was subpar. I miss the Avengers quality movies, this was just messy. Did not really care about the characters or their fate.
May 07, 2022
This is Marvel at their best. You want to see this on the big screen. It's a treat.
May 07, 2022
This is really a Wanda Vision movie rather than a Dr. Strange movie. Dr. Strange couldn't do anything right and Wanda could do no wrong. Disney is still promoting a woke agenda even after losing $ billions in the stock market. This is my last Disney movie or product. BAD, Boycott Anything Disney.
May 07, 2022
This movie just had some insane graphics! And Wanda is in it so the rating just gets bumped up ? 👍
May 06, 2022
Incredible. It is such a thrill to see so many of the characters I grew up with in comic books when I was a kid come to life on the big screen. I had such a good time watching this.
May 06, 2022
Fantastic. I'm speechless it was so good.
May 06, 2022
So much fun! So much fun! So much fun! Marvel just gets better and better. Loved it!!!!!!
May 06, 2022
Lots of action, some funny parts, but not a good movie by any stretch.
May 06, 2022
I don't know about others, but they are all starting to look the same. The multiverse thing they used here and in Spiderman, seems like a way to use cutting room floor ideas and stitch together something that kids will give away their dollars. Bad movie, ill planned, and not tied together very well at all. Think Inception, with the middle first, the first last, and the last part, middle.
May 04, 2022
BEST MARVEL MOVIE EVER
May 02, 2022
I live the action scenes and the color of the movie
May 01, 2022
Really disappointing. These films have become interchangeable and the fun is at a low ebb for sure.
April 30, 2022
Yet another disappointment from Marvel.