Doctor Strange - User Reviews
Thank you for rating this movie!
Read your review below. Ratings will be added after 24 hours.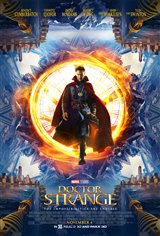 ---
Please rate movie 1 to 5 stars
Showing 51 to 89 of 89
December 02, 2016
Lame movie. I guess it might be of interest if you were in the special effects for film business yourself.
November 28, 2016
Absolutley amazing!!!! It was such a fantastic movie I loved every minute of it. The casting was great and I loved the effects. It is a classic Marvel origin story. I would love to see it again if I had time, can't wait to buy it when it comes out on DVD. It is a movie for everyone, people of all ages will enjoy it!!
November 28, 2016
I walked out about an hour and a half into the movie - it just got boring and I realized I really didn't care how it ended
November 21, 2016
The special effects were great if I could have stayed awake to see them. Everything moved too fast , too bright and was mesmerizing!! I fell asleep many times and was unable to keep up with the story. What I saw was mostly beautiful.
November 21, 2016
The fight and struggle to evolve
November 19, 2016
Great movie. Saw it with my son and husband. Family movie night.
November 19, 2016
GO SEE THIS. IT"S NOT OPTIONAL.
November 17, 2016
I've seen stranger...
November 17, 2016
Good effort. I had to sit through all of the credits to see the extra scenes. It is unbelievable how many people go into making one of these movies.
November 15, 2016
Doctor Strange holds tightly to the Marvel formula and never takes any real chances. The most frustrating thing is that the film seems to be going through the motions most of all when it comes to developing its main character.
November 15, 2016
Stay past the final, final credits. Just can't wait.
November 14, 2016
Start well but used too much computer generated effect towards the end. The continuous folding and rotating buildings was almost sicking. A film that Benedict C. will probably be embarrassed about in a couple years from now.
November 13, 2016
I am an old jaded movie goer who does not impress easily anymore. This movie, however, is AWESOME!!!! I am also not a huge Cumberbatch fan, but he was very good in this, as were all the other actors. The special effects were utterly beautifully amazing. Highly recommended.
November 12, 2016
I liked everything about it
November 11, 2016
Good movie. Something different for a change. Worth it.
November 10, 2016
I agree with the "ho-hum" review the other person sent it. I'm really tired of movies where CGI is the star. I don't mind superhero movies in which the characters are the highlight of the show and the special effects simply augment the overall look and feel, but this one is just another movie where I feel like I'm watching someone play a video game. Iron Man (the first one especially) and the Batman movies directed by Christopher Nolan are much better because of the focus on the characters. To top it all off, I found this movie was just boring too - not even the special effects could save it. The opening scenes of the doctor doing the surgeries were the best part of the movie.
November 09, 2016
Incredible, Marvel keeps making great movies. Keep it up, DC and Marvel Fan for life.
November 08, 2016
Fantastic
November 08, 2016
Absolutely worthy to watch. Love every minutes of it.
November 08, 2016
I always find the negative reviews so obvious in their critique. "Ho-hum. Yet another superhero / fantasy CGI movie" - Yeah?. What did you think it was going to be? Green Fried Tomatoes? It's a superhero/fantasy CGI movie, and a frickin' awesome one at that!! Despite the other Ben-Batch hater, I think he did an excellent job of portraying the Brilliant and Arrogant Dr. Steven Strange true to the Comic book. The only complaint I had was the new Marvel opening credit montage. The old one with the comic book flipping was a better fitting tribute to the original comic book creators. Yes Disney, there was a Dr. Strange long before Robert Downey Jr. and Chris Hemsworth.
November 08, 2016
No match for Madea's latest.
November 07, 2016
Ho-hum. Yet another superhero / fantasy CGI movie. If you like these types of movies in general, then you'll probably like this one too. As for me, I am just soooooooooo bored of these types of movies. My 8 year old stepson loved it though (only reason I went to see it in the first place). His five-star review combined with my zero-stars review gives us an average of 2.5 stars. I decided to round down to two stars rather than up to 3 stars.
November 07, 2016
Worth seeing for the remarkable special effects alone. Some good actors signed up for big cheques. 87/100
November 07, 2016
Good After Effects. Funny Remind me RBWY Japanese's tv series. The story line moved well according with the original movie. No dirty sex. :) You can take your older teens to watch a decent movie We are going to repeat the movie again next week.
November 06, 2016
The 1st 3 mins were similar to a movie made in Hawaii about a girl that got into an accident and went thru a weird dream sequence. But, after that Dr. Strange told its own story. Only found the 'ancient one' a little annoying. Some humor in there, kung fu, good effects, a bit long but finally they were able to wrap it up.
November 06, 2016
BAD...BAD...BAD...BAD...BAD
November 06, 2016
Good movie, liked the story line, would like to see more of Rachael McAdam. Wonderful visual effects.
November 06, 2016
The special effects were great!
November 06, 2016
At least two hours too long. Cumberbatch is as miscast here as he was in Star Trek. 1/5
November 06, 2016
Boring.
November 06, 2016
A quality, lean film that doesn't rely on exposition (which is odd given it is an origin story). Pacing is perfect. Acting is exactly what you want from the star studded cast. The visuals were a buffet! Just an impressive piece of work all around. Go see it! And don't listen to the trolls...
November 06, 2016
The lead actor was really annoying, but two stars for the effects, which were decent, if not good.
November 06, 2016
The Doc was da Bomb! Great Cast! Love the storyline!
November 05, 2016
Sonofa.....gun what a great movie. Cumberbatch is PERFECTLY cast, the story is fantastic but not "too" far out there, and the digital effects are used masterfully. You can hand out the Academy Award for special effects right now. One of the year's best movies and the next powerhouse franchise - everybody else better just move out of the way because the Doctor is IN!
November 05, 2016
Excellent story and visuals. Extra scenes during and after the credits, worth waiting for.
November 04, 2016
Excellent movie. Excellent special effects. excellent cast.
November 03, 2016
Fantastic
November 03, 2016
Spectacular from start to finish!
October 13, 2016
Looks like it's going to be one heck of a ride. Totally awesome experience!